Stratcomm Africa facilitates Information Sharing By Winners Of The Israeli Green Innovation Challenge (IGIC)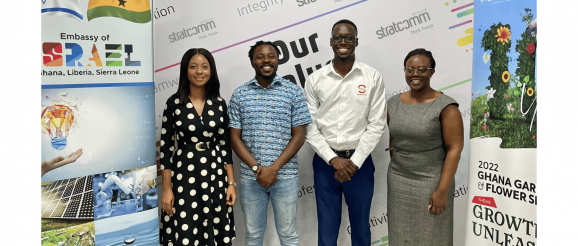 At a media briefing on Thursday, 21st July 2022, organized by Strategic Communications Africa Limited (Stratcomm Africa), two past winners of the Israeli Green Innovation Challenge (IGIC), shared experiences from their trips to Israel.  
An all-expenses-paid visit to Israel is the prize for first-place winners in the challenge, and Jeffery Appiagyei of Sayetech Company Limited and Maxwell Kojo Xornu of Ebapreneur Solutions were the 2020 and 2021 winners.  Briefing the media, each spoke about their winning innovation and their experiences during the trip to Israel, including networking and learning from the experiences of innovators in Israel.  They emphasized that Ghana can also capitalize on innovation to create a more sustainable and better life for citizens. They encouraged young individuals with rich ideas to take advantage of this year's competition, send in their applications, go through the process, and boost their business idea.
Maxwell said, "My visit to Israel really exposed me to how start-ups can contribute to a country's development. Israel is really a start-up nation. A nation of innovation"
Jeffery reinforced Maxwell's message with the following "we read about Israel being a land of milk and honey. This milk and honey are their ideas and innovations, through which they have been able to create unique solutions and interventions to improve their country"
Speaking after the sharing of the experiences of the two winners, Mrs Sharon Anim, Stratcomm Africa's Manager for PR and Communication, said, "It is refreshing to see young entrepreneurs coming up with solutions that help Ghana's agriculture and address issues of climate change, and Stratcomm Africa is delighted to be projecting such impactful stories. This year marks 10 years of the Ghana Garden and Flower Show and the 4th year of the Israeli Green Innovation Challenge.  Stratcomm Africa is not relenting in our commitment to promoting a Greener, Cleaner, Healthier, Wealthier and a More Beautiful Ghana"
The CEO of Stratcomm Africa, Ms Esther A.N Cobbah, thanked the Embassy of Israel in Ghana for investing in the development of these young entrepreneurs and for believing in the Stratcomm Africa vision for young people in Ghana.
She added, "The partnership with the Israeli Embassy enables Stratcomm Africa to use its communication expertise to create opportunities for young enterprising Ghanaians to grow their talents and develop sustainable enterprises."
In addition to creating this platform for the young entrepreneurs to share their stories, Stratcomm Africa would take the three top winners of IGIC for various years through its unique offering for SMEs and Start-Ups, "Skill up to Scale up with Communication". Additionally, a forum for young people would be provided at the Ghana Garden and Flower Show for the winners to share with more young people in Ghana the potential that exists in Ghana's agricultural sector.
The 2022 Ghana Garden and Flower Show to be held at the Efua Sutherland Children's Park are the 10th-anniversary edition with the theme, "Growth Unleashed", -expressing a determination to help unleash growth in individual livelihoods and national development.
The Press and Media Coordinator of the Israeli Embassy of Ghana, Sierra Leone and Liberia, Juliana Yorke, and Karen Hyde-Copper, Economic Political Officer of the Embassy, were present at the media briefing.
Registration for the 4th Edition of the Israeli Green Innovation Competition 2022 has commenced and will close on the 4th of August 2022. The competition welcomes applications from individuals between the age of 18 to 35 years and youth start-ups with innovative ideas and solutions in respect of the Agricultural sector.  Visit https://www.gardenandflowergh.com/igic/registration to register now!
The Israeli Green Innovation Challenge (IGIC) is a collaboration between the Embassy of the State of Israel for Ghana, Sierra Leone and Liberia, and the Ghana Garden and Flower Movement, an initiative of Stratcomm Africa. IGIC, which started in 2019, seeks to honour individual Ghanaian youth and start-ups with innovative interventions that contribute to the growth of Ghana's agricultural sector while addressing climate change and helping to conserve the environment.