Streamlight Celebrates 50 Years of Lighting Innovation | Firehouse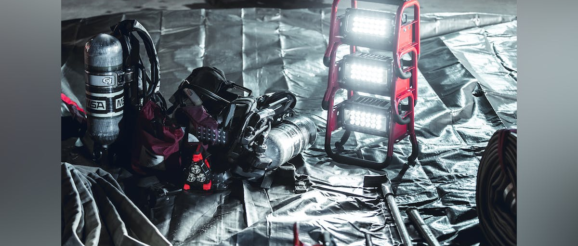 Streamlight, Inc., a leading provider of high-performance lighting for first responders and a wide variety of other professional and consumer users, turns 50 years old this year. In recognition, we look back on how an innovative lighting product first developed for the NASA space program led to the development of a wide array of professional-grade lighting products that have been benefitting first responders and firefighters ever since.
Streamlight's Early Development
In the early 1970's, NASA engaged a group of engineers from Fairfield, NJ to develop a solar simulator for the space program that simulated sunlight outside the filtering of the atmosphere.
This research was later used to design and develop a handheld unit that produced one million candlepower, which was then marketed to the military and law enforcement market sectors.
A private investor from the Philadelphia area, Harry French, moved this fledgling company to King of Prussia, Pennsylvania and, in 1973, created the company that today is known as Streamlight, Inc. Under his leadership, the research and development that had begun in New Jersey continued to grow, resulting in innovative product lines to benefit other market segments, including firefighters and EMS personnel. For example, in 1980, the Streamlight LiteBox®, an innovative, completely portable lantern, was introduced for the professional fire and rescue market. This was followed in 1989 by the company's first Survivor® right-angle flashlight, designed to attach to turnout gear and equipment. Today, fire professionals the world over depend on Survivor products for their toughness, compact size and reliability.
Continuing Innovations for the Fire Market
Throughout its history, the company has continued to introduce a wide variety of lighting products specially designed for firefighting and rescue applications, including feature-rich handheld and right-angle lights; lanterns with beams that cut through smoke and other conditions; versatile helmet lights; innovative portable scene lighting solutions and more. A pioneer in the development of rechargeable flashlights and LED lighting, the company is known for its expert engineering approach to creating lighting products that feature extraordinary brightness while also offering high value and durability. Whether for fighting fires, investigating fire scenes, signaling others in emergencies, or conducting rescues, Streamlight's technology for the fire market is unmatched.
One of the latest trends in flashlight technology is USB rechargeable lighting products, enabling emergency responders to quickly and easily charge flashlights on-the- go from most any USB power source, including a vehicle on-board USB port, laptop or other USB source. 
And if a power source is not immediately available, Streamlight's "multi-fuel" rechargeable flashlights with an integrated charging port also can accept standard CR123A batteries or in some cases alkaline batteries, for an instant alternative source of power.
Other recent innovations for fire and EMS professionals include:
Streamlight also offers one of the most comprehensive lines of safety-rated products for use in the challenging Division 1 and ATEX and IECE-x environments in which first responders the world over often operate. 
A Promise for the Future
"While Streamlight serves a variety of vertical markets today, there has always been a special pride in and dedication to designing products for firefighters and first responders, who put their lives on the line every day to keep others safe," said Streamlight President and CEO Ray Sharrah.  "As we celebrate 50 years of operation, we pledge to continue to leverage the latest advances in LED and battery technologies to produce ever brighter, more useful lighting tools for the firefighting community, while still maintaining our same high-quality standards."
Sharrah added that Streamlight is also a major sponsor of the National Fallen Firefighters Foundation (NFFF), helping to fund the organization's National Memorial Weekend tribute to fallen heroes, scholarships for children of fallen firefighters, and counseling programs.  The company donates a portion of its yearly sales of the specially marked NFFF Red Nano Light, NFFF Red Vantage Light and the NFFF Red Siege Lantern to the foundation.
For more information about Streamlight and its extensive line of products for emergency responders, visit www.streamlight.com.