Study: Methane-busting food innovation could fuel 118 million jobs | BusinessGreen News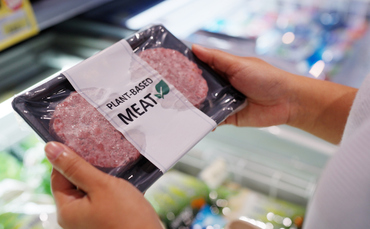 Growing demand for plant-based protein and cultivated meat is set to both tackle methane emissions and unlock tens of millions of jobs globally, according to a major new study.
A report published late last week by the Global Methane Hub and ClimateWorks Foundation highlights how expanding the range of meat alternatives available to consumers is to prove key to tackling emissions of the world's second most abundant greenhouse gas.
The Global Innovation Needs Association (GINA) analysis notes that ramping up investment in alternative, more sustainable proteins would also grow the world economy and create millions of jobs.
Investment in methane innovations across the animal agriculture, rice and waste sectors could generate 118 million jobs and contribute $700bn to the world economy by 2050, according to the analysis.
Some 98 per cent of this economic growth would be driven by investment in sustainable proteins, it estimated.
The report comes as the target agreed by 150 countries to slash methane emissions by a 30 per cent by 2030 draws closer.
Methane is several magnitudes more potent than carbon emisisons and is estimated by the Intergovernmental Panel on Climate Change to be responsible for roughly a third of global warming so far.
As such the new Global Methane Hub report urges governments to introduce policies that bring down costs and boost consumer confidence in low-carbon protein alternatives.
The Good Food Institute Europe, a charity working on food sector transformation, welcomed the report. "Plant-based and cultivated meat can cut CO2 as well as dangerous methane emissions and are essential to delivering the meat people want, without causing runaway climate breakdown," said Seren Kell, senior science and technology manager at the Good Food Institute Europe.
"It's great to see this report highlighting the need for governments around the world to invest in developing and scaling these foods, improving their quality and bringing costs down, making sure they're available to everyone."
The report was published the same week that British bank Barclays ramped up pressure on beef sector clients telling them they must take action to prevent deforestation in their supply chains.
The British bank has come under fire for its role in financing Brazilian food-processing company JBS, with research published last week by campaigners revealing it had provided more financing to the world's most emission-intensive meat company than any other financial institution over the last eight years.
However, Reuters reported last Wednesday that it had seen a document that said the bank now required beef producers to prohibit the production or primary processing of beef on or from parts of the Amazon rainforest that had been cleared or converted after 2008.
It also required beef sector clients to commit to a deforestation-free South American beef supply chain, both direct and indirect, with full traceability, by 2025 in areas at high risk of deforestation including the Amazon,  Cerrado, and Chaco.
Keep up to date with all the latest green business news by signing up to the free Daily and Weekly BusinessGreen Newsletters.