SVVSD offers new music innovation camp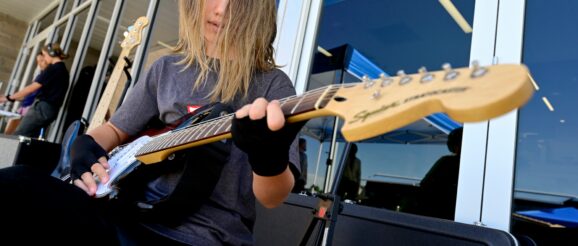 About 40 middle and high school students are spending the week exploring many aspects of music at St. Vrain Valley's Innovation Center, from playing classical music to composing with GarageBand software to learning about the music business.
Tom Darcy, director of advanced technologies and innovation, said the new Composing Innovation summer camp was designed to appeal to both musicians and students interested in other areas of music, including technology and business.
"It's really the evolution of STEM into music," he said. "It's not just for people who want to play an instrument."
The camp started with teaching students background information, including a tutorial on using the GarageBand software. Students on Tuesday worked with the Boulder Symphony at Skyline High's Vance Brand Auditorium, either playing, conducting or learning what goes into producing a show.
On Wednesday, they tried voice effects, synthesizers, amps with guitars and other music technology in the district's Mobile Innovation Lab. They also experimented with various instruments in a "musical petting zoo," from playing a traditional trumpet, cello and guitar to trying an e-wind instrument, small keyboards and theremins — electronic musical instruments controlled without physical contact.
"They learn that the the only limiting factor is really their imagination," Darcy said.
Along with learning about the music industry and trying new music technology, the students are working in groups on a final project to present to their families on Friday.
Kennah Brackett, who will be a freshman at Niwot High and sings and plays clarinet, is working on a presentation on how vinyl works. She said she most liked the lessons on GarageBand and trying different vocal effects in the mobile lab.
"I want to learn more about music technology," she said.
Other groups used kits to make their own instruments or rehearsed "school of rock" style for performance projects in the Innovation Center's recording room.
Another group rehearsed for an orchestra performance with help from Niwot High orchestra teacher Keynes Chen. Chen, the music director for the Longmont Youth Symphony Orchestra and the concertmaster for the Boulder Symphony, is teaching them an "Angry Birds" piece and a piece based on fiddle music.
Peyton Weichel, an incoming eighth grader at Coal Ridge Middle School, said he's liked learning about some of the technology, but is mainly in the camp for the music. He plays the double bass in his school's orchestra and is in the orchestra performance group.
"I love music, so I signed up for this camp," he said. "It's a lot of fun."
The camp includes eight teachers, three administrators and about a dozen Innovation Center students who are assisting with the sessions. The Innovation Center students also are producing a slideshow and short documentary on the camp.
"We want to open kids' eyes to what they can do," said Kyle Liss, Frederick High's orchestra director. "Maybe they don't want to play in the symphony, but they love to mix music. We want them to know what's possible in the world of music."
Lillie Meyer, an incoming eighth grader at Erie Middle School who is in both band and choir, said she's started writing her own songs and was looking for ideas to improve her songwriting. Her favorite sessions were on using GarageBand and experimenting with the musical technology in the mobile lab.
"I have been really inspired by music," she said. "I wanted to learn more and and gain more experience so I could write more songs in the future."