Talking Pizza Trends With Pizza Packet CEO: Innovation, Delivery And Dave Portnoy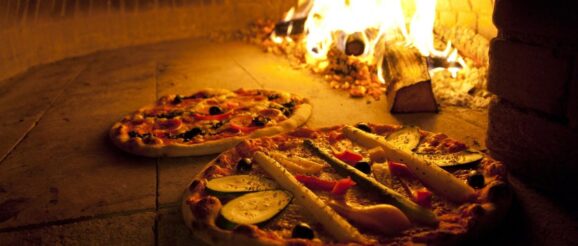 Pizza Packet is a maker of single-serve condiment packets for pizza chains. Benzinga had the opportunity to catch up with CEO David New to talk about some of the latest trends in the pizza industry.
No Sign Of Pizza Fatigue: Pizza Packet has seen 1,000% growth in its online orders since February, and the substantial growth signals consumers aren't getting bored with pizza, New said. 
The company first experienced a "spike" in sales in May, and the momentum carried over through the summer, as July orders are pacing ahead of June, New told Benzinga in an email.
"I can only imagine that with pizza already experiencing huge growth when sports resume it will only continue," he said.
Pizza Doesn't Need To Innovative: Pizza is a classic dish that always has and always will be part of the American diet.
While the pie itself is in no need of a refresh, there are many companies bringing in a "fresher, healthier and cooler vibe" to the industry, he said. 
One chain that comes to mind is Blaze Pizza, which counts LeBron James as a minority shareholder and is modeled similar to Chipotle Mexican Grill, Inc. (NYSE: CMG).
Other innovative and exciting chains that have been quick to gain relevance include &Pizza, MOD Pizza and CPK.
"The world is looking for healthier options, and now it's available in the pizza industry as well," New said.
The pizza industry has yet to fully embrace plant-based alternatives — although "it's certainly a thing," he said.
Pizza Packet has received several inquiries over the years for a vega-parmesan spice offering, but overall demand from pizzerias is not terribly strong, he said. 
Delivery Options: Slice is a rival delivery platform to Uber Technologies Inc (NYSE: UBER) that focuses exclusively on pizza.
Many of Pizza Packet's customers use Slice, and "we've only heard positive things" about the platform, New said.
"It is great for the industry that we have a delivery service exclusive for pizza," the CEO said. "It speaks volumes."
Dave Portnoy 'Integral' To Pizza: Barstool Sports founder Dave Portnoy has been on a mission to review every pizza place in Manhattan since 2017.
His YouTube reviews featuring his iconic "one bite, everyone knows the rule" catchphrase has made him an "integral part of the industry," New said. 
"Dave has a huge following and people absolutely take his scores seriously," the CEO said. "He has the ability to make or break a pizzeria."
Related Links: