TCNewTech Showcases Cutting-Edge Innovation and Myconaut Is Named Winner of Pitch Prize, while TCAPSUnveils Impressive Plans to Develop STEM Labs at Community Forum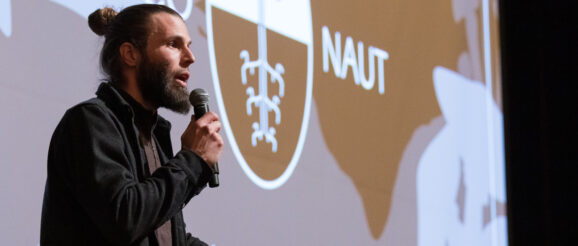 On Tuesday March 7th, TCNewTech once again brought together some of the brightest minds in the startup and tech industry to showcase their latest innovations. The event was a resounding success, attracting a diverse crowd of entrepreneurs, investors, and technology enthusiasts.
The star of the evening was undoubtedly Myconaut, the winner of the TCNewTech pitch prize. Myconaut's cutting-edge technology, which harnesses the power of mushrooms and other fungi to remediate PFAS contamination, wowed the judges and the audience alike.
"TCNewTech is thrilled to recognize the exceptional startups that participated in our recent event. We were inspired by the ingenuity and dedication of each participant, who demonstrated the transformative potential of innovation in their respective industries. Congratulations to Myconaut for winning the audience vote and subsequently the pitch prize, for their pitch on a groundbreaking solution for PFAS remediation, which stood out among a highly competitive field of contestants. We are proud to support and showcase the game-changing work of Myconaut and all of our participants, who are driving positive change and advancing solutions which are both useful and disruptive." said Christopher Nesbit, TCNewTech Event Director. 
In addition to Myconaut, several other innovative startups took the stage to pitch their ideas. From a recreational bike that rides on unused railroad rails, to geocached cremation dispersal and memorial services, the range of ideas on display was truly impressive.
Additional Event Highlights: 
As with any other TCNewTech Pitch Event, the evening was packed with many other extras.
Boon Health – Boon is a platform co-founded by Alex Simmons that aims to transform the way we approach mental health and professional development in the workplace. With personalized 1:1 coaching, Boon helps employees overcome challenges and thrive both personally and professionally. Boon came to the stage with a fantastically mature pitch, showcasing excellent growth and structure for a startup. Boon rightfully boasts some impressive customer stats after utilizing their platform.
Beyond Forests – Beyond Forests's Memorial Technology is a way to celebrate the lives of loved ones in some of the most beautiful places on Earth. From your own backyard, to the majestic redwoods of Yosemite, or the serene Central Park. For those choosing cremation, Beyond Forests provides a Legacy Lock Memorial Page, GPS Location Digital Marker, National Park Cremation Guide, and much more. Jamie Kramer, founder of Beyond forests has pitched in the past, and showed marked progress in their current business model and technological considerations.
Wheels on Rails – The very first rail-biking business to hit the state of Michigan! Offering a unique experience for people of all ages and physical abilities, their specially manufactured 4-wheel rail-bikes glide down an out-of-service railroad track for a thrilling adventure. Wheels on Rails' most impactful moment of the pitch was when founder Macie Hefron outlined the current financials and the projections for this next year. The number of pre-bookings was nothing short of impressive, considering they are planning on launching in May 2023.
SCORE Mentors – Score provided the evenings "Quick Tip" segment, bite-sized lessons on business advice, tools, and other resources which are designed to help them in their entrepreneurial journey. SCORE presented on a valuable topic: myths and realities of early stage startups along with things to consider before launching a new company.
20Fathoms – provided a detailed update about their ongoing events and workshops:
April 12 – June 7th (apply by March 17th) Business Essentials class
March 22 – Myths and Realities of Tech Entrepreneurship and Getting Funded
April 12 – Access to Capital For Early-Stage Entrepreneurs
Directly following TCNewTech's pitch night, TCAPS, held an in-depth community forum to showcase plans for and discuss the future of STEM Labs at TC West and TC Central High Schools. The forum was a unique opportunity for community members to learn about the district's vision for STEM education and ask questions regarding its implementation. The event was attended by a diverse group of community members, including educators, students, and parents. TCAPS Superintendent and officials provided an in-depth presentation of the STEM Lab project, highlighting the key features, challenges, and goals of the initiative.
Overall, the event was a great success, with attendees raving about the quality of the pitches and the level of engagement among the audience. TCNewTech will continue to bring together innovators and investors in the tech and startup community, helping to create a thriving ecosystem for startups in Traverse City and beyond.
TCNewTech extends its thanks to all of our generous sponsors, who keep our events free to attend and present! Show them some love!
Main Sponsor: 20Fathoms
Supporting Sponsors: Susan Soffredine Rauser with State Farm Insurance, Michigan's Creative Coast, AccessPoint, The Michigan Economic Development Corporation, and Profit Clean.
The Meg Zammit Group for sponsoring our time on WTCM Talk 580
Pitch Prize Sponsor: RJG, Inc. 
If you would like contact information for any of our pitch presenters, please email Christopher Nesbit at [email protected]. 
The post TCNewTech Showcases Cutting-Edge Innovation and Myconaut Is Named Winner of Pitch Prize, while TCAPS<br>Unveils Impressive Plans to Develop STEM Labs at Community Forum appeared first on TCNewTech.