Technology & Innovation North America – Forrester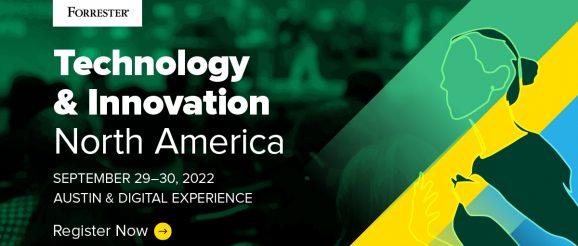 Today's high-performing technology executives are asked to be visionaries and tacticians; dreamers and engineers; creators and craftsmen; philosophers and pragmatists. But above all, leaders.
To be successful at driving transformation, you must be the force that propels your team from efficiency to effectiveness, breaking down the silos that hold your business back. You need to dream strategies that will shape the next decade of growth and unleash ways to become even more customer obsessed and human centered. So where do you get the tools and strategies you need to embrace this leadership role and become an architect of tomorrow's business?
We will meet you where you want. Technology & Innovation attendees can choose to join in person, digitally, or both. ​
All attendees joining us in Austin, TX will experience two full days of main conference content from September 29–30.​ In-person attendees will have access to all on-site content, sponsors, and experiences in addition to the digital experiences.​
Digital experience attendees will have access to the main conference content, sponsors, and immersive experiences via a convenient portal designed to maximize attendee and sponsor experiences.​
Interested in speaking at a Forrester Event in 2022? Complete the information below to be considered for a speaking opportunity. Submissions will be considered on a rolling basis until all speaking slots are filled. If your submission is selected, a Forrester Events representative will contact you to discuss next steps.
Speaking opportunities are open only to brands. If you are a vendor or agency, please contact our Sponsorship team [email protected] to learn how you can get involved in Forrester's Events.