The Department of Education's Plans for Overhauling Accrediting and Innovation Regulations – WCET Frontiers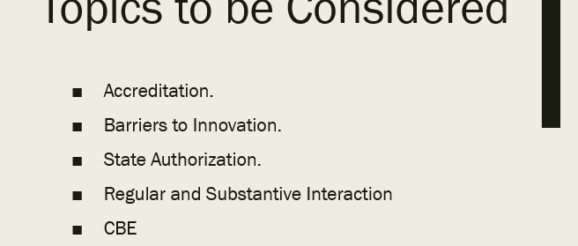 On Friday, October 13, the U.S. Department of Education published the unofficial version of its plan to establish an "Accreditation and Innovation" negotiated rule making committee. The final version should be published in the Federal Register today and includes the call for nominations to serve on the committee and three subcommittees.
You may recall that in July, the Department published a proposed plan and offered opportunity to comment by letter or in one of three public hearings. Russ Poulin joined with others from the 2014 committee in opining that there were too many issues for one round of rulemaking. The Department evaluated the comments and decided to make only minor changes:
"We believe the addition of a TEACH Grants subcommittee, scheduling additional days for the committee meetings, and the use of redlined regulatory text as the starting point of negotiations instead of issue papers will address concerns raised by commenters and ensure proper attention to each topic."
What is the Structure of the Rulemaking Committees and Process?
Top 10 highlights of the Department's negotiated rulemaking plan:
There will be one negotiated rule making committee called the Accreditation and Innovation negotiated rulemaking committee.
The topic areas remain approximately the same from the July proposed plan.
There was a change in the number of topic-based subcommittees from two to three subcommittees.

Distance Learning and Educational Innovation Subcommittee,
Faith-Based Entities Subcommittee, and
TEACH Grants Subcommittee (the one that was added).

Subcommittees will make recommendations to the committee who will ultimately make determinations based on the subcommittee recommendations and committee discussions.
Subcommittees are not authorized to make decisions for the committee as only the committee has power to reach consensus on regulations.
The Department will seek consensus on issues divided into groups by the Department and the committee will have an opportunity to vote on each group.
Nominations for the committee and subcommittees are open until November 15, 2018 and should be submitted per the instructions shared in the announcement.
The Department plans to choose specific representation from certain organizations or groups as listed in the announcement.
The Department offered suggested representation for the subcommittees from certain organizations or groups noting that representation may include but are not limited to the list provided.
The schedule for the committee and subcommittees will include three and two day sessions (respectively) in each of the months of January, February, and March in Washington, D.C.
The Department seeks individuals from all sectors of institutions to ensure that there is sufficient representation and reflect diversity among participants impacted by these topic areas. You may wish to have a discussion at your institution or within your organization about nominations to determine appropriate representation with expertise to share your institution's voice on a committee or subcommittee.
What are the Topics to Be Considered?
There is a large number of issues to be considered in this process. For those interested in technology-enhanced learning, here is a sampling of the issues that will be of most interest to you:
Accreditation. Both the requirements used by accreditors in overseeing institutions and the criteria used by the Secretary used to oversee accreditors will be reviewed.

On the latter they will emphasize "criteria that focus on educational quality and deemphasizing those that are anti-competitive." This could result in major changes in the accreditor/institution relationship. It could also allow for new accrediting agencies or new ways for providers who are currently not accredited to gain pathways to federal aid. It is notable that there is not an accreditation subcommittee.
Barriers to Innovation. Addressing regulations that hamper innovation in educational programs is a repeating theme for this announcement. Included is consideration for "regulatory barriers in the Department's institutional eligibility regulations and student assistance general provisions." This could signal an interest in such changes as providing aid for new providers, opening aid for short-term programs, and other activities currently not eligible for federal grants or loans.
State Authorization. The Department attempted to delay the most recent regulation for this review. Their plan: "Simplification of State authorization requirements related to programs offered through distance education or correspondence courses, including disclosures about such programs to enrolled and prospective students and other State authorization issues (34 CFR 600.9 and 668.50).
Regular and Substantive Interaction.Frontiers has featured several posts on this issue. The Department will review how it is defined for both distance and correspondence education (34 CFR 600.2, 600.7, and 668.10). Presumably, this would apply to other modes of instruction, as well.
Competency-Based Education (CBE). The committee is to provide "consideration of regulations that are barriers to implementation of such programs." This includes rules for direct assessment, term-based academic calendars, and satisfactory academic progress.
New Items that May Be Procedural or May Need to Be Watched. A couple new items regarding "programs that have not be funded in many years" or other "needed technical change" could be yawners or ways to make other changes not listed above.
A Few Other Issues to Be Considered. There are many items to be reviewed. A few others of note: definition of the "credit hour," arrangements between an institution and another organization to provide part of a program, and program teach-out responsibilities. There will be subcommittees focused on rules for TEACH Grants and for Faith-Based Institutions.
Negotiated Rulemaking Timeline
Here is a timeline of important dates related to this issue:
Nov 15, 2018 – Nominations for negotiators deadline.
Jan-Mar 2019 – Committees meet.
Summer 2019 – Regulations released for comment.
By Oct 31, 2019 – Final regulations released.
July 1, 2020 – New regulations become effective.
Why Is It Important to You?
Quite simply, these discussions may result in the most sweeping set of changes witnessed in higher education in the United States since the middle of the last century. For WCET members and Frontiers readers, the issues highlighted for consideration are the very ones that will have a deep impact on our day-today operations.
That's important!
WCET will work with other organizations to seek to nominate knowledgeable negotiators. We will also keep you informed along the way.

Cheryl Dowd
Director, State Authorization Network
WCET – WICHE Cooperative for Educational Technologies
[email protected]

Russell Poulin
Director, Policy & Analysis
WCET – WICHE Cooperative for Educational Technologies
[email protected] | @russpoulin
---