The Future Is Now: UA's I³R A Catalyst For Innovation Through Integrative Health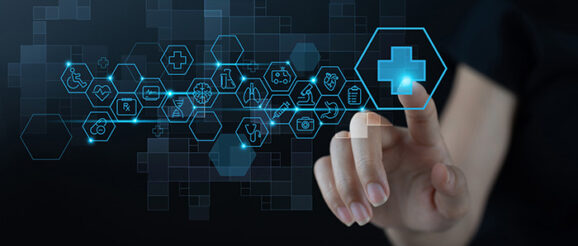 The Institute for Integrative & Innovative Research (I³R) at the University of Arkansas in Fayetteville has been featured in recent news as its researchers developed and are evaluating new technology that uses neurostimulation to restore the sense of touch to people who use a prosthetic hand.
The procedure, performed earlier this year by surgeons at the University of Arkansas for Medical Sciences in Little Rock, represented only the second time such a prosthetic limb with the tech had ever been implanted on a person.
But the institute is about much more than that. The National Science Foundation stated that "the grand challenges of today — protecting human health; understanding the food, energy, water nexus; exploring the universe at all scales — will not be solved by one discipline alone. They require convergence: the merging of ideas, approaches and technologies from widely diverse fields of knowledge to stimulate innovation and discovery."
And that's where I³R comes in. Ranu Jung, associate vice chancellor and founding executive director, said the institute is addressing different "ecosystems," growing and strengthening them through convergence strategy. Jung said the institute's first "grand challenge" is integrative health and identified three projects underway as examples of research addressing it.
"The evaluation of the neural-enabled prosthetic hand system in Arkansas was launched earlier this year," Jung said. "It's been active for several years, and we continue to recruit new participants for the clinical trial. We also will be announcing an important milestone and significant expansion of this project in the coming weeks."
Within integrative health, many individual challenges await the institute's attention. The Centers for Disease Control and Prevention reports that heart disease is the leading cause of death in the state, followed by cancer, COVID-19, chronic lower respiratory diseases, accidents, Alzheimer's disease, stroke, diabetes, kidney disease, influenza and pneumonia. The institute is addressing these problems through health, food and the cyber technology related to both.
"I³R impacts the lives of Arkansans in multiple ways," said Delia Garcia, the institute's director of strategic communications and engagement. "We operate to solve what we call grand challenges, which are wicked problems that, in order to address, require transdisciplinary research to create solutions through innovation and discovery."
The second project is data-driven agriculture to bridge small farms to regional food supply chains, a National Science Foundation-funded project which helps in fulfilling the UA's land-grant mission.
By bringing together industry, clinical partners, nonprofits, policymakers, think tanks, researchers and the community, I³R will develop solutions to address metabolic health.
"By leveraging our collective expertise and engaging in an extensive planning and user discovery process to deeply understand the needs of producers, buyers and other stakeholders, we have the opportunity to make both a positive societal and economic impact, particularly here in Arkansas," said Meredith Adkins, assistant research professor at I³R and lead researcher on the project.
UA Chancellor Charles Robinson spoke at the recent topping out ceremony for the institute. (Photo courtesy of UA)
At the institute's recent topping out ceremony, Chancellor Charles Robinson stressed that innovation thrives at the U of A.
"Research with a purpose is a testament to our land-grant mission to serve the people of our great state, and with a mandate to use research to drive regional economic development, I³R is taking the university's research capabilities and impact to new heights. It's research that changes lives."
Another challenge that falls under the integrative health umbrella is sensorimotor rehabilitation in virtual reality. Sensorimotor is the relationship between a person's bodily activity and their environment. This project has developed new VR technology to be used by people with physical impairments during the rehabilitation process.
"Recent studies have shown that virtual reality-based interventions can be used for the rehabilitation of mobility and promotion of physical activity for individuals with sensorimotor impairments due to neurological injury or disease," said Andres Pena, assistant research professor at I³R. "Moreover, we know neuro-rehab interventions are more effective when paired with sensation/haptics. A factor hindering the effectiveness of virtual reality for rehab is that current virtual reality platforms have limited to no sensory feedback. So, we set out to bridge this gap.
"The team has developed ExtendedTouch (xTouch), a wearable neuro-haptic feedback platform for immersive virtual reality. The hands-free design enables users to dynamically interact with and feel objects in virtual reality environments without the need for hand-mounted devices."
Aliyah Shell, a doctoral fellow at I³R researching this topic, said this innovative experience has profound implications for rehabilitation and physical therapy. The xTouch platform will enhance the immersive virtual reality experience, supplying more realistic visual and auditory feedback about environmental interactions. Another potential application is for combat medical training.
"Imagine being able to train doctors to treat patients in combat through the power of immersive virtual reality with xTouch, which would not only simulate a combat scenario but allow the doctor to feel a scalpel in their hand — a capability that is not currently available but is being developed by the team," Shell said. "Another application is for physical rehab patients in rural communities who don't have convenient access to rehabilitation services. They could complete their rehab program virtually."
In terms of creating wellness for the state's citizens and creating new sources of economic development, the institute's work means transformative discoveries, which the institute will develop, translate, deliver and deploy at scale for societal impact in Arkansas and even the world.
"We will move from basic science to making the technology 'real' to navigating the complexities of policy, politics and human behavior," Jung said. "We will pursue the discovery, development and translation effort from a perspective that attends to the economic, policy and ethical factors that shape the impact of our work. The team is committed to fostering a sense of belonging for all and empowering women and other underrepresented groups that are missing from the workforce. The positive impact will be felt here at home and will grow from the center out."
The institute's mission is to pioneer solutions to problems through convergence research across academic, industry, government and nonprofit sectors to make a positive societal impact by creating and deploying innovations to scale. Its vision is to be the recognized leader in convergence research for societal impact and the preeminent partner in creating and deploying comprehensive, transformative and scalable innovations that stimulate economic growth and improve health and well-being in Arkansas and beyond.
Its current priorities include continuing recruitment for human clinical trials in the neural-enabled prosthetic hand system project, recruiting "brilliant" researchers to conduct leading-edge research that drives innovation and talented staff to support and advance the institute's work, and securing funding to establish a sustainable protein technology hub in Northwest Arkansas.
A rendering of the finished product. (Image courtesy of UA)
"Protein production must drastically increase to meet the nutritional needs of a growing and wealthier world," said Philip Sambol, I3R project manager. "Current means of production are placing unsustainable demands on our land, water and energy resources. A resilient food system demands innovative methods for resource-efficient and distributed protein production. As a flourishing area with unique, diverse and ample assets, Northwest Arkansas is fertile ground for development of a globally competitive sustainable protein production ecosystem."
A final priority is the construction of a new building, a 144,000-square-foot, state-of-the-art research facility, which will bring unique capabilities to the UA campus and region. The building will be located at the center of campus at the corner of Dickson and Duncan Streets, and everything from the building's workspaces and labs to its location will be designed to foster collaboration, integration and innovation.
"This facility will house leading-edge technology, laboratory space and research equipment, but perhaps more importantly, every floor will feature expansive collaborative spaces designed to bring the people of I³R together to workshop ideas and move those ideas toward innovation," Garcia said. "The building's site was chosen specifically to encourage interaction with all parts and people of the campus and surrounding industry. It is a short walk from the Dickson Street Entertainment District, the Ramble Arts Corridor and entrepreneurship support centers like the Arkansas Small Business and Technology Development Center, Startup Junkie and the Brewer Family Entrepreneurship Hub."
Jung said the blueprint for success includes excellence in research to propel the university and region as research leaders.
"Educating tomorrow's generation to ensure continued success for our efforts far into the future, leveraging location for a growing wheel of impact to harness the opportunities and assets available in Northwest Arkansas to further the success of the state and region and make a positive impact far beyond, and collaborations, which are our framework for convergence of all these components to become a reality."
READ ALSO: Workarounds: How Employers Are Navigating Remote and Hybrid Work
The post The Future Is Now: UA's I³R A Catalyst For Innovation Through Integrative Health appeared first on AMP.