The Last Word: OptiMIND Founder on Winning a $40,000 Award for Research Innovation at UTD's Big Idea Competition » Dallas Innovates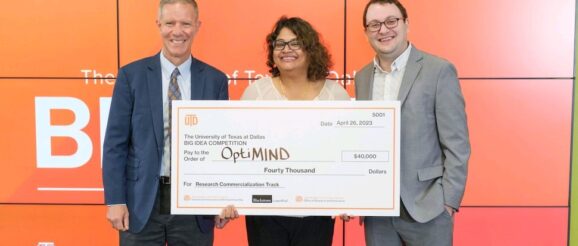 "I am ready to start the start-up business now."
Chandramallika Basak
Associate Professor
Center for Vital Longevity at UT Dallas' School of Behavioral and Brain Sciences
.…on winning the research innovation award for her OptiMIND brain training games at UTD's Big Idea competition, via Twitter.
Basak entered UTD's recent Big Idea Competition in the alumni research commercialization category with OptiMIND, a series of brain training games designed to enhance brain and cognition across the lifespan. The games are designed to ensure that people stay sharp and focused at any age.
After receiving a $40,000 check for winning the research innovation award, she's now announced on Twitter that she's ready to launch OptiMIND as a business.
"I am humbled and honored with the judges at the Big Idea Competition who decided my start-up pitch as the winner in the Research Innovation category," Basak tweeted, before adding that she's ready to start her start-up. 
For more of who said what about all things North Texas, check out Every Last Word.
Get on the list.
Dallas Innovates, every day.
Sign up to keep your eye on what's new and next in Dallas-Fort Worth, every day.
One quick signup, and you're done.
R E A D   N E X T
From an automated fish feeder to AI-driven construction to a therapeutic vest and more, the finalists will pitch their innovative concepts on May 19 at Blackstone Launchpad. The original date was rescheduled due to weather. They'll be competing for $170,000 in cash and scholarship prizes.
The "blood-brain barrier" acts like a highly selective firewall, preventing an estimated 98% of drugs from entering the brain—making it a major hurdle in the development of brain and central nervous system drugs. Lantern Pharma has recently developed what it calls "highly accurate AI algorithms" to predict the ability of a drug or compound to pass through the barrier.
Grants totaling $8.5 million will be made available in the initiative's first year, focused on helping children with traumatic brain injuries. "With the guidance of our expert advisors, we want to help strengthen and expand access to support systems for children with traumatic brain injuries as well as their families," said Tellis Bethel (above), chief social innovation officer for Toyota Motor North America.
MacDonald was part of a panel discussion at UT Dallas, in partnership with The Dallas Morning News, aimed at clearing up misconceptions about ChatGPT, the AI chatbot that's gone viral. The panel featured four UTD scientists—Xinya Du, Gopal Gupta, Dale MacDonald, and Jessica Ouyang—and was moderated by Adithi Ramakrishnan, science reporter at the DMN.