The Power of Events in the Finance Industry – How FMLS:23 Drives Innovation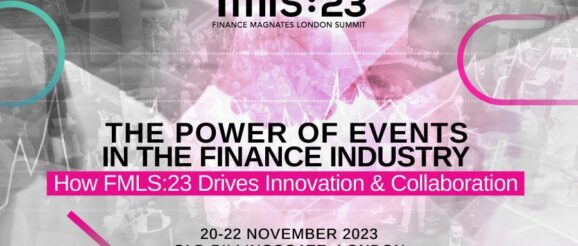 Events play an important role in stimulating innovation, collaboration, and knowledge-sharing in the dynamic and fast-paced world of finance. Among prominent industry events, the financial Magnates London Summit stands out as a top gathering of financial experts, industry executives, and technology pioneers.
Held on November 20-22 at Old Billingsgate, the landmark summit will bring together leading professionals, executives, and experts from various sectors globally.
Events as Innovation Catalysts
Finance industry events serve as a showcase for cutting-edge technologies, new trends, and novel ideas. The FMLS in particular, acts as a meeting place for fintech startups, established financial institutions, and technology providers to showcase their most recent ideas and solutions.
Join the conversation today surrounding FMLS:23
Attendees will have the opportunity to explore and learn about cutting-edge technologies such as blockchain, artificial intelligence, machine learning, and data analytics at the conference. These technologies have the potential to alter the finance industry in a variety of ways, including payments, lending, risk management, and compliance.
Events like the FMLS encourage an innovative culture by bringing together a varied spectrum of industry stakeholders. Attendees can learn about new solutions, interact with experts, and explore potential partnerships and collaborations.
This knowledge exchange and networking environment supports the development and execution of creative ideas, propelling the finance industry ahead.
Partnerships and Collaboration
Finance sector events serve as spurs for industry members to collaborate and form relationships. FMLS:23 will look to foster ties that can lead to future partnerships by creating an environment conducive to networking and interacting with like-minded professionals.
Attendees will have the opportunity to engage in important conversations, share experiences, and learn insights from industry professionals through panel discussions, seminars, and interactive events.
These exchanges frequently result in the establishment of strategic alliances, joint ventures, and partnerships that can drive innovation and open up new doors.
Furthermore, events like the FMLS:23 allow startups and developing fintech companies to meet with big financial institutions. These exchanges can lead to collaborations that combine startups' agility and innovation with the experience and resources of established players.
Collaborations of this type can result in the creation of new products, services, and business models that answer the changing needs of the banking industry.
Sharing of Information and Professional Development
Education and knowledge exchange are essential components of financial sector events. The agenda for the FMLS is extensive, with keynote presentations, expert-led panels, and workshops covering a wide range of topics. Stay tuned for updates over the next few months as the final agenda is rolled out.
Attendees benefit from these educational seminars by learning about the latest market trends, regulatory developments, and industry best practices. Experts and thought leaders share their knowledge and insights on issues such as digital transformation, regulatory compliance, risk management, and market strategy.
In addition to formal presentations, events provide opportunity for informal learning through networking and peer-to-peer interactions. Attendees can interact with industry veterans, exchange ideas, and learn from their colleagues' experiences. This informal knowledge-sharing encourages professional development and expands industry knowledge.
Impact of FMLS:23
As one of the top events in the financial industry, FMLS consistently has impacted innovation and collaboration significantly. The summit serves as a catalyst for new ideas, partnerships, and knowledge-sharing by bringing together finance experts, technology providers, and industry leaders.
The event provides participants with a unique opportunity to explore breakthrough technology, address industry concerns, and learn from industry pioneers. Attendees receive important insights, improve their professional networks, and remain up to date on the latest trends affecting the banking sector through compelling keynote presentations, panel discussions, and interactive workshops.
The FMLS also serves as a springboard for startups and developing fintech firms. The event exposes them to a large number of possible investors, partners, and customers. This exposure can help you secure funding, develop strategic connections, and acquire market traction.
Save the Date this November
In the banking industry, events serve a critical role in encouraging innovation, collaboration, and professional growth. The FMLS:23 is a prime illustration of how events can bring finance experts, industry leaders, and technology innovators together.
Join fellow attendees to help contribute to the growth and improvement of the finance industry by promoting an innovative culture, facilitating collaborations and partnerships, and offering a forum for knowledge-sharing. As the industry evolves, these events will become increasingly important for staying on the cutting edge of innovation, encouraging collaboration, and propelling the sector ahead.
This article was written by FM Contributors at www.financemagnates.com.