The Sphere Is Here. Are We Ready for More High-Tech Architecture? | Innovation | Smithsonian Magazine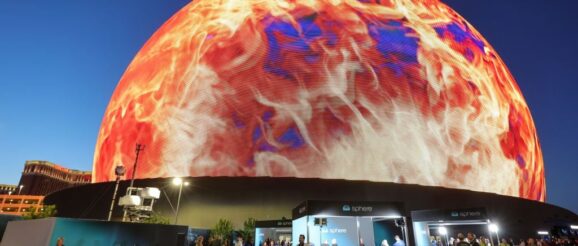 Sphere, which finally opened its doors in Las Vegas late last month, is like nothing we've seen before. The exterior of the orb-shaped performance venue is a giant LED screen that has, thus far, broadcast a giant eyeball, a satellite view of Earth, an emoji face and a tennis ball, among other images. The inside is home to a humongous internal 16K-resolution screen, with haptic, audio and temperature features meant to be targeted to each member of the audience during live performances.
After several years and a reported $2.3 billion in construction, the venue debuted with a U2 show on September 29 that demonstrated what this kind of futuristic venue can offer. The performance, which kicked off the band's 25-concert residency through mid-December, was a two-hour, 22-song affair, employing more than 160,000 audio speakers and stunning wrap-around visuals.
Over the course of the concert, U2 and the multimedia artists the band commissioned to create video content for the show transported the audience to several distinct virtual locations, making the building around them seem to disappear as the high-resolution screen projected animated scenes of the Las Vegas cityscape and of the desert beyond its outer limits. The concluding song, "Beautiful Day," was set to an ultra-realistic digital animation created by artist Es Devlin; the backdrop featured various animal species native to Nevada in a tableau that suggested a sort of Sierra Club version of the ceiling of the Sistine Chapel.
While visitors and residents of Las Vegas have had months to react to the creative and, at times, strange LED light shows illuminated on Sphere's 580,000-square-foot exterior, the first concerts were meant to prove that the venue could be far more than any planetarium or IMAX theater. After all, in one stunning moment, during a performance of the song "The Fly," the interior screen flickered with streams of colorful letters and numbers recalling computer code that surrounded the audience. On social media, people said the inaugural show was "other level performing" and "insane." Business Insider called it "mind-bending," and Rolling Stone boldly declared that the performance launched a "new era of live music."
The building's specs
Sphere, no doubt, is an architectural feat. At 366 feet tall and 516 feet wide, it's billed as the largest spherical object in the world. The inside boasts 10,000 immersive seats and standing room for 20,000 people, all under an enormous dome-shaped screen that hangs around and above the audience. The screen is equivalent in size to two soccer fields, says Paul Westbury, the development and construction executive vice president at Sphere Entertainment Company, the live entertainment and media outfit behind the venue.
Notably, that screen can work in concert with a series of other experiential add-ons, including simulated wind and scents, as well as an audio technology called "beamforming." The speaker system, designed by a company called Holoplot, projects audio with the help of algorithms meant to control sound waves over long distances. Humanoid robots named Aura, meanwhile, are supposed to serve as greeters and answer questions for guests.
Along with traditional construction materials like steel and concrete, the project required an enormous amount of precision, explains Westbury. Millions of diodes had to be correctly positioned, to the "thickness of a blade of glass," within the performance display. Speakers needed to be arranged to effectively transmit audio to everyone in the venue—but not interfere with the screen itself. Everyone in Sphere is supposed to have a completely unobstructed view.
"[I've] designed and delivered the Olympic stadiums, premiership football stadiums, multi-use arenas, all sorts of stuff. Big, big mega-projects," says Westbury. "You pick up a whole load of pieces along the way. You've filled up your experience bucket, and you dip in and you pick out the relevant pieces."
More Sphere-like projects may be on their way. Yale University architecture critic Christopher Hawthorne writes in the New York Times that the building raises "the question of analog architecture's ongoing ability to compete with digital wizardry for popular attention." According to Joshua Vermillion, an architecture professor at the University of Nevada, Las Vegas, architecture will continue to face pressure to incorporate digital infrastructure into new venues. While others might copy the idea, new projects might try to "push it further," he says. "What does that mean to city skylines? I think it ups the ante on how our built environment—buildings and the public realm in between our buildings—can interact and change."
A new medium for artists
Beyond Sphere's status as an architectural marvel, its digital exterior could be one of the largest canvases for artists ever created.
The first artist to use the outer dome, Refik Anadol, took advantage of the venue to create an artificial-intelligence-powered "data sculpture" inspired by space and nature. The art is displayed over more than a million LED "pucks," which each includes dozens of diodes that can broadcast hundreds of millions of colors.
Advertisers are making use of Sphere, too. The "Exosphere" has already been used to broadcast a promotion for the Mortal Kombat 1 video game and an NFL Sunday football subscription program. David Hopkinson, president and COO of Madison Square Garden Sports (Sphere Entertainment Company includes MSG Networks), has promised that the structure will be used for "brand storytelling."
Dressing up the interior is also a major endeavor. Several artists, including Brian Eno, Marco Brambilla and Es Devlin, were invited to create visuals for the U2 show. Over the course of three months, visual artist and filmmaker Brambilla developed A.I. renderings of Elvis to accompany the song "Even Better Than the Real Thing," fittingly.
"It's fantastic, because Sphere is giving performers an opportunity to go into a space and be able to have visuals that you could never tour, without this technology and without the permanent installation of the LED screens," Brambilla told Billboard. "I'd already worked on some fairly ambitious projects. This was, by a factor of four, more ambitious in terms of the technology involved."
Another example is a Darren Aronofsky project called Postcard From Earth—an immersive film that mixes sci-fi and nature documentary—that's showing at Sphere into 2024. The 50-minute movie, shot with a specialized camera designed by a Sphere-affiliated studio (appropriately named Sphere Studios and housed in a dome-shaped building), will reportedly only be available at this venue.
"We tried to shoot in a lot of caves because we knew that people would be able to look up and see little spiders crawling around on top of the cave and all other types of life," Aronofsky told the Hollywood Reporter.
The same principle applies to sound quality. U2's The Edge told Wired that, because of its advanced audio system, Sphere allowed the band to achieve an "intimate" connection with the audience that wouldn't have been possible in a traditional arena. The screen is designed to be permeable, he explained, so no reverb tarnishes the sound.
For some, Sphere might make sense as a novelty experience fit for the Las Vegas strip, but they're not necessarily convinced the project has actually created an entirely new form of art. Critics have their reasons. The New York Times noted that, at times, the screens could produce an "air of seasickness." Sphere reportedly includes a room for people who might find themselves overstimulated.
Broader concerns lurk, too. In London, where executives are hoping to build the next Sphere, residents are reportedly worried about light pollution. While Las Vegas is already inundated with light pollution—and Sphere can be reprogrammed—there's fear that other locations could disrupt local wildlife, according to Kevin Houser, an engineering expert at Oregon State University who focuses on light sources and lighting design.
"Flora, fauna … rely on a predictable pattern of day and night to regulate all kinds of life-sustaining behaviors," says Houser. "This would include their sleep, their eating, hiding from predators and reproduction. … When we have anthropogenic light at night, it disrupts those behaviors."
The future of Sphere
Vermillion thinks Sphere is ultimately going to be judged on its acoustics and the experience. "Then, the other way it's going to be judged is how it pencils out," he says.
The economics of Sphere are ambitious. It may be one of the most expensive venues ever built, and it's already gone over budget, but Sphere can only fit fewer than half as many people as Yankee Stadium. And while tickets for the U2 show can run to more than a thousand dollars, it's not clear that future shows will be as lucrative. Tickets to the Sphere Experience, a separate ticket that includes a showing of Postcard From Earth, start around $50.
What remains unclear is whether Sphere can keep up the momentum. Executives are betting that audiences will still be interested in what Sphere has to offer when U2 leaves—and that creatives will be intrigued enough to produce new content for its unique and demanding format. But it'll be up to audiences to determine whether the venue succeeds at its goal: to establish a new type of live medium, with new types of live experiences.
Meanwhile, Sphere Entertainment Company has every intention of building Spheres in other cities and countries.
"There are huge opportunities to take the lessons that you inevitably learn on the first of its kind and apply them to the next one, so it's very much our plan to build all of these venues," says Westbury. "We will get faster. We will be more efficient … because we've got this incredible opportunity to do more."
Get the latest stories in your inbox every weekday.