The spirit of innovation at Disney parks and resorts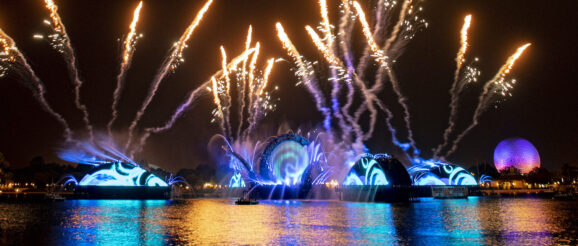 Disney parks and resorts have always embodied the spirit of innovation, from Walt Disney's earliest vision for Disneyland to the latest rides and attractions that are wowing guests, like Star Wars: Galaxy's Edge and Avengers Campus.
Of the top 10 most visited theme parks in the world, eight are Disney parks, with Magic Kingdom at Walt Disney World taking the top spot. However, the teams that make the magic happen don't use this popularity as an excuse to rest on their laurels. Disney Parks, Experiences and Products is constantly working to add something new to the visitor experience.
David Lightbody is senior VP of Disney Live Entertainment and Shelby Jiggetts-Tivony is VP of creative & advanced development at Disney Live Entertainment. They speak to blooloop about what innovation at Disney means to them, reflect on recent awards wins, and discuss the impact of the pandemic on the way the company works. They also look ahead at where Disney Parks, Experiences and Products may take its storytelling in the future.
Innovation recognised with a series of awards
Visitors around the world know that a trip to Disney will be an unforgettable experience. But Disney parks regularly receive accolades from within the industry as well, in recognition of their continual innovation. For example, Disney Parks, Experiences and Products received nine coveted Brass Ring Awards at IAAPA Expo 2022. These awards celebrate excellence across the global visitor attractions industry.
"I'm so proud of our teams who continue to delight our guests and consumers by pushing industry boundaries," said Josh D'Amaro, chairman of Disney Parks, Experiences and Products. "These accolades illustrate our legacy of innovation, as evidenced by projects that opened 50 years apart being awarded together."
Disney's Brass Ring-winning shows included Tale of the Lion King at Disneyland Resort and the 'Harmonious' nighttime spectacular at EPCOT. Also recognised were the 30th Anniversary Celebrations and Mickey's Dazzling Christmas Parade at Disneyland Paris, and 'Let's Get Wicked' at Hong Kong Disneyland. Further awards were for merchandise and F&B.
Additionally, the Themed Entertainment Association (TEA) presented Disney Parks, Experiences and Products with three prestigious Thea Awards in 2022. The Thea Awards celebrate the excellence found throughout the themed entertainment industry.
TEA's Catalyst Award, in recognition of individual contributions to the advancement of the industry, went to Susana Tubert, creative director at Disney Live Entertainment. The Main Street Electrical Parade at Disneyland won a Thea Classic Award, celebrating a guest experience that has stood the test of time. Star Wars: Galactic Starcruiser received a Thea Award for Outstanding Achievement.
A desire to exceed expectations
"It is incredibly gratifying to have the work of our global teams meet with awards success," says Jiggetts-Tivony.
"It is the beauty of being both centralised and yet site-specific. Centralisation allows us to push harder, faster, and further. But then that localisation allows us to lean into who our guests are so that we're all moving in the same direction together. Each site knows its guests. The artists at each site are often from that population. There is a never-ending desire, not just to meet the expectation of our guests, but to exceed them.
"The holiday parade in Paris is a great example. A Christmas parade is always a crowd-pleaser. But that Christmas parade, because it became a new thing at night, exceeded the expectations of our guests. It transcended them. David holds us all accountable to a level of excellence, of innovation. He is a leader who is unafraid to say, 'That's just not good enough'."
"What I am most pleased about is that the awards recognise the incredibly broad scope of the work we get to do, and love doing," says Lightbody. "There is a parade, a nighttime spectacular, a stage show, and a creative individual. 
"It should go without saying, but I'm not sure it does, that we get to do everything from the biggest nighttime spectacular with fireworks and projections down to meeting an individual character, or a piece of street theatre. Having that broad scope recognised in this way is something quite important."
Reopening after COVID
Lightbody moves on to talk about the recent re-openings, such as the nighttime Fantasmic show, featuring fireworks, characters, live actors, water effects, pyrotechnics, lasers, music, audio-animatronics, searchlights, decorated boat floats, and mist screen projections, where that same excellence has drawn people back, post-COVID:
"Going through the pandemic was, for everybody in every industry, a rough time. So, it's a true joy to be able to emerge from it and to be able to bring the shows that people love so much back to the guests. There was a TikTok video that went out when we reopened Fantasmic at Walt Disney World taken from the Skyliner. It was just this huge roar as Fantasmic came back on that first night. For me, that summed up all the excitement and the passion of bringing back something people love so much. 
"Plus, as we brought shows like Fantasmic and Finding Nemo The Musical and various others back, we have had the opportunity to rethink them a little bit. That is what this hiatus has provided: an unusual opportunity."
Constant innovation at Disney
The work at Disney is something that Shelby frames as "a perpetual motion machine":
"It suddenly came to a stop, and we had a chance to rethink. We never stop. We're a 24-7, 365 operation. So, the fact that everything did stop gave us a chance to look back on some of our legacy work. We could look at those fan favourites, Main Street Electric Parade and Fantasmic, and think about bringing them a little more up-to-date; making them more inclusive, and a little more relevant, leaning into stories that, when they first opened, didn't even exist. If you're a little kid today, do you know Encanto or do you know Pete's Dragon?"
"As a parent, it's wonderful to experience a classic piece of entertainment with content that resonated when I was young. To see kids' eyes light up when they clock these newer characters is the other part of the gift. 
"There is a saying about how sometimes your burdens can be your blessing. In that period of 2020 to 2022, once we all kind of got our footing again, we learned how to turn that burden into a blessing. We learned how to take that as an opportunity. We learned how to work remotely, and we utilised new digital tools."
Adapting to new ways of working
Building on this, Lightbody says:
"We had moments during the pandemic where we didn't know how on earth we were going to get this job done. When, for instance, we were supposed to be opening a new show on the other side of the world and couldn't get on a plane.
"In terms of innovation, an aspect where we had good fortune or good planning was in the creation of Disney's Virtual Programming Environment, VPE. When I started with Disney and we were pitching shows, I always remember thinking; wouldn't it be amazing to have a way of seeing fireworks in a virtual environment?"
"Someone else much smarter than me created this tool. But we now have a way of visualizing every aspect, pretty much, of what we do in a nighttime spectacular, whether it's fireworks, fountains, or the way that light reflects on the lagoon. We can see the show before we create it."
It's also a programming tool:
"You can program the whole show, and then it's a bit of a plug-and-play at the other end.
"Essentially, the hiatus created by the pandemic accelerated innovation. In this case, the tool went from something that we played with to an essential. 'Harmonious' was pretty much the first show to make full use of that tool. Although other shows have used it as well, in Hong Kong and Shanghai in a big way. In terms of innovation and new ways of working, that's a big deal for us."
Inclusion and diversity at Disney
Highlighting another key innovation at Disney, she adds:
"We found the courage to have some hard conversations around inclusion and relevancy. Those can be uncomfortable. But the result is manifested in work like the Tale of the Lion King at Disneyland. It's reflected in work like the new end of the Electrical Parade, where it takes its cue from it's a Small World, another classic attraction, but one that really does celebrate diversity, and is reflective of a more diverse content slate.
"Those brave conversations don't stop happening. In our desire and ability to move through, we can start to make meaningful changes to the work that we do. We can inspire, all over the world, different voices to contribute to the work."
"Also, a lot of our initiatives are around ability. In the past, we've had the headset or signers on the side of a show. In 'Let's Get Wicked', an award-winning seasonal Halloween show in Hong Kong, they are using this integrated language of signing performers, just like Cantonese or English. Something similar is happening in France as well. The performers in the Lion King show utilise choreography and performance in the delivery of sign as another language in the overall performance of the piece. 
"The more we think about inclusion, the more our storytelling will start to embody what it means to make sure that everyone feels seen in the world of the stories that we create."
Innovation in sustainability at Disney
While not involved in attraction development directly, both Jiggetts-Tivony and Lightbody are committed to the company's objectives in terms of . 
"Let's take costuming for example," Lightbody says. "One of the great benefits of our organisation, which is one of the largest performing arts organizations in the world – we entertain millions of people every year and tell thousands of stories – is that the scope and scale of what we do give us opportunities to make a real difference in the world. 
"When we talk about sustainability, we have a real responsibility on that front. One of the joys of working here is that you've got some incredibly smart people around you. And they are doing some incredibly smart things. One of those is in costuming."
"We have one of the largest working wardrobes in the world. So, we are looking all the time at how to source fabrics, for example, that are more sustainable, recyclable, and that are themselves made from recycled materials. Disney Wish, our new cruise ship, is using plastics recycled from the oceans for the fabrics for its stage shows. Sustainability is important and sustainable methods count all the way through the organization."
"Again, it's innovation," Jiggetts-Tivony comments. "You don't just rest on your laurels on one side of the equation. You move forward 360."
Celebrating a legacy of innovation at Disney
Referencing the Thea and Brass Ring awards, she adds:
"It occurs to me that one gets acknowledged in a year, so it looks like a good year: Woohoo! But actually, it was several years in the making. Susana Tubert, creative director at the Disneyland Resort, has been with the company for a little over nine years. This is an individual who has a long career in entertainment even before Disney and who has been working to elevate the quality of the work, focus on the teams, to bring a spirit of inclusivity to the work that they do. But it happens to be acknowledged in the same year as a bunch of other things."
Lightbody adds:
"The incredible thing is that these awards represent shows that were developed 50 years apart. Main Street Electrical Parade was created 50 years ago. It has been updated, of course, as Shelby has been explaining. And then there is the Galactic Starcruiser, which must be one of the most audacious pieces of theatre in history. It is an extraordinary piece of theatre. It's two days long, and the script is impressive. We talk about legacy – that breadth of time is incredible."
Eclectic doesn't begin to cover it.
Engaging with visitor attraction trends
In closing, they address the trends and developments they perceive in the way stories are told.
"We have the privilege of telling stories in all sorts of ways," Lightbody says. "We are very lucky. I started by talking about scope, and I think that is true here, too. Immersive theatre is not new. It's a decade-old trend, probably. But I do think the increasing interest in the guest or the consumer to be engaged in new and different ways of being immersed is something that is at the very top of mind right now."
"Star Wars Galactic Starcruiser, which was created with our Walt Disney Imagineering colleagues, is an extraordinary example of that. Here, the live and physical and the digital come together to tell stories in a new way that we haven't done before. Starcruiser is the beginning of something new in our industry, and for us. Where it will go, I don't know, but I believe it's the beginning of something very important."
The post The spirit of innovation at Disney parks and resorts appeared first on Blooloop.