ThinkTransit Day Two: It's All About Innovation | Trapeze Group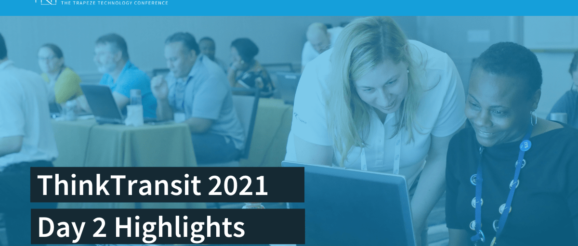 Our customers show over and over again innovation in the face of adversity
Roger Helmy, Dir. Product Management, Modaxo, kicked off our Day 2 Keynote with a short video on the newest innovations we've brought to our customers.
From new ways to look at route data and better yard management to Cloud PASS and more flexible trip planning solutions. Trapeze is building the next generation of Community Mobility Solutions.
And the award goes to…
Every year at ThinkTransit we give out the Awards of Excellence for Innovation, Advancement, and Community Building. These awards recognize three pillars of excellence in transit. To lead into the future, we all must innovate beyond what we've always done, advance what it means to be a transit agency today, and be a part of our larger community.
This year's winners are:
Congratulations to all this year's winners.
What is your power and purpose?
Our keynote session closed with another inspiring session. On Day One, Robbie Makinen challenged us to weave ourselves into the community, on Day Two Lauren Skiver, CEO of SunLine Transit Agency. challenged us to find our power and purpose to innovate.
Lauren hit head-on the challenge of innovating in a regulated business like transit. We have a great responsibility to our staff, riders, and everyone else sharing the road, but we also have a responsibility to make sure transit evolves with the times and does more.
Innovations in transit are essential to the continued health, growth, and resiliency in the industry. While Inspiration is a noun, Lauren sees it as something to spur action. Something to help us take the next step:
"Inspiration creates action in my mind"–Lauren Skiver
Lauren looks as each thing she has to do as an opportunity to see how it can improve herself or others. She sees even the most mundane tasks as opportunities for innovation.
Like Robbie, Lauren sees working in transit as a higher calling, not a j-o-b job:
"Public transit is a calling, not just a job. It's something we do because we create something for the community, feel good about how we connect people to jobs, we feel good about how we create mobility for a community, and we feel good about the people we work with in this business."
For Lauren, innovation and inspiration come down to harnessing your power and purpose for good. Sometimes it's scary. Sometimes we've used our power in the wrong ways, but the pandemic has shown us all we need to tap into our own personal power and purpose to push ahead.
At SunLine Lauren is striving to have an entirely renewable energy-powered fleet by 2035. Already leaders in CNG, full electric, and hydrogen fuel cell electric buses, Lauren is pushing the agency farther and fast than they dreamed.
The drop in ridership in the pandemic gave her the unique opportunity to innovate faster towards building their own microgrid, generating their own hydrogen for buses, and more.
Lauren showed how harnessing your passion and purpose–like breaking our dependence on fossil fuels–is something within all our grasp. We just have to seize it.
Thank you Lauren for an inspiring keynote to kick off Day Two.
We don't think about warranties very often. Either personally or at the agency level, but for fleets of vehicles and trains, warranties can be a potential gold mine of money to recoup.
In one of the first sessions of the day, David Allen of Trapeze spoke with Bob Cutaia for MBTA about how he has recovered over $6.58 million dollars since 2003 simply by tracking and leveraging warranties on parts. And even when something consumable like windshield wipers start failing expectedly, careful tracking can expose manufacturing issues that lead to dollars back in your pocket.
Using the Trapeze Enterprise Asset Managemetn (EAM) Warranty Module, Bob has been able to catalog, report, and file warranty claims right to manufacturers. The most important part, according to Bob is making sure everyone knows their part in tracking warranty repairs.
It all comes down to the three "Cs":
If you have all those covered, tapping into warranties is just a matter of record-keeping. Remember, in your contracts, there are warranty amounts built-in that you've already paid for. Tracking and submitting warranties is your agency's way of getting your own money back you can use for other projects.
And it isn't just warranties. Bob found markets for parts containing precious metals that brought in over a half-million dollars. Money that would have just gone unrecovered if the parts hadn't found a market elsewhere.
According to an audience poll, only about half of the attendees had active warranty programs. That means there is a lot of money to be recovered for your agency, you just have to go out and get it.
Adapting solutions to meet community need in Minneapolis
One of the last sessions of the day was also one of the most inspiring. Andrew Brody of MTS and Todd Ringhand of Metro Mobility from Minneapolis talked with Eileen Collins of TriMet LIFT about how they adapted PASS to truly help the larger community.
Faced with the dual problems of needing to keep good drivers employed and real needs in the community. Andrew and Todd rolled out measures like:
Plus making administrative changes to make things a little easier and flexible as everyone managed their way through the pandemic. Some of the services like grocery and curbside pickup may even continue after the pandemic because they are popular and save money!
Adapting to the pandemic wasn't all just offering free services and flexible services. They also had to implement new COVID cleaning protocols, additional breaks for drivers to clean, time for drivers to learn new procedures, and transition their entire workforce to work from home. Huge changes that were needed to be rolled out in weeks, not months.
What was truly telling, is how the whole organization came together to do what was needed for the community. Even the program to bring food from food banks to people in need came from a person in the agency seeing a need and filling it. When people needed to step up. When things needed to change on a dime. The employees of MTS and Metro Mobility answered the call.
Which is exactly the sentiment and message from Robbie and Lauren's keynotes. We're not isolated from our communities. We are our communities. We are the linchpin that keeps people working and living during these hard times.
Day Three looking ahead
The first two days have been a look back. How we reacted. How we adapted. How we innovated. How we helped. Day Three is our look ahead. What's next for the future of transit in the post-pandemic world.
Many of the "temporary" innovations–like grocery delivery via PASS–might stick around, but some things will change. Our final keynote will kick off with a panel talking about what's next. Followed by sessions on how every facet of the industry is looking ahead to what's next.
We'll wrap the day with some yoga, live music, and a social hour. Great ways to close out a record-setting ThinkTransit.