TIBCO NOW Singapore Day 1: Innovation for Impact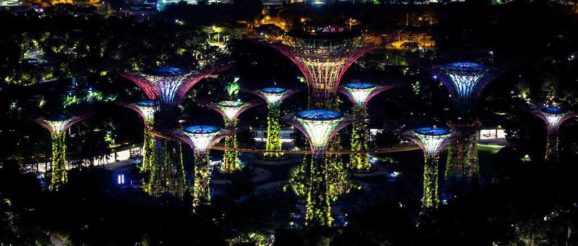 The first leg of the 2019 TIBCO NOW Global Tour is in full swing here in Singapore. Customers, partners, and sponsors have joined TIBCO at the Marina Bay Sands. The theme of this year's TIBCO NOW tour is Innovation Everywhere, a concept that permeated discussions today, starting from the very first session's this morning and continuing throughout the day.
Breakout Sessions, Certifications, Hands-On Labs for Innovation
Conference attendees jumped right into the action on day one, which began with breakouts, hands-on labs, and certification opportunities. Sessions covering emerging technologies including blockchain, artificial intelligence, and innovation across various industries made up the morning breakouts.
TIBCO subject matter experts led participants through a variety of hands-on labs, enabling them to try their hand at using TIBCO tools to build out their own digital solutions. Simultaneously, certification exams were offered, and a number of proud customers are now TIBCO Certified Professionals.
Proud TIBCO Certified Professionals
In the midst of the excitement, customers explored our Technology Hub, where they had the opportunity to chat with TIBCO experts and learn about different augment, connect, and govern technologies. Customers also got to speak with many of our partners, watch live demos, and race on the Formula One simulator.
A Successful Summit: Debuting our New Partner Program
TIBCO partners at the conference attended a standing-room-only Partner Summit on Wednesday. Partners are an integral part of the TIBCO ecosystem, helping to spread the reach of our products and solutions around the globe. We are proud of the relationships we continue to cultivate with our partners, and were thrilled to recognize several of them with Asia-Pacific Partner Excellence Awards at the summit.
Customer Spotlight
Prior to heading to the Tech Hub for product demos and lunch, some of TIBCO's top customers shared their successes in breakout sessions and video testimonials as a part of our Voice of the Customer program. We got to hear from customers including CargoSmart, CyberLogitec, Telkomsel, and KBTG on their digital transformation journeys and how it is equipping them to innovate and disrupt in their respective industries.
General Session: Innovation Everywhere
As Thomas Been, CMO at TIBCO often states, innovation doesn't happen in isolation—it is a team sport. Been kicked off the General Session with the idea that TIBCO cannot innovate alone; our customers and our partners are integral to our ability to innovate, and without them, our innovation ecosystem could not exist.
Connected Intelligence Goes Green
Conference attendees who are familiar with the TIBCO Connected Intelligence Cloud may have noticed a slight shift in its color scheme today. A new color has joined the recognizable orange augment and blue connect: the green govern. With recent acquisitions, notably Orchestra Networks, now TIBCO EBXTM, and SnappyData, now TIBCO ComputeDBTM, the Connected Intelligence Cloud now includes an all-encompassing set of data governance solutions.
For more on our recent product announcements, check out our press release detailing our most recent updates.
Customer and Partner Keynotes Share Secrets to Success
Customers and partners are at the heart of TIBCO's success, and we were proud to share the stage with some of our most innovative peers.
Telkomsel: Montgomery A. Hong, director of information technology at Telkomsel, captured the audience's attention by sharing his telecom company's impressive journey to becoming a digital business. According to Hong, the telecommunications industry has gone through drastic changes, and one of the consequences of that evolution is that consumer behavior is no longer linear, it is more of a constantly turning wheel. Telkomsel leverages TIBCO solutions to create a seamless customer experience for its 160 million-plus subscribers.
Microsoft: The mission to empower every person and every organization on the planet to achieve more is what drives Microsoft. "We are pleased to share a partnership with TIBCO, aligned in the mission to fuel digital businesses to achieve more," stated Vivek Puthucode, general manager, commercial partner, Asia Pacific. TIBCO Cloud Mashery and Microsoft Azure have joined forces, and Mashery is the only API management solution that can be deployed on Azure's platform. Puthucode reiterated the imperative for organizations to undergo a digital transformation, explaining that those who are afraid of the change will be left behind.
Innovation is for Everyone
Nelson Petracek, TIBCO's CTO, believes that innovation should be fun. He also believes that innovation is more fun if we're doing it together. At TIBCO NOW 2018, we announced TIBCO Labs, a collaborative program run by the Office of the CTO. In just over half a year, TIBCO Labs has garnered 25 partnerships and built five projects together. In blockchain, TIBCO Labs has seen TIBCO CloudTM AuditSafe and Project DovetailTM come to fruition. TIBCO CloudTM Conversations, TIBCO® Graph Database, and Project Discover are the newest artificial intelligence and machine learning projects.
Nelson Petracek, CTO, TIBCO
TIBCO COO Matt Quinn concluded the general session by encouraging participants to innovate for the future. "It's not just good enough to be good, let's be boldly awesome as we work together to create an even better future for those of you that come next."
Product Announcements
Augment
Connect
Stay tuned for a recap of our second day in Singapore, or visit to learn more about the next two stops on our tour, Chicago and London. For real-time updates, follow us on Twitter and Instagram, and use the hashtag #TIBCONOW to spread the word.