Total Expert Adds Josh Jabs as Chief Technology Officer to Fuel Innovation in the Next Stage of Growth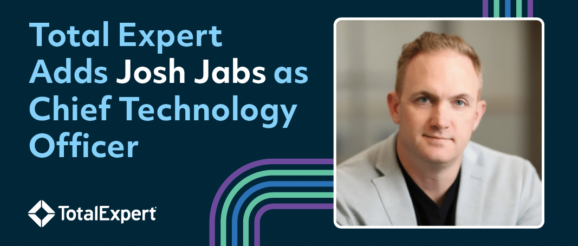 Arrival of new CTO emboldens Total Expert's commitment to revolutionizing how financial institutions engage with their customers
MINNEAPOLIS— Oct 26, 2023—Total Expert, the customer engagement platform purpose-built for modern financial institutions, today announced that Josh Jabs has joined the company's executive leadership team as Chief Technology Officer (CTO). As CTO, Jabs will lead Total Expert's product and engineering teams and set the strategic innovation path for the company.  
"Josh has extensive expertise driving results through customer-focused innovation, leveraging market disruptions and building high-performing teams," said Chad Gaydos, president of Total Expert. "Joining our team, Josh brings with him more than 25 years of global experience in enterprise software, cybersecurity, and financial technologies; he has what it takes to develop and drive strategies that power tremendous customer success and our growth trajectory."
Before joining Total Expert, Jabs held the role of CTO with Calabrio, where he led the company through a significant period of growth and transformation driven by accelerated SaaS adoption. Prior, Jabs led multiple business units at Entrust, a leader in trusted payments, identities, and data; directed investor engagements in the technology sector; and worked within the U.S. Government in emerging technology.
"Total Expert has already reshaped how financial institutions engage with customers, and with its Customer Intelligence solution, the platform is the first to combine a system of intelligence with a system of action," said Jabs. "I'm thrilled to join the Total Expert mission of delivering the perfect customer journey across every financial milestone. Together, we'll build on the company's customer-centric approach to innovation as we open new opportunities for growth."
The hiring of Jabs marks a year of continued innovation and growth for Total Expert as the financial services industry navigates unprecedented challenges. In 2023, Total Expert expanded into the insurance vertical, and made investments into growing its partner ecosystem. Total Expert also continues to strengthen its Customer Intelligence solution. In its first year, Customer Intelligence surfaced more than 600,000 insights and automated Journeys that have led to over $10.9B in loan applications and $6.7B in funded loans for the nation's leading lenders; many of these loans stemmed from re-engaged leads and past customers that would have otherwise been missed.
About Total Expert 
Total Expert is the purpose-built customer engagement platform trusted by more than 200 financial enterprises. The platform unifies data, marketing, sales, and compliance solutions to deliver the perfect customer journey across every financial milestone, in any market. Total Expert turns customer insights into actions to increase loyalty and drive growth for banks, lenders, credit unions, and insurance companies, and is now available to purchase through the AWS Marketplace and Salesforce AppExchange. For conversations between modern banks and lenders on leadership and innovation, listen to the Expert Insights podcast hosted by Founder and CEO Joe Welu. For more information, visit totalexpert.com. 
The post Total Expert Adds Josh Jabs as Chief Technology Officer to Fuel Innovation in the Next Stage of Growth appeared first on Total Expert.