Transforming Healthcare Through Innovation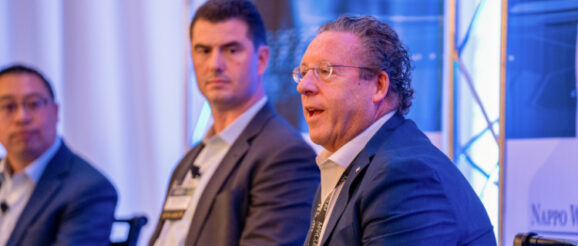 Innovation is a driving growth factor within the nation's largest industries, shaping future business operations and customer interactions. 
Healthcare is no different. 
"Today, it has never been more important to accelerate change, to change the status quo," Hartford HealthCare chief clinical innovation officer and chief medical informatics officer Barry Stein told attendees at the Sept. 21 New England Life Science and Biotech Summit. 
"And for that to happen, we have to innovate, we have to change the way we're doing things. So today, it's never been more important to change faster than we've ever done before."
Stein joined Yale New Haven Health System senior vice president and chief digital health officer Dr. Lee Schwamm, United Healthcare New England Health Plan CEO Tim Archer, and Cigna Healthcare Network and Benefits Solutions vice president Jim O'Brien for a discussion on healthcare innovation at the summit, produced by CBIA and Marcum. 
Core Focus 
Marcum partner Jason Moi pressed the panelists about their visions for the future of healthcare and the roles that artificial intelligence and patient experience will play. 
"Innovation is everywhere," Schwamm, who also serves as an associate dean of digital strategy and transformation at Yale School of Medicine, said. 
"What has been lacking is really a disciplined approach to enterprise scaling and sustainability of innovation, turning innovation into new business process." 
For United Healthcare, innovation is one of the company's five core values. 
Archer said United spends billions of dollars a year nationally in innovation across all facets of its business—the provider, the member, the employer, and the broker. 
O'Brien said the nation has seen the way companies like Amazon and Uber innovated in the blink of an eye. 
"Healthcare needs to make a leap of similar to degree to keep up," he noted. 
Patient Experience 
While the pandemic exacerbated problems with access to care, organizations are also finding patients are overwhelmed navigating the system and choosing the right physician and facility for any given treatment. 
"That excess information doesn't necessarily result in a smoother, easier path for a customer, for a patient," O'Brien said. 
"We want to make it simpler and more affordable," added Archer. 
O'Brien explained that Cigna now uses PathWell, a concierge of sorts, to help Connecticut patients. 
He said partnerships with Hartford HealthCare and Yale New Haven made this simpler because the system uses an established network within the network to allow patients to know where they can get the care they need. 
The model is one they are continuing to improve upon and expand nationally. 
In a similar way, United Healthcare is developing ways to remove prior authorization barriers from the market so known providers get a gold card specification in their systems.
"If providers meet certain eligibility requirements, their gold card and some of the prior authorization hurdles go away," Archer said.
Navigational Care 
Hartford HealthCare and Yale New Haven physicians are trying to rethink the navigation of care. 
Stein said Hartford HealthCare has put a focus on the delivery of healthcare in four categories—access, payment, credibility, and quality of care. 
He pointed to a shift in encouraging trips to an urgent care center instead of the emergency room for patients. 
Stein noted that the healthcare system also moved some surgical procedures to outpatient settings that are cheaper and provide a higher quality of service. 
Schwamm said he was tasked with retooling how the system delivers digitally enabled care through the lens of patient, employee, care team member, and researcher or analyst experience.
"We try to think about journeys and map them out so they can deliver personalized care informed by consumerism," Schwamm said.
"We have to move away from discrete episodes of high cost adventures and move to more of a continuous model of engagement with patients and their health."
Schwamm believes it is important to invest more in monitoring patients earlier through strong primary and preventative care. 
"We've got to be rewarded for keeping people healthy," said Schwamm.
Artificial Intelligence 
O'Brien believes this is where innovation like artificial intelligence can come into play. 
"I think AI has the opportunity to help us develop a better identification of those pathways, and identify the patients earlier in their journey," he said. 
All of the panelists believe there is tremendous potential with artificial intelligence to improve processes and patient experience. 
"I think as it relates to our patients, it's really important, first and foremost, that they realize that there's no fully autonomous decision making going on," Schwamm said. 
He said there are many areas where artificial intelligence can actually help personalize the experience by drafting patient portal messages that the doctor would not be able to give the same detail to. 
In other ways, AI can listen to the conversation between a patient and doctor so the doctor can pay more attention to the patient, rather than typing notes during the visit. 
"With the cost pressures from COVID, I think you will see most hospitals adopting some form of AI in the next three years in multiple areas, primarily administrative first, and then increasingly, in clinical domains, like radiology," Schwamm said. 
Like O'Brien and Schwamm pointed out, Stein said AI will help with diagnosis, adding that it is important for patients and clinicians to fully understand the use of the technology. 
"A lot of people ask the question, 'will AI and ML replace the clinician?'" Stein said. "And the answer is no.
"What it will do is those clinicians that are adept at using this technology to improve the clinical delivery of care will replace those clinicians that are not adept at taking full advantage of this technology."
Collaboration
To innovate and bring technology into the system, the panelists said it is important to give everyone a seat at the table. 
Archer said there needs to be a collaborative approach so innovation isn't happening in a closed circle. 
Still, that's a balancing act. 
"I think everybody's mindset is there," Archer said. "But we just want to make sure that innovation isn't stifled unnecessarily or inadvertently at the harm of progress."
Stein agreed. He said the industry cannot keep doing things the same way they have for the past decade. 
"The difficulty is taking all of the great ideas and implementing them into a risk-averse environment like healthcare and rapidly transforming without bad things happening," he noted.
 For Schwamm, the need for collaboration and engagement with the community became more transparent to him during the pandemic. 
"I think I really wasn't as aware of how broken healthcare was three years ago, how unfair it was, and how tied to things like poverty and social determinants of health it really was."
"We have a huge opportunity to reimagine ourselves and I worry that we can't do it alone.
"I'm worried we won't do it unless as a community we decide we're going to do this differently."
The post Transforming Healthcare Through Innovation appeared first on CBIA.