U of T entrepreneurs credit Adams Sustainability Innovation Prize for energizing sun-care startup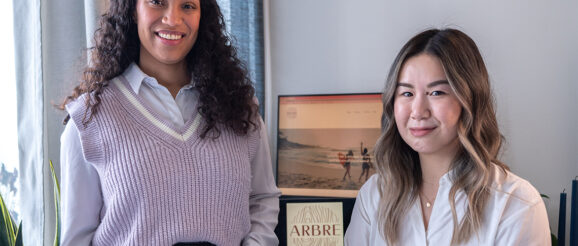 Kristina Knox and Stephanie Tien say the feedback they've received from pitch competitions has only made their sustainable sun-care brand Arbre better – and that includes the rejections.
As second-place winners at the University of Toronto's Adams Sustainability Innovation Prize competition last year, Knox and Tien say the experience paved the way for the upcoming launch of Arbre's debut sun-care product, Spruce, a mineral-based powder dry shampoo with SPF that protects the scalp from sunburns.
The co-founders stress it was their second time vying for an Innovation Prize – and are encouraging this year's participants not to get discouraged if they don't take home a win during the next contest on March 3. The same goes for those who weren't selected as finalists.
"For people who didn't make it into the competition, just keep trying. Just because you got rejected doesn't mean your idea isn't good," says Knox, a PhD student in cognitive psychology.
"It's an opportunity to learn from that and figure out how you can better refine your business – and how you communicate it."
The annual competition, hosted by the President's Committee on the Environment, Climate Change & Sustainability (CECCS), awards a total of $25,500 in prizes to support University of Toronto students' ideas for a more sustainable future.
In the case of Arbre, Knox and Tien – who earned her master's degree in pharmacology in 2020 – are betting that their SPF dry powder shampoo will be a hit with consumers. Made with reef-safe ingredients and recyclable packaging, Knox says the first orders are set to be shipped out in biodegradable mailers this spring.
It's a milestone that the two friends have been working toward since a skin-peeling burn during a 2019 beach getaway spawned the idea for their sustainable, innovative and inclusive sun-care brand.
Tien says Arbre – which received support from U of T Mississauga's ICUBE incubator and the Hub at U of T Scarborough – used the $7,500 in Innovation Prize money to pay for the process of obtaining for Health Canada approval and the early stages of manufacturing.
The duo's participation in the Adams Sustainability competition also helped them prepare for the 2022 Startup Global Pitch Competition, where their third-place finish came with a $10,000 cheque and exclusive in-kind support.
"We were so grateful to be able to participate in the [Adams Sustainability Innovation Prize]," says Tien. "The funds went a long way for us, and we're really appreciative of that and excited for all the other finalists that get to participate this year."
The 2023 Adams Sustainability Celebration Innovation Prize pitch competition and award ceremony, which is supported by the donation of Wendy Adams, takes place on March 3 in Hart House's Great Hall.
This year's finalists are: