UF's National Medal of Technology and Innovation recipient works to make society better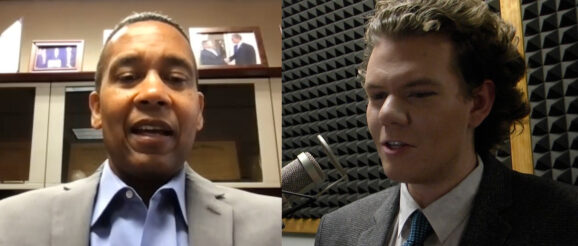 After receiving the National Medal of Technology and Innovation from President Biden in a ceremony at the White House last week, Juan E. Gilbert, Ph.D., is reflecting on his career.
Gilbert sits as the Banks Family Preeminence Endowed Professor and is the Chair of the Department of Computer and Information Science and Engineering (CISE) at the University of Florida. He was recognized for his work, which he says focuses on making elections more accessible and secure.
When asked about his experience at the White House, he said he could only describe it in one word: "amazing."
On a shelf in his office is a photo from the time President Obama honored him with the Presidential Award for Excellence in Science, Mathematics and Engineering Mentoring. He said every time he gets such an honor it still feels like the first.
Gilbert has been working to improve election systems since the 2000 election, and he is happy to see his work recognized, he said. But he added that it feels even greater to be able to represent the campus and Gainesville community.
"It's a huge honor to be able to say 'look, we came from this place. This is who we are. We are Gators. We are representatives of Gainesville, Alachua County…,'" Gilbert said. "It's a significant honor."
Gilbert credits the University of Florida for helping him achieve all of his accomplishments. He said no one wanted to fund his work initially and he was able to make it all happen with his Endowed Professor funds.
His work led to the creation of the Transparent Voting Machine, which allows voters to make their selections on a transparent piece of glass and watch them be printed onto a paper ballot on the other side. The technology builds on his previous work developing a voting machine that allows voters to cast their ballot through a variety of inputs to help people of all abilities.
Gilbert said this innovation has been put to use in federal, state, and local elections around the country. The technology comes in the context of fears of voter fraud. The machine creates paper ballots because present technology does not prevent digital ballots from being manipulated, deleted, or held for ransom, Gilbert said.
"I'm feeling confident in the integrity of our election system, and I'm feeling confident in our ability to defend against attacks against this," Gilbert said.
Diversity is a focus of Gilbert's work. Another one of his projects, Virtual Traffic Stop, allows drivers being pulled over for a routine traffic stop to hold a video call with the officer while a friend or family member watches to deescalate tensions.
When asked about the next problem he is looking to solve, Gilbert said he could not share anything just yet, but encouraged people to be on the lookout.
"We are about making society better, moving things forward and helping," Gilbert said. "We look at it and say, 'It's broken, but why don't we fix it this way?'"