US-EU Trade and Technology Council Shows Opportunity for Transatlantic AI Cooperation – Center for Data Innovation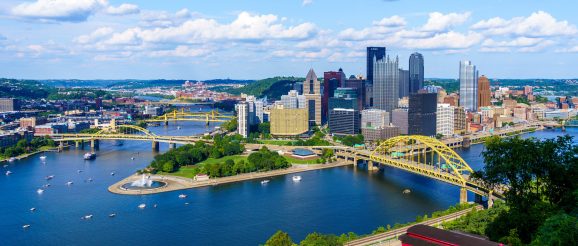 A high-level group of policymakers from the EU and the United States met in Pittsburgh recently for the inaugural meeting of the U.S.-EU Trade and Technology Council (TTC). High on the agenda was furthering cooperation on the development and deployment of artificial intelligence (AI) which stakeholders on both sides agreed has  "the potential to bring substantial benefit to our citizens, societies and economies" and "can help tackle many significant challenges that we face, and they can improve the quality of our lives." The TTC outlined four main areas for cooperation on AI.
First, acknowledging their roles as founding members of the Global Partnership on AI (GPAI)—a multistakeholder group launched by the G7 to focus on the responsible development of trustworthy AI—both the United States and the EU agreed "to develop a mutual understanding on the principles underlining trustworthy and responsible AI." Furthermore, they committed to upholding and implementing the OECD Recommendations on AI, a series of steps governments can take to support AI that respects human rights and democratic values. These steps include ensuring a policy environment that supports the deployment of trustworthy AI systems, cooperating across borders and sectors on responsible AI, and facilitating public and private investment in R&D to support trustworthy AI.
Second, the TTC agreed that the United States and the EU will explore "measurement and evaluation tools and activities to assess the technical requirements for trustworthy AI." The goal of such tools will be to create a shared technical understanding of how to measure items such as accuracy and bias in AI systems. Agreement on a common approach to measuring and evaluating AI systems, as well as training data used in AI systems, would be helpful for organizations seeking to deploy AI in both the United States and the EU. Ideally, the TTC will be able to leverage some of the work of the National Institute of Standards and Technology (NIST), which has been soliciting public feedback on its approach for identifying and managing AI bias.
Third, the United States and the EU committed to collaborating on projects "to explore better use of machine learning and other AI techniques towards desirable impacts." The two sides agreed that this cooperation should include "AI technologies designed to enhance privacy protections" but noted that additional areas will need to be identified through further exchanges. Ideally, both parties can identify high-impact areas where AI can be used for economic and social good, including to improve health, education, and the environment.
Finally, both sides agreed "to jointly undertake an economic study examining the impact of AI on the future of our workforces." The goal is to identify the impact AI will have on employment, wages, and labor market opportunities. Findings from this research agenda will help inform policy responses to AI so that "the benefits of technological gains are broadly shared by workers across the wage scale." This goal aligns with the first of the five OECD Principles on AI that "AI should benefit people and the planet by driving inclusive growth, sustainable development and well-being." While the motivation for this research may be based on misguided fears that AI will lead to massive unemployment, policymakers should be prepared for how to assist workers navigating a changing labor market.
The TTC also acknowledged that both sides have agreed that "policy and regulatory measures should be based on, and proportionate to, the risks posed by the different uses of AI." However, each side has a very different approach to achieving that goal. The EU has proposed legislation, the AI Act, which would subject high-risk uses of AI to certain requirements, whereas the United States has proposed a voluntary risk management framework to guide the development and use of AI systems.
To put its words into action, the TTC has established a number of working groups, including on technology standards, secure supply chains, data governance, export controls, and investment screening. There is still much work to do for the United States and the EU to come to terms on mutually acceptable areas of cooperation on AI, but the TTC's Pittsburgh summit is a step in the right direction.
Image credit: Unsplash