Vote for Health Innovation of the Year: Tech and life sciences unite at the 2020 GeekWire Awards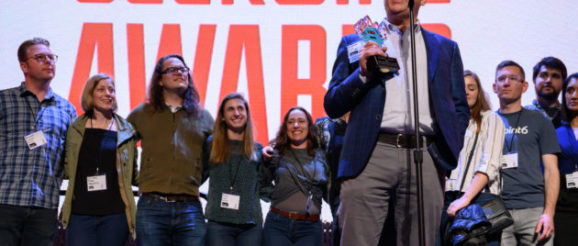 Technology is increasingly influencing the science of health, and the delivery of health care. Scientists and entrepreneurs from the Seattle area are finding new ways to address some of the biggest challenges in health by leveraging some of the region's inherent strengths.
This confluence of trends is especially evident this year in the Health Innovation of the Year category for the GeekWire Awards. This category recognizes pioneering health, life science, biotechnology and medical breakthroughs that promise to meaningfully improve lives, either directly or by improving the health care system.
Today we're recognizing the five finalists in this category for 2020: Athira Pharma, Blaze Bioscience, the Fred Hutchinson Cancer Research Center, Sana Biotechnology and Sound Life Sciences. Learn more about each finalist and cast your ballot below.
Community voting is now under way across across 13 GeekWire Awards categories. These community votes will be combined with feedback from more than 20 judges to determine the winner in each category. We'll announce the results live on stage March 26 at the GeekWire Awards — presented by Wave Business — in front of more than 800 geeks at the Museum of Pop Culture in Seattle. Community voting ends March 6. You can register for tickets on the event site or below.
Virtual primary care startup 98point6 took home the prize in the Health Innovation of the Year category last year.
Submit your votes below, grab your tickets, and scroll down for descriptions of each Health Innovation of the Year finalist. This category is presented by Premera Blue Cross.
Create your own user feedback survey

A big thanks to our longtime awards presenting partner, Wave Business, for supporting this fun community event. Also, thanks to gold and category sponsors: BCRA, EY, JLL, Premera, WSGR and Blink. And to our supporting sponsors First Tech Federal Credit Union, Bader Martin, Akvelon, Flyhomes and Moz. If interested in sponsoring a category or another component of the GeekWire Awards, please contact us at [email protected].