VW & SK Innovation looking at battery manufacturing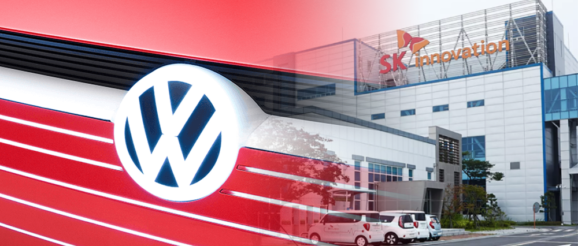 Volkswagen may be preparing their entry into mass production of battery cells for EVs, according to a German news magazine. They would be cooperating with a Korean partner, SK Innovation, to set up and operate multiple battery cell "Gigafactories" in Europe.
There has been no final decision, however, as the negotiations have not concluded, according to the report. There has also been no official statement, and Volkswagen has declined to make a statement at this point. Another source has added that Volkswagen were checking several options to manufacture battery cells for EVs, and that persons familiar with the dealings have repeatedly stated that VW were looking at partnerships in order to quickly acquire competencies in the area.
In April there had already been reports that the new CEO Herbert Diess was looking to change VW's paradigm in regards to battery cell production. The statement at the time had been that the company was evaluating all options, including in-house production, joint ventures or even the takeover of other companies to secure the technology. Later, Diess added that Volkswagen was looking at establishing their own production of solid state batteries for EVs starting in 2024 or 2025, likely in Europe, and possibly in Germany, if the "right conditions" were present.
But back to the current developments: SK Innovation is the third largest cell manufacturer in South Korea, after LG Chem and Samsung. According to Bloomberg's New Energy Finance for the 2016/17 period, the company was not among the global industry leaders, meaning the top six global cell suppliers. The global market percentage belonging to company was estimated to be about 2% by 2021, according to Roland Berger. To compare, LG Chem is expected to reach 30%, while Samsung is said to be standing at 7% by then. Volkswagen has been buying battery cells from the latter two manufacturers for some time now.
Volkswagen's pilot project in Salzgitter for battery cell manufacturing is still in it's early stages. The first fully electric model from the I.D. family will be ready at the end of next year at the facility in Zwickau. The conversion of the Zwickau factory to a fully electric manufacturing plant is also proceeding as planned. Following production launch at the end of 2019, the plan is to manufacture 1,500 EVs daily by 2020. Six models from the brands VW, Seat and Audi are planned to begin with. Two I.D. models will make the start.
manager-magazin.de, manager-magazin.de (Paywall), welt.de (Optionen), automobilwoche.de (Zwickau) (All in German)
The post VW & SK Innovation looking at battery manufacturing appeared first on electrive.com.