Walmart Pushes Digital Innovation to Investors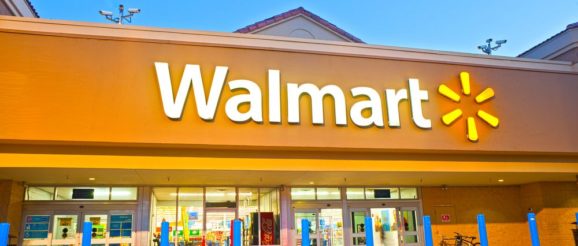 Doug McMillon started his presentation for Walmart's annual investor meeting in Bentonville, Arkansas by saying he wanted to "challenge your thinking about Walmart."
"We are getting to reimagine retail and our business … expect us to test a lot and fail a lot," he said.
It was an attention-getting method of starting the meeting, as investors have heard about Walmart's various big moves in eCommerce while also dealing with the fact that the nation's largest retailer, by sales and footprint, is dialing back its earnings forecast for the year – and also predicting that its high investment in eCommerce growth will be slower next year than this year.
Just ahead of its annual investors meeting, Walmart lowered its fiscal 2019 forecast for adjusted earnings per share to a range of $4.65 to $4.80, down from $4.90 to $5.05. Analysts had been predicting a range of $4.79. Walmart cited its acquisition of Indian eCommerce firm Flipkart as one of the key impacts on its earnings growth this year. The retailer purchased a 77 percent stake in Flipkart for $16 billion in May of this year as part of its longer-term global digital strategy.
The deal, which represents Walmart's largest ever acquisition, is a crucial step in grabbing a strong foothold in India's rapidly growing retail market, where over 300 million consumers have smartphones today, and where the median consumer age is 28.
As an added bonus, they outbid Amazon on the deal.
And Walmart's continual efforts at raising the level of its digital game were very much on display early in investor day, as the CEO talked up the firm's strategic advances in sewing up patents in last-mile delivery, biometrics and augmented reality. Also highlighted were investments the firm has made in expanding its merchandising; incorporating blockchain technology to improve food safety and traceability; and the deployment of pickup towers in stores to boost digital sales and delivery options.
Grocery was also a recurring theme during McMillon's presentation, with a heavy emphasis on Walmart's already powerful position in the segment. More than half – 56 percent, to be exact – of the retailer's sales come through grocery, and as of today, about 90 percent of the U.S. population can access food at a Walmart location that is within 10 miles of them.
Grocery, however, is a hotly competitive category on all sides, with Amazon exerting particularly strong pressure since its acquisition of Whole Foods and the dramatic expansion of its Prime Grocery delivery service. And, according to McMillon, Walmart is doubling down on upgrading its grocery efforts, with 800 U.S. stores slated to offer grocery delivery by the end of the year, and more than 2,000 offering grocery pickup services.
Walmart's various investments in digitizing have paid off in 2018, as the firm has persistently logged strong growth and is forecasting 40 percent year-over-year growth in digital sales. And in August, the firm posted its strongest quarterly U.S. sales growth in a decade. Walmart continues to forecast fairly robust online sales growth for 2019, though at a somewhat less impressive rate than expected for the current calendar year. Walmart is forecasting 35 percent online business growth for next year.
Walmart's Chief Financial Officer Brett Biggs further noted that the retailer also expects its eCommerce business to post a slightly greater operating loss next year.
Physical store growth will continue to slow, as Walmart will open fewer than 10 stores in the U.S. in the next fiscal year. The firm expects same-store sales growth to clock in at between 2.5 and 3 percent, slightly less than this year's average of about 3 percent, which is the fastest pace of growth the retailer has seen since 2008.
On a more amusing note, Walmart also shared with investors that it has managed to save $220 million by changing its lightbulbs and floor wax.
"We are in the process of a multi-year rollout of replacing all fluorescent fixtures with LEDs in our stores, clubs and parking lots," Biggs explained to investors. "Not only is it good for the environment, but these changes could reduce our annual energy costs by $200 million over time."
And while the new lightbulbs were a big saver, Walmart's new floor wax deserves an honorable mention for saving $20 million.
"Not only is the new wax cheaper, it's also sturdier. It doesn't need to be buffed as often, resulting in less spend on the actual buffing, as well as fuel for the machines," Biggs said.
As for the total responses, investors didn't seem much fazed by the reduced earnings, as shares fell by 2 percent in pre-market trading, but were up 2.1 percent by midday.
Share
Print
Email