'We should be listening': the long history of Liberal innovation – and failure – on Indigenous policy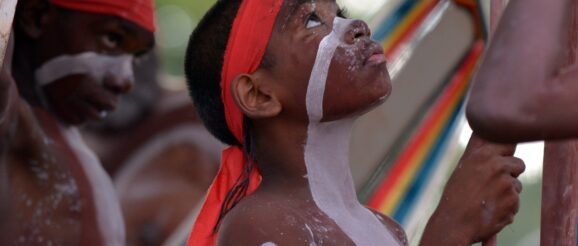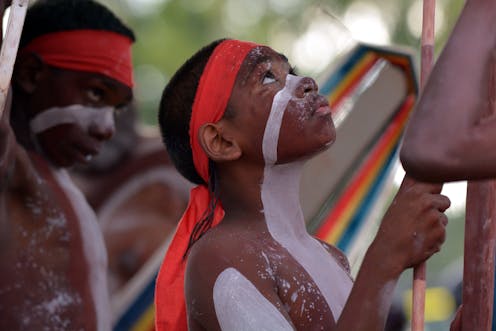 Aboriginal and Torres Strait Islander readers are advised this article contains the names and images of deceased people.
---
We have had compelling accounts from Indigenous activists of "the long road to Uluru". But another perspective on the Voice debate can also be gleaned from the political insiders – especially Coalition leaders – who engaged with Indigenous communities, learned from them, sought to develop consultative and policy solutions, yet failed to "close the gap".
The furious opposition of the current Coalition parties to the Voice disowns their own history and an initiative that was arguably their own creation. So it is illuminating to explore their divergence from some of their former leaders who were passionate about trying to fix Indigenous disadvantage.
Paul Hasluck, journalist, historian, and diplomat was elected for the Liberals to parliament in 1949. Growing up in country Western Australia with Indigenous friends, he empathised with their connection to Country.
Curiosity stimulated his masters thesis, Black Australians, an account of 19th century relations between Indigenous people and colonists in Western Australia, published in 1942. He was appointed minister for territories in 1951.
He sought first to work with the states but faced resistance: they insisted they were already doing everything possible for "native welfare" and that it was a minor problem. Hasluck tried to bring change to the Northern Territory, hoping success would induce states to follow his lead. The difficulties were considerable: a department whose efforts were desultory, an administration that dragged its feet, a lack of bureaucratic and economic infrastructure in the Territory.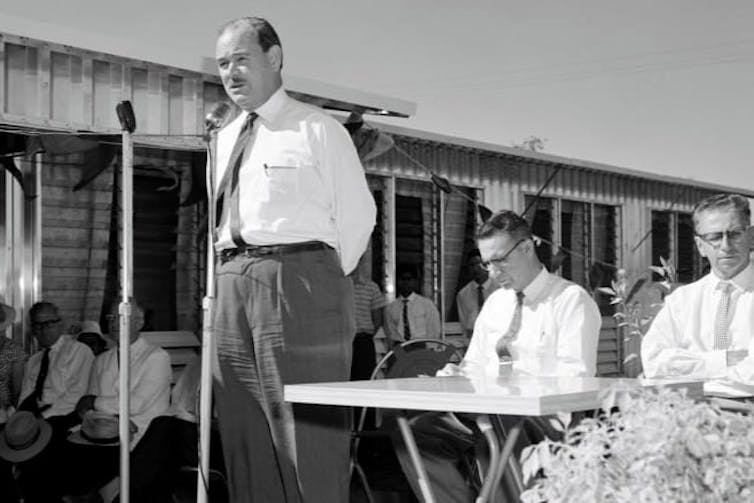 Hasluck persisted, aware of key factors driving policy failure in settler-Indigenous relations: racism, inequality, disparity in administration across states, inability to ameliorate Indigenous disadvantage, denial of agency. He sought to address this through cooperative federalism.
But his was a vision of assimilation, limited by inherited patterns of thought. It discounted the affiliations that tied Indigenous people to social and group identity.
Hasluck eventually understood that he had been captured by tunnel vision.
My outlook on aboriginal welfare […] influenced by the evangelism of mid and late Victorian England […] placed emphasis on the individual. The individual made the choice and made the effort and as a result was changed. This influence […] meant that we did not see clearly the ways in which the individual is bound by membership of a family or a group.
Success in 1967 – but deep division remains
In the 1950s and 1960s, widespread recognition of the need for change led to bipartisan support for and success in the 1967 constitutional referendum.
Prime Minister Harold Holt then established the Council for Aboriginal Affairs. His successor, Billy McMahon, signalled policy change. McMahon said Indigenous peoples
should be encouraged and assisted to preserve and develop their culture, their languages, their traditions and arts so that these can become living elements in the diverse culture of Australian society.
McMahon tried to bridge divisions in his Coalition by offering a Northern Territory Land Board that could grant 50-year leases to Indigenous groups that could prove a long and continuing connection with land, rather than the land rights Indigenous groups were demanding. The fallout was such that it sparked the establishment of the Aboriginal Tent embassy in 1972.
So it was that Gough Whitlam picked up the baton, making land rights a centrepiece of Labor policy. Among his initiatives were the Racial Discrimination Act (1975) expunging state laws restricting the rights of Indigenous people. He also established a royal commission into land rights in the Northern Territory. The Whitlam government's Aboriginal Land Rights (Northern Territory) Bill (1975) was drawn from its recommendations.
Fraser picks up where Whitlam left off
However, it was Liberal Prime Minister Malcolm Fraser who, in 1976, passed the Land Rights legislation that Whitlam had developed, but had been unable to progress in the Senate before his 1975 dismissal. He also passed the Aboriginal Councils and Association Act, allowing Indigenous bodies to register as corporations for community purposes.
This was the foundation for hundreds of Indigenous corporations, a springboard for community development that stimulated the emergence of Indigenous social entrepreneurs. Once a staunch assimilationist, Fraser had visited remote communities, met with impressive Indigenous leaders such as Galarrway Yunupingu, and now Indigenous policy reform became part of his broader Human Rights Agenda.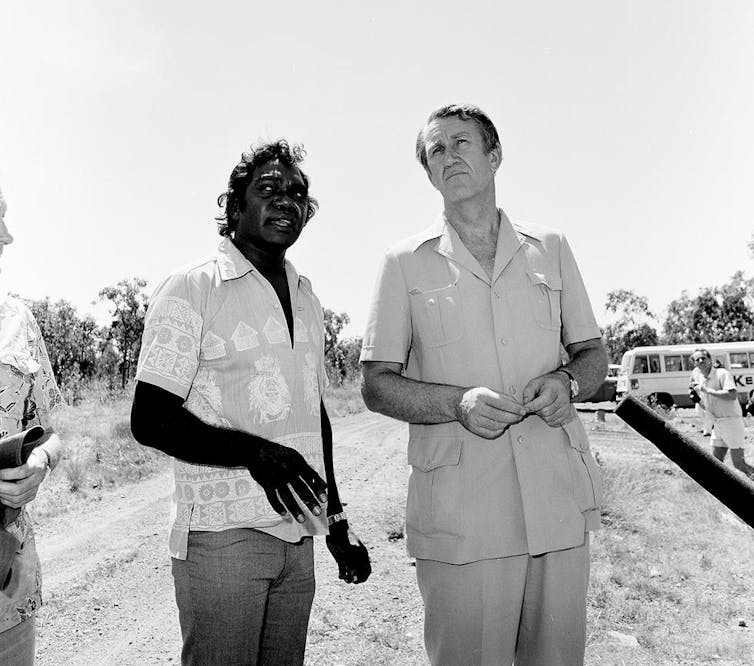 Fraser established an Aboriginal Development Commission, directed by Charlie Perkins, and a National Aboriginal Conference, (NAC) chaired by Lowitja O'Donoghue. His Administrative Appeals Tribunal (1977) and Human Rights Commission (1981) provided additional avenues for Indigenous scrutiny and appeal against decisions affecting them.
All of these were opposed from within the Coalition parties themselves. Their carriage required resolute action. They were radical initiatives in conservative circles. Yet, reflecting later, Fraser rued that he was too timid, that he should have acted on an idea raised by the NAC: to negotiate a treaty.
Command and control rather than community engagement
John Howard's policy initiatives were the next significant Coalition incursion into Indigenous conditions. He provoked Indigenous leaders by refusing to apologise for the actions of past governments. He abolished Bob Hawke's Aboriginal and Torres Strait Islanders Commission (ATSIC) – the first legislated attempt to combine consultation and program management under Indigenous leadership – announcing the "experiment" in self-determination had failed.
His legislative response to the Wik High Court decision enabled him to amend the Keating government's landmark Native Title Act, itself a response to the High Court's Mabo decision.
Finally, he endorsed the Northern Territory Emergency Response (NTER), a remarkable attempt to address dysfunction and restore order in remote communities by mobilising army and police intervention where Indigenous responsibility had failed. Significantly, it was also Howard who first raised the prospect of Constitutional recognition.
---


À lire aussi :
Ten years on, it's time we learned the lessons from the failed Northern Territory Intervention


---
Howard had a clear rationale for each of these steps. Apology, Howard argued, could only be offered by the perpetrator of wrongs. ATSIC, despite research now confirming the extent of its achievement under the indomitable Indigenous public servants Lowitja O'Donoghue and Pat Turner, had later fallen under heavy scrutiny before being abolished in 2005. It was also subject to incandescent critique by Indigenous leaders and lost the faith of the Labor Party which had created it.
The Wik decision, like Mabo, demanded legislative address. The NTER was a response to a devastating report of domestic violence and child abuse, and had followed advice, and was supported, by influential Indigenous public intellectuals such as Marcia Langton and Noel Pearson.
---


À lire aussi :
Many claim Australia's longest-running Indigenous body failed. Here's why that's wrong


---
It was these Indigenous advisers, too, who persuaded Howard to support Constitutional recognition. Nonetheless, major initiatives proceeded hurriedly, without explanation or consultation with the Indigenous communities affected.
The Coalition's reconciliation agenda leads to Uluru
It is striking, if one leaves aside the inadequacy of Tony Abbott's Indigenous Advancement Strategy (which again ignored the necessity of community engagement), or the Coalition's outsourcing or offloading to states of Closing the Gap arrangements, that the next significant initiative was fostered by a bipartisan meeting on advancing reconciliation between Abbott (with Bill Shorten) and Indigenous leaders.
There followed a Referendum Council established by Abbott's successor, Malcolm Turnbull, with a sub-committee of the same Indigenous leaders tasked with creating a dialogue on reconciliation with Indigenous communities nationwide. It led directly to the National Constitutional Convention that delivered the Uluru Statement in 2017.
The Uluru Statement then, responding to years of lobbying by those most closely engaged with Indigenous disadvantage, was developed by Indigenous representatives with the encouragement of successive Coalition administrations.
Yet it was Turnbull who declared that its proposal for a Voice referendum was not politically feasible. Turnbull has since endorsed the current referendum, arguing "a lot has changed since then […] the Indigenous community has backed this in for six years […] we should be listening to how they want to be recognised".
A Coalition trapped by 'settler liberalism'
Some of these engaged politicians looked back with remorse and saw how they had been constrained by their own political frameworks (Hasluck), hobbled by their colleagues' policy priorities (McMahon, Turnbull), or too cautious (Fraser).
Above all, they recognised that their failure lay in not having heard what Indigenous communities told them. One might have expected the cumulative knowledge of these policy leaders to have influenced their peers. Yet what they had learned was rarely understood by their successors.
Partly it was a symptom of endemic short-termism. More significant, however, was another strand, exemplified by Hasluck's rueful recollection: a "settler liberalism" that takes its own commitment to a particular form of individualistic liberal freedom so much for granted that it is blind to collective forms of social relations, and to the structural and institutional consequences of colonisation.
Howard and Mal Brough, the minister who so energetically drove the NTER, were undoubtedly committed to better outcomes for remote communities. They were, unlike Hasluck and Fraser, not remorseful about the trauma and dismay that is still evident as a consequence of the intervention. Instead, they were frustrated that successors had not seen it fully developed to address dysfunction in the manner proposed. Their conviction is a manifestation of the persistence of settler liberalism, now so much embedded in the contemporary Coalition's engagement in the Voice debate.
So here we are, cycling back decades while the remorse of Liberal innovators about the limitations on what they could achieve is forgotten. With it, settler liberalism is reincarnated as a salve that Hasluck, Fraser and others would have thought discredited in their day.

James Walter has received funding from the Australian Research Council in the past for research on which this article is based.