We won! We won! Our KXAN partnership won a national Murrow prize for excellence in TV innovation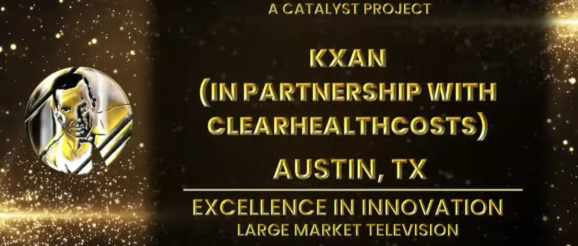 Our partnership investigating medical debt with KXAN News in Austin won a national Edward R. Murrow award for excellence in innovation in large-market television coverage today from the Radio Television Digital News Association.
In partnership with the award-winning KXAN News investigative team, we at ClearHealthCosts researched medical debt in Texas, and its effects on ordinary people. The investigation began with an anonymous tip. The more we investigated, the more we learned that the scope of the problem is vast in Texas alone. The work won a regional Murrow award in May.
Here is the KXAN Medical Debt work, documenting how medical debt lawsuits have hit hundreds of Texas residents, and prompting questions from lawmakers. In response to a callout to Texas residents, we received a wave of responses from Texans who wanted to tell their stories.
In May, Gov. Greg Abbott of Texas signed a medical cost transparency bill to make information about costs available to Texans, in the wake of our investigative partnership with KXAN. The bill requires hospitals that are asking for money from patients to send them a written, understandable, itemized invoice before sending them to collections.
Court records and viewers' stories
The KXAN team, with our help, did a deep investigation into court records at one hospital in Texas, part of a large chain. We documented the local effects of hospital debt collection, and the context in which this practice takes place in Texas and across the nation. We also invited viewers from around the state to contribute their details.
The result is this series, and a podcast on the "Catalyst" brand, as well as online stories. Here are some elements:
Cancer, and then a lawsuit: Medical Debt in Texas The leadoff piece, Sept. 12, 2022
Get help: Tips and resources on medical debt
An inside look at the KXAN-ClearHealthCosts investigation
The Catalyst podcast on the Medical Debt investigation The team for this project includes Hinkle; David Barer, senior investigative producer and digital reporter; Arezow Doost, investigative reporter; and Richard Bowes,  investigative photojournalist.
The KXAN team
The KXAN team has won a series of investigative awards under the leadership of Josh Hinkle, director of investigations and innovation and political host. Awards include Walter Cronkite Award for Excellence in Television Political Journalism, national Sigma Delta Chi Award for Best Documentary, a National Edward R. Murrow Award in the podcast category in 2020 and a national Murrow in the multimedia category for a collection of "KXAN Investigates" digital projects. KXAN has also won multiple other Emmys, a Scripps Howard Award national finalist award, and was a Goldsmith Prize for Investigative Reporting national semi-finalist.
The KXAN innovations spearheaded by Hinkle include the "Catalyst" series, which brings extensive deeper dives into certain investigations, including online content and the Catalyst podcast.