Welsh Training Firm Presented with an Excellence in Innovation Award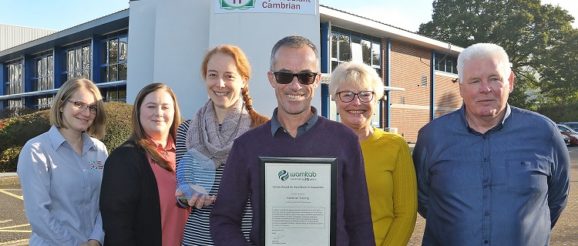 Pan Wales learning provider Cambrian Training's sustainable resource management team has been presented with an Excellence in Innovation Award.
The award was presented to mark the 30th birthday of WAMITAB, a national awarding organisation and charity that develops qualifications for those working in resource management and recycling, cleaning, facilities management and parking enforcement.
"Cambrian Training have been an approved WAMITAB centre since 2014. In that time, they have grown their assessor and IQA talent pool considerably, affording them the ability to offer a wide range of WAMITAB qualifications to exacting standards," said the award citation.
"Cambrian Training have consistently challenged themselves and WAMITAB to offer relevant and specialist Continuing Professional Development to qualification deliverers, recognising that excellence propagates excellence. With this award, we recognise the centre's Excellence in Innovation."
Katie Cockburn, WAMITAB's director of qualifications and standards, said award winners were identified after detailed consultations had taken place with the organisation's board of trustees, external quality assurance team and members of staff who came into contact with companies and individuals delivering its qualifications.
"Cambrian Training's award was specifically for growing its pool of Assessors and Internal Quality Assurers (IQAs), which are in short supply for this niche area of expertise," she explained.
"Compliance is very important, but we also want centres that go that extra mile to continuously improve their processes and the learner experience. We must offer qualifications that continue to be needed by industry."
Heather Martin, Cambrian Training's head for sustainability and business, said:
"We were all a little surprised by the award, as we didn't know it was happening. It's nice that the hard work of the company's sustainable resource management team has been recognised with the WAMITAB award for Excellence and Innovation in delivery across the centre network."
Heather manages a team of five which delivers sustainable resource management qualifications from Foundation Apprenticeships to Higher Apprenticeships across North and Mid Wales and Pembrokeshire. The team is also keen to expand its training services to Ceredigion and Carmarthenshire.
A number of the team's apprentices have either won or been nominated for national awards.
For more information about the sustainable resource management qualifications delivered by Cambrian Training, email Heather at [email protected] or call 01938 555893.