Whanganui innovation hub The Backhouse 'in a state of limbo' following end of funding – NZ Herald
Posted on November 11, 2023 by Design in Design Innovation | 0 Comments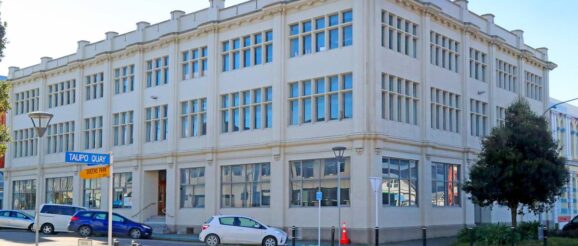 A lack of funding and the redundancy of its chief executive position has left innovation hub The Backhouse in a precarious position.
The hub is housed in the building on the corner of Taupō Quay
and Drews Ave owned by UCOL – now part of mega-polytechnic Te Pūkenga – and run by a trust.
Economic development agency Whanganui & Partners chairwoman and Backhouse trustee Gaelle Deighton said there would be "a temporary mechanism in place" until February to keep The Backhouse operating.
"What we [the trust] agreed on last night [Monday] was to put [on the] pause button for a while until we can sort out exactly what Te Pūkenga want to do, how they are going to do it – if they even exist to do it," she said.
Deighton told a council CCO (council-controlled organisation) committee the chief executive position – held by Rodd Eddy – had been disestablished.
"We are in a state of limbo, a little bit," she said.
Eddy told the Chronicle funding from Te Pūkenga and economic development agency Whanganui & Partners ended at the end of June.
"It's disappointing in the sense that it's really a lost opportunity, and to a certain extent, [there was] short-sightedness from a number of parties.
"I've only been here since August 1, [2022], and like in any new organisation, you're spending the first six months establishing yourself, working out who you are and developing your vision and mission."
Without stable partners, it was hard to attract external funding, he said.
"You can tread water only so long."
UCOL's interim operations lead Jasmine Groves said Whanganui & Partners and UCOL Te Pūkenga had an agreement when The Backhouse was established in 2021.
"This included a period of seed funding to enable the trust to get going," she said.
"The seed funding ended as agreed, no funding has been cut."
Groves said The Backhouse Trust was exploring a sustainable way forward, discussions are being had with Backhouse staff, and when decisions have been made, they would be communicated with key stakeholders.
Whanganui & Partners chief executive Jonathan Sykes said the agency contributed $80,000 towards The Backhouse's operation in both 2021 and 2022, followed by $20,000 this year.
"Our funding of The Backhouse has been in line with the facility working towards sustainability and providing crucial support during its establishment phase," Sykes said.
"Since our initial support, we've been pleased to see tenancy numbers growing and frequent patronage of The Backhouse by many different groups and organisations."
Eddy said when he arrived in Whanganui, he understood funding was secured for a few years.
The first full trustee meeting took place in November 2022, with an official launch the same month.
Funding from Te Pūkenga covered The Backhouse's rental obligations, Eddy said.
Groves did not say how much that amounted to.
Whanganui and Partners referred the Chronicle back to UCOL, who did not respond.
"Come July 1, when I sent through my invoice, they [Te Pūkenga] said they had met their obligations and they wouldn't continue the funding," Eddy said.
"However, all of a sudden, I had a rental to pay. From one day to the next, it's a little bit hard to recover from."
Whanganui Mayor Andrew Tripe said the council was committed to finding a way to make The Backhouse work.
"The Backhouse was set up in a time when it [UCOL] wasn't under a centralised model and there was a commitment to support the concept.
"It appears this localised initiative – The Backhouse – is not supported under a centralised, Te Pūkenga model.
"We need to make sure we are growing our own skills and talent to meet the needs of our business and social services sector."
Eddy said community and non-profit organisations were given discounted rents to help build an ecosystem of innovation, education and business development.
Current tenants include Te Manu Atatū – Whanganui Māori Business Network , Te Kaahui o Rauru Hapori, Whanganui District Employment Training Trust and virtual reality business Wild Eye.
Te Mana Atatū chairman Hayden Potaka said he was shocked by the news of Eddy's departure.
The departing chief executive would be "a big loss to Whanganui".
"The Backhouse was just starting to hit its stride, in terms of business and community," Potaka said.
"For us, having that shared office space available, and all the events we've run, we couldn't have done it without Rodd being involved."
Potaka said Eddy's departure put Te Mana Atatu in a dilemma because it was unclear what would happen next.
"Te Pūkenga has dropped the ball on this one. They need to think about what they're doing and how they're doing it.
"The building was empty for seven years, and now it looks like it'll be empty for another seven years."
Mike Tweed is an assistant news director and multimedia journalist at the Whanganui Chronicle. Since starting in March 2020, he has dabbled in everything from sport to music. At present his focus is local government, primarily the Whanganui District Council.