Wildix vs Sangoma: Too Many Acquisitions Lead to an Innovation Crisis | Wildix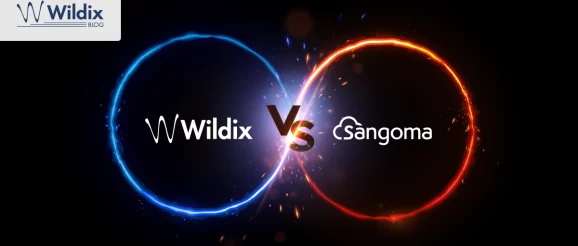 Sangoma Technologies Corporation gives hardware and software products for SMBs, enterprises and carriers in 150 countries, delivering these technologies through distribution partners and through selling direct to the consumer. It owns some legendary names in the business, including Asterisk and FreePBX, as well as software the company partly developed itself.
Wildix shares some similarities with Sangoma, and it has worked with the company in the past to deliver VoIP solutions. Sangoma was Wildix's choice of company to deliver hardware PCI E1 cards to customers in the mid-2000s. Yet Wildix and Sangoma eventually diverged, especially as they each developed their own solutions.
In the past decade, Sangoma has brought a number of companies to bolster its UCaaS solutions, including:
The rapidity of these acquisitions led to criticism from several analysts, who noted that Sangoma would likely struggle to incorporate them into its solutions effectively and continue to develop its systems.
Core Markets Comparison
Sangoma is heavily invested in North America, notably the United States. While its products are well-known — with Asterisk being the most famous disruptive technology to recently hit telephony, the company itself is not. Part of the reason is that because it has acquired companies, many of its products are known separately on their own merits.
Sangoma relies on channel distribution networks to market its products.  Unfortunately for partners, it tends to focus on value for money, which is a problem when a partner is expecting to make a reasonable margin. In particular, its free offerings prove attractive to startups and entry-level MSPs who are especially interested in creating their own solutions.
Analysts note that Sangoma solutions particularly appeal to companies with sub-50 employees and with simple requirements in terms of unified communications. However, it does offer a range of products, including access control, CPaaS and SD-WAN.
Wildix, on the other hand, tends to focus on the 50-1,000 user bracket, although it's now starting to aim much higher, with a number of sizable enterprise accounts. Its approach is less broad than Sangoma's, with all its products focused on providing communications. Consequently, it can pour much more of its research and development into communications, whereas Sangoma is spread out.
Product Comparison
When it comes to communications products, both companies have a variety. However, some make more sense than others.
Sangoma products include:
Wildix, on the other hand, has the following:
Let's look at the top three for Sangoma.
This solution is heavily based on call centre technology, and it offers a full on-prem phone system designed for small to mid-sized companies. Its key selling point is that it gives administrators direct control while offering a good range of features.
That said, one of the core limitations is that it doesn't have many formal integrations, which can be highly limiting for MSPs. In addition, the solution doesn't seem to have advanced much over the past two years. Gartner mentioned that the company appeared unable to dedicate R&D and support resources to its UCaaS solutions, including Switchvox, due to other acquisitions — leading to an innovation crisis for the company.
Business Voice+
Business Voice has a hybrid cloud architecture, and it's built for an era where hybrid cloud was an option for many businesses. Like Switchvox, it offers many of the same benefits with the same drawbacks — and is made more complicated by the fact that it's doing both jobs at once. That said, it has plenty of popularity, particularly with the contact centre market.
The lack of integrations holds it back, however. There's also Business Voice, which is a pure cloud solution, adding to the confusion.
An all-in-one UCC solution, it's a bit more versatile than the previous two, and its target market is small businesses up to multi-location retail. That said, due to the way that it's distributed along its original marketing channels, it's not really clear how much this differs from the cloud-based Switchvox or the cloud-based Business Voice.
Again, it isn't heavily integrated with many solutions.
Core criticisms of these products are that it isn't easy to differentiate them, and there is no one product that the company focuses on. As a result, the market potential and positioning are heavily diluted. There are no true verticals, which is surprising considering that Sangoma does have heavy marketing in select verticals — notably healthcare, education and manufacturing. The free options do little to bolster appeal, particularly with a number of critical vulnerabilities present in those products.
Wildix, on the other hand, is much more heavily focused:
Both Wildix and Sangoma also offer SIP trunks, and Sangoma has a large amount of hardware, including legacy hardware for older systems.
From an MSP standpoint, it's much easier to explain Wildix systems to an end user than a Sangoma one because the focus and positioning are there. In addition, there isn't the confusion of free options that compete with the paid versions.
Business Size and Finances
As you might expect, Wildix is one of the smallest vendors in the Gartner Magic Quadrant. It currently provides services to 1.8 million users, as of late 2023, and it has a relatively modest turnover by comparison to the giants — but it makes actual profits.
However, Wildix is a private company, and it is fully bootstrapped — there is no debt from shareholders or venture capital. This makes it resistant to market vagaries. Similarly, it means it can hold true to its vision without external financial pressures.
In particular, its reliance on being 100% channel-only means that it doesn't capture the more lucrative end-user market, but that means it doesn't compete with its own partners, either.
Sangoma, on the other hand, is substantially larger. In 2023, it took in $252 million of sales from what it claims are 100,000 customers — presumably meaning businesses, not end users. Its headcount is substantially larger than Wildix's, but it has had to make substantial efforts to integrate multiple businesses into its systems. As a result, the additional development time available doesn't mean that it can develop its own products particularly well.
Worse, from Sangoma's point of view, is that the $252 million in sales did not translate into profit. Instead, it made a $28 million loss in 2023, and it announced a $109 million loss in 2022. These figures point to the legacy of an innovation crisis that could destroy this company.
Support and Training
With Sangoma's products, there is direct support for some and very limited (if any) support for others.
Asterisk, of course, does not have any major technical support, and FreePBX is highly limited — 10 hours of support costs $1,350. Both come with reasonable documentation via a wiki. However, for MSPs who need a turnkey solution with rapid resolution at a decent price, these are not viable options.
The paid products fare better when it comes to support, as you might expect. Technical support is free when it's an actual bug or an issue. However, assistance to manage an installation that's resolved by a "standard configuration" costs support credits. Typically, 30 to 120 minutes of support credits per year are included with most contracts.
This means that for a complicated installation, a call could require additional credits, particularly when you're learning about the system.
Wildix, on the other hand, offers support as part of being a good vendor — and it's free. Wildix partners are given the tools they need to successfully install systems, and if there's any issue, a quick call to local technical support will resolve it — even if it's through what Sangoma calls a "standard configuration."
Sangoma's training is self-paced and easily available through Sangoma's own training site. You have to create an account and sign in, though. The portal provides a variety of certifications that are easy to follow, and they're free.
What Sangoma doesn't offer is free live training. In-person training is subcontracted out to local external providers who offer a range of courses, not just Sangoma ones. As a result, you're not learning directly from Sangoma technicians.
Wildix, on the other hand, offers free training on its products from Wildix tech support via monthly two-day training sessions, W-FE. There is also an extensive e-learning site that helps partners to learn more about its solutions. Engineers who want to learn more advanced configurations can sign up for W-FEX to become a field engineer expert.
Importantly, training isn't just for engineers. Wildix offers ValueSelling and Kanban training as part of its partner offerings, which help them improve their sales and overall processes. These training sessions typically are held a few times a year. These have a measurable impact on how Wildix partners can handle sales and deliver better services.
Reviews tell a wider story, and there are plenty of success stories with Sangoma. In general, it's definitely a key upgrade to older systems, especially as it incorporates many functions of unified communications. However, many of the reviews are curiously muted.
Several customers note that customer support — provided directly by Sangoma — can take a long time to respond, and there are some key functionalities missing when it comes to reporting. Most of the reviews are heavily focused on small to medium businesses.
Essentially customers are kind of satisfied … but that doesn't bode well for long-term stability. It has a score of 4.4 out of 5 on Gartner Peer Insights.
For Wildix, those reviews look a lot more positive, which earned it an impressive 4.6 out of 5 — the highest of all those on the Gartner Magic Quadrant for UCaaS. The majority of reviews are five stars, citing its ease of use and worry-free deployment. In addition, the tech support is frequently lauded — primarily because it's through partners, not direct from Wildix. When even a three-star rating says it's "better than most video communications providers," you know you're doing something right.
Overall Value
Analysts are quick to point out that Sangoma's offerings are heavily focused on lower pricing models. But that comes with many disadvantages, particularly for partners. Price-conscious customers do not offer good margins, and many will jump ship if a lower price is offered.
The lack of innovation is also a problem. While Sangoma boasts it has the widest range of as-a-service products, they're heavily restricted in what they can do due to the lack of integrations and compatibility with CRMs, ERP software and other systems. The phones are also limited. All of this is because we believe it over-expanded, resulting in heavy development costs as it struggled to integrate the new products into its existing portfolio — leading to an innovation crisis that could cost the company dearly.
Worse, more advanced training and additional support cost money, and that's a heavy consideration for partners joining the Sangoma ecosystem.
By comparison, Wildix shines. Pricing is kept private and is only available to partners, which ensures they can set their own margins. The 100% channel-only focus ensures it doesn't compete with its own MSPs, and training and support are freely available. Add in a stable company with solid growth, vertical-specific products such as x-bees and x-hoppers, and local offices, and you have yourself a clear winner — if pricing isn't your only concern.
If you're interested in learning more about other vendors vs. Wildix, check out our Wildix vs. MS Teams comparison from earlier this year!
For more insights on vendors in UCaaS, subscribe to receive our magazine for free!