Will a Focus on Innovation Push Pizza Hut Back to No. 1? – QSR magazine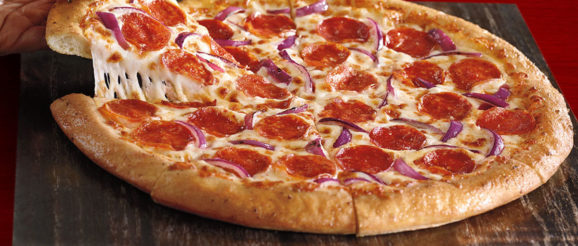 The big news coming out of Pizza Hut these days is the closing of up to 500 U.S. stores, many of them dine-in, over the next 24 months as the chain sharpens its focus on delivery and carryout operations. The announcement made by parent company Yum! Brands, Inc. during its July Q2 fiscal 2019 earnings call was met with mixed reactions—mostly from consumers. Even celebrity influencer queen Chrissy Teigen weighed in, tweeting "long live the hut" while bemoaning the closings.
Industry watchers, though, were hardly surprised. Shuttering low-volume dine-in stores in favor of more delivery and carry-out-friendly units is simply Pizza Hut's latest move in a quest to regain the market share its lost over the past decade. Sales at top competitor Domino's surpassed Pizza Hut for the first time in 2017 leaving Pizza Hut in the unfamiliar No. 2 spot among American pizza chains.
The retraction would drop Pizza Hut's U.S. store count to as low as 7,000 as it reworks its fleet. The brand closed Q2 with 7,449 restaurants. About 6,100 of those are traditional locations and 1,350 express stores. Half of the "traditional" spots are dine-in setups. Currently, 90 percent of Pizza Hut's business is off-premises. U.S. and international locations see roughly seven and six point differentials between the off-premises and dine-in, respectively (dine-in representing the lagged mix).
The goal, though, Yum! said, is to replace the vast majority of these restaurants, not to go dark on the real estate. Some could move to more desirable trade areas. But during the transition, the chain will decelerate new unit development. International growth will be offset by a near-term decline in the absolute number of U.S. restaurants.
Pizza Hut is not going down without a fight. Instead the chain is betting millions on new technologies and programs intended to help it recapture the lion's share of pizza dollars.
"We're all about investing in innovation across the board at Pizza Hut," says chief brand officer, Marianne Radley. "Whether it's collaborating with our Plano-based friends at FedEx, working with Toyota to create a mobile pizza-making factory on wheels a reality, or dropping new menu items like the iconic Cheesy Bites Pizza, bold innovation has been in our DNA for decades."
Yum!'s 2018 $200 million investment in Grubhub is one such bold move. Pizza Hut's leadership team is counting on its 3 percent stake in the third-party delivery app and Grubhub board seat for Pizza Hut CEO Artie Starrs to help it navigate a changing consumer landscape where just about any restaurant—from fine-dining to fast-food—can now easily offer delivery. Systems integration testing began in February with orders placed through Grubhub delivered by Pizza Hut drivers.  
Pizza Hut ended Q2 with more than 300 locations on GrubHub and plans to expand further.
"As consumer preferences continue shifting, we're constantly looking for ways to offer the best experience possible and strike a balance between dine-in, delivery and carryout," Radley says. "We'll never become complacent when it comes to the pizza-eating experience—regardless of how people prefer to dine with us."
On the domestic front, however, Pizza Hut saw a 4 percent increase in system sales and a 2 percent increase in same-store comps in the second quarter. At that rate, the chain is looking at an overall increase of 1 percent in domestic sales for the year. Transactions upped 3 percent in Q2, which Yum! CEO Greg Creed credited to "the result of continued compelling value, ops execution, and our growing loyalty program, Hut Rewards."
"We are America's original pizza company, and we're just as committed as we've always been to pushing the pizza category forward without forgetting where we've come from," she says.