XRP May See 77% Rise in November, Max Keiser Explains Why $220,000 per BTC Still in Play, Ripple Cofounder Invests $500 Million in Nvidia Chips for AI Innovation: Crypto News Digest by U.Today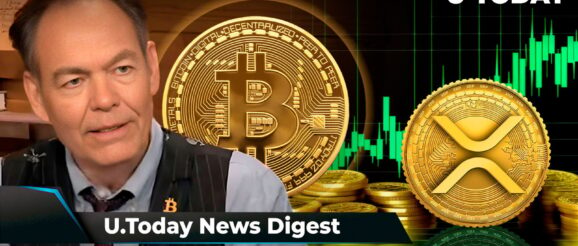 We summarized the top three news stories from the previous day so that you don't miss any major events in the world of crypto.
XRP may see 77% rise in November, according to XRP price history
XRP concluded October on a positive note, with its price currently standing at $0.60, per CoinMarketCap, the highest price since August. As many XRP holders are trying to foresee what November has in the cards for the Ripple-affiliated token, let's take a look at data provided by CryptoRank. From the historical perspective, we can see that XRP's average monthly return in November stands at 77.3%. However, according to a more conservative estimate, its median monthly return is about -10.2%. Additionally, if we dive into XRP's price history, we would get mixed signals. Only one November in the previous five years, November 2020, yielded positive results, showing a 178.3% gain at that time.
$220,000 per Bitcoin still in play – Max Keiser gives major reason
In a recent X post, Max Keiser, prominent Bitcoin enthusiast and host of the Orange Pill podcast, shared that he still believes that the flagship crypto will be able to reach the astonishing $220,000 level. Keiser also provided a reason for his belief; he cited a post by @zerohedge financial blog and news aggregator, according to which the U.S. plans to borrow $1.5 trillion this and next quarter after borrowing $1 trillion last quarter. Thus, Keiser is convinced that Bitcoin will see a sharp price increase due to the rapid growth of the U.S. debt. As a reminder, over the past three years, the increase of the circulating money mass has been believed to be one of the main drivers behind BTC's price growth.
XRP and Ripple cofounder invests $500 million in Nvidia chips for AI innovation
As reported by Reuters, Voltage Park, a nonprofit organization funded by Ripple and XRP cofounder Jed McCaleb, has purchased Nvidia cutting-edge chips worth close to $500 million. The goal of this endeavor is to lease computing capacity to businesses involved in AI projects. At the moment of writing, Voltage Park owns 24,000 Nvidia H100 chips, establishing itself as a reliable source of accessible AI computing solutions. The organization plans to deploy these advanced chips in key U.S. regions. While some chips are already in operation, Voltage Park is working to ensure the entire batch is operational by February.