10 Things Not to Miss at the Nursing Innovation Summit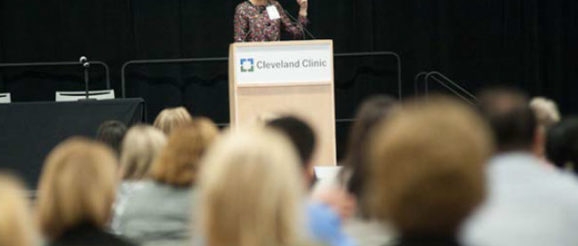 From its esteemed keynote speakers to its inspiration-filled agenda, Cleveland Clinic's 6th Annual Nursing Innovation Summit offers something for every nurse.
Chair of the Summit and Nurse Scientist within Cleveland Clinic's Office of Nursing Research and Innovation, Lee Anne Siegmund, PhD, RN, CEP, shares 10 things you won't want to miss! Dr. Siegmund says nurses who attend the 6th Annual Nursing Innovation Summit will have the opportunity to:
Gain inspiration from nationally and internationally known leaders in innovation. Keynote speakers include Michael Ackerman, DNS, RN, CENP, FCCM, FNAP, FAANP, Director of the Master in Healthcare Innovation Program and Professor of Clinical Nursing at The Ohio State University, and Roberta Ness, MD, MPH, Rockwell Professor of Public Health at the University of Texas. Ackerman is known as a disruptive innovator, skilled clinician, avid researcher, motivational speaker and caring leader. Additionally, Dr. Ness has been called one of America's foremost experts in innovative thinking.
Learn the importance of innovation for nurses and nursing. Every day, nursing innovations are driving our profession forward, altering how patients are managed and cared for, how compliance regulations are met, and how new technologies, processes and protocols are utilized.
Challenge assumptions about innovation. One of the summit's compelling interactive sessions will be led by Tim Raderstorf, MSN, RN. Raderstorf is Chief Innovation Officer at The Ohio State University College of Nursing – and the first nurse to hold this academic title in the U.S. He takes great pride in educating the nation on the role of the nurse as an innovator and entrepreneur and will focus attendees on challenging their innovation assumptions.
Discuss creating a culture of innovation. A large part of establishing a culture of innovation is building a strong foundation of values (trust and collaboration) and resources that encourage it. It is important that caregivers are engaged and feel confident that they work in an environment that appreciates their creativity and teamwork – both of which inspire innovations.
Learn from innovation experts. Have a question, concern or something you want to discuss? One of our summit's profound experts is bound to have added insight that will help you along your innovation journey, like Sarah Collins, PhD, RN, who is an Assistant Professor of Biomedical Informatics and Nursing at Columbia University and one of MedTech Boston's 2017 40 Under 40 Healthcare Innovators. Collins will be joining a selection of Cleveland Clinic inventors and innovators for a panel discussion you won't want to miss.
Obtain information on getting started with a new innovation. Sometimes, the most difficult thing about nursing innovation is figuring out where to begin. Many organizations, like Cleveland Clinic, have the resources available to help nurses strategize solutions for ideas and develop ideas into potential innovations.
Hear from nurses who have successfully started a business with their innovation. For example, summit guest speakers Joseph Novello, BSN, RN, and Wayne Nix, MBA, RN, RRT, will each be sharing their success stories. Novello is the Founder and CEO of NurseGrid, a company that creates top-rated scheduling and staffing tools for nurses. Since the company's founding in 2013, more than half a million nurses now use the mobile app and thousands of hospital departments use the NurseGrid Manager platform. Nix is a U.S. Army and 20-year healthcare veteran who started his company, RNvention, in 2015. He has one patent and two trademarks, including the MultiNix® utility tool, which is used by nurses worldwide. Nix's mission is to help other nurses see themselves as entrepreneurs.
Utilize resources to create, prototype, and move an innovation forward. A plethora of resources will be available to show attendees how to make innovation happen. One of the final steps – getting a patent for your innovation – will be discussed by Richard Wesorick, BSM, JD, Esq, who focuses his work on drafting, filming and prosecuting U.S. and foreign patent applications. He also offers counsel in patent strategy. Additionally, Jonathan Morgan, who specializes in uncovering and capitalizing on opportunities for innovation will share invaluable advice. Morgan has worked with some of the world's most iconic brands, including Cleveland Clinic Innovations, IBM, Samsung, Panasonic, Moen and Adobe.
Go here for more information and to view the agenda, get directions, and learn about how this conference may fulfill continuing nursing education accreditation.