1st Colonial Grill: A spicy success achieved through innovation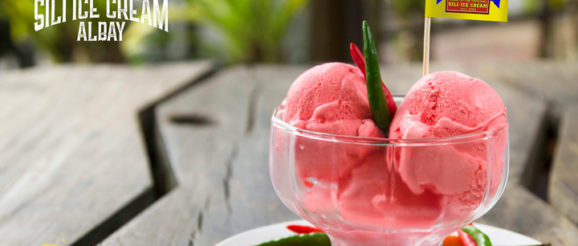 In 2004, Elmer "Boy" Aspe and his wife Rowena Aspe opened up a restaurant named 1st Colonial Grill in Legazpi City, Albay, with the goal of promoting delectable Bicolano fare, especially the classic, well-loved dishes.
Like many small food business owners that came before them, the couple went through some growing pains in the first few years of running their restaurant. They were, in Mr. Aspe's word, "losing." One problem was that even though 1st Colonial Grill offered a lot of dishes, it had a hard time serving them within 10 minutes, Mr. Aspe said. This predicament forced a major shift in strategy.
"What we did later was to focus on bestsellers," Mr. Aspe said. It also led to another realization: the restaurant's menu had main courses but lacked dessert options. But instead of adding common desserts, like ice cream, the couple sought to create one that was consistent with the reason why they established a restaurant in the first place.
Using two of the staple ingredients in many Bicolano cuisines – sili (chili pepper) and gata (coconut milk) – they came up with an innovative product that has become especially popular with their restaurant's diners: sili ice cream.
But the couple did not stop there; they collaborated with several local government units in the Bicol region to make "Bicol Flavors," a range of ice cream flavors representing Bicol provinces. Besides sili, which represents Albay, the other flavors are pili (for Sorsogon), latik (Catanduanes), pineapple (Camarines Norte), cacao (Camarines Sur) and carmelado (Masbate). There's one more flavor that's meant to symbolize the entirety of Bicolandia: tinutungan na bigas (toasted rice).
Owing to its offerings, which now include the aforementioned desserts, 1st Colonial Grill has become a household name in Bicol's culinary scene. It has even won several awards and been named one of Albay's best restaurants.
Myriad print and local publications have written about the restaurant, acclaiming its dishes particularly the sili ice cream, and a number of local television shows have featured it. Mr. Aspe noted that they now feel "a sense of pride" for owning the restaurant.
The success of 1st Colonial Grill has also stemmed from how the couple tackles the challenges that come their way. "We never stop. We are always persistent," Mr. Aspe said of dealing with the problems of their restaurant business.
He added they hire consultants and attend workshops and expos abroad to keep themselves abreast of the latest food and technological trends. Technology has been particularly helpful. Through technological innovations like GCash, a mobile payment system of Globe Telecom, the restaurant manages to achieve efficiency.
Soon, more and more people will get to try 1st Colonial Grill's renowned sili ice cream and other lip-smacking cuisines. Mr. Aspe said they have recently established a venture, ELJ Comida Corp, in an effort to expand their restaurant into a chain. It is also in the business of distributing ice cream and bottled products to supermarkets. The couple has set up another food business, Xinyi Chicken Taiwan Stick Foods, which they hope to grow, too.
As the SME arm of Globe, it is the goal of Globe myBusiness to help every enterprise reach its full potential through industry-specific tips, lessons from experts in the field, and business solutions tailored to answer every business owner's needs. Globe myBusiness salutes Filipino SMEs for the important role they play in nation-building. #SaludoSMEs
For more information, visit https://mybusiness.globe.com.ph.