2019 Andrew Heiskell Awards for Innovation in International Education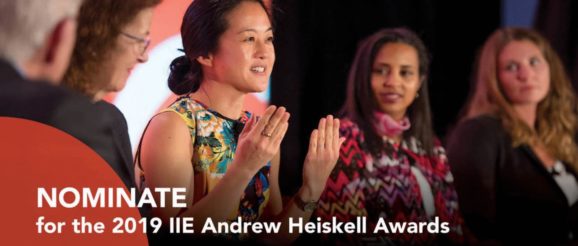 Application Deadline: October 12, 2018
IIE's Heiskell Awards showcase the most innovative and successful models for developing and expanding international education opportunities in practice today. There are five award categories for 2019 that align with the main themes of the 2019 IIE Summit, and all awardees will be recognized at the IIE Summit taking place in New York City February 17-19, 2019.
2019 IIE Andrew Heiskell Award Categories
Category 1: Scholars as Drivers of Innovation
Recognizing the critical role that scholars and faculty play in advancing curriculum development, fostering international opportunities, integrating industry, and driving internationalization of the campus.
Category 2: Student Mobility
Recognizing innovative programs and services that strengthen student mobility in both directions and strategically increase participation while preparing students to enter the global workforce.
Category 3: Best Practices in International Partnerships
Recognizing comprehensive and innovative international partnership efforts that demonstrate strong, sustainable linkages among higher education institutions or other counterparts such as government, local community, and NGOs.
Category 4: Access and Equity
Recognizing innovative programs and services to make study abroad and international programming accessible and equitable for a broader student population. Special emphasis on specific efforts that led to a strong increase in study abroad participation.
Category 5: Higher Education in Emergencies
Recognizing successful approaches and strategies for supporting students and scholars who have been displaced from their home country due to violence, political persecution, or other emergent circumstances.
Benefits:
Winning programs will be recognized at IIE's Summit in NYC on February 17-19, 2019 and presented with an award certificate and a $1,000 prize (shared by the winning institutions in the partnership categories). All winning programs will be showcased on IIE.org's Heiskell Award Winners webpage and in the IIENetworker magazine, Spring 2019 issue.
Application:
To apply for the 2019 IIE Andrew Heiskell Award:
Visit the Official Webpage of the 2019 Andrew Heiskell Awards for Innovation in International Education