2023 Gotham Awards: Michael Mann's 'Ferrari' to Receive Icon & Creator Tribute for Innovation Award – AwardsWatch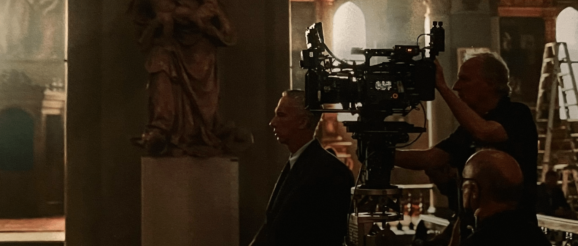 The Gotham Film & Media Institute announced today that Ferrari, the emotional and thrilling dramatization of the life of legendary ex-racer, racecar manufacturer, and entrepreneur, directed and produced by Michael Mann, will receive the Icon & Creator Tribute for Innovation at the 33rd annual Gotham Awards Ceremony, taking place live and in person on Monday, November 27, 2023 at Cipriani Wall Street in New York City.
Ferrari joins Ben Affleck's Air, Bradley Cooper's Maestro and George C. Wolfe's Rustin as Icon & Creator Tribute winners. All of Us Strangers, Past Lives and A Thousand and One lead the nominees for the Gotham Awards, which can be found here. 
The Icon & Creator Tribute was created for this year's Gotham Awards in order to recognize cultural icons and the filmmakers responsible for bringing that icon's story to life. With the Icon & Creator Tribute for Innovation, The Gotham will honor Enzo Ferrari, the Italian auto racer and Ferrari S.p.A. founder, while celebrating Michael Mann and his brilliantly crafted portrayal of the enigmatic man.
Starring Adam Driver, Penelope Cruz, Shailene Woodley, Patrick Dempsey and Gabriel Leone, Ferrari is set in the summer of 1957. Behind the spectacle of Formula 1, ex-racer Enzo Ferrari is in crisis. Bankruptcy threatens the factory he and his wife, Laura built from nothing ten years earlier. Their volatile marriage has been battered by the loss of their son, Dino, a year earlier. Ferrari struggles to acknowledge his son Piero, born at the end of WWII, and his mother, Lina Lardi. Meanwhile, his drivers' passion to win pushes them to the edge as they launch into the treacherous 1,000-mile race across Italy, the Mille Miglia.
Following its world premiere at the Venice International Film Festival, Ferrari was the Closing Night film at New York Film Festival. NEON will release Ferrari in theaters nationwide on December 25th. 
"Both Enzo Ferrari and Michael Mann are recognized as legends in their respective industries for their vision, innovation, and relentless commitment to pushing the boundaries of their crafts," said Jeffrey Sharp, Executive Director of The Gotham Film & Media Institute. "With his thrilling drama highlighting one remarkable season in the life of the man behind the red cars, Mann captures the passion and complexity at the heart of this Italian icon. We are proud to honor both the legacy of Enzo Ferrari and Mann's extraordinary film."
Winners of the 33rd annual Gotham Awards will be honored at the awards ceremony at Cipriani Wall Street on Monday, November 27th. The Premier Sponsor of the 2023 Gotham Awards is Vanity Fair. Cadillac will serve as the Official Vehicle and FIJI Water will serve as the Official Water for the Awards. 
Like this: