33rd Hermes Expo: Discover Innovation, Networking, and Opportunity on June 19th!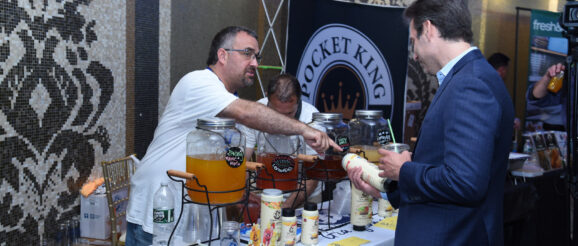 The 33rd Hermes Expo: An Unmissable Showcase of Excellence, Innovation, and Business Opportunities
by Aphrodite Kotrotsios, Special to the Hellenic News of America
The Hermes Expo, a premier event celebrating Greek-American business excellence, is back for its 33rd installment, scheduled to take place on June 19, 2024, at the prestigious Grand Marquis in Old Bridge, New Jersey. This year promises to be a transformative experience for entrepreneurs, professionals, and industry leaders looking to connect, collaborate, and elevate their businesses to new heights.
The Hermes Expo has long been synonymous with excellence, innovation, and growth. This year, the stakes are higher, the opportunities are boundless, and the impact is immeasurable. Whether you're an established business or an emerging entrepreneur, attending the 33rd Hermes Expo is not just an option; it's a necessity.
Why Attend as a Visitor?
Visitors to the 33rd Hermes Expo can expect an extraordinary lineup of events, speakers, and networking opportunities. This is your chance to:
Network with Decision-Makers: Rub shoulders with industry leaders, professionals, and entrepreneurs from diverse sectors. Forge connections that can transform your career or business.
Discover Innovation: Explore cutting-edge products, services, and solutions from exhibitors who are at the forefront of their industries.
Learn from Experts: Gain insights from renowned speakers and thought leaders, arming yourself with knowledge to drive success.
Expand Your Horizons: The Hermes Expo isn't just a local event; it's a global platform. Meet international partners and explore business opportunities beyond borders.
Why Exhibit and Showcase Your Business?
Exhibitors at the 33rd Hermes Expo have the chance to shine on a grand stage. Here's why your business should be front and center:
Unprecedented Exposure: Showcase your brand, products, and services to a diverse and engaged audience. Make an unforgettable impression.
Forge Partnerships: Connect with potential clients, collaborators, and investors. The next big partnership could be waiting for you.
Highlight Your Innovation: Demonstrate your commitment to innovation and excellence. Stand out as an industry leader.
Grow Your Network: Expand your professional network, opening doors to opportunities you never thought possible.
Join a Legacy: Become a part of the Hermes Expo legacy, where business excellence is celebrated, connections are fostered, and success stories are born.
The 33rd Hermes Expo is more than an event; it's a celebration of ambition, determination, and the power of business to transform lives. Don't miss this chance to be part of something extraordinary.
Visit our website today to secure your spot as a visitor or exhibitor. Make a mark on June 19, 2024, at the Grand Marquis in Old Bridge, NJ. Be part of an event that redefines possibilities, inspires innovation, and celebrates the entrepreneurial spirit.
About Hermes Expo
The Hermes Expo is a dynamic event that brings together businesses, entrepreneurs, and industry leaders to connect, collaborate, and excel. With a rich history spanning over three decades, the Hermes Expo is committed to promoting excellence, innovation, and growth within the business community.
The post 33rd Hermes Expo: Discover Innovation, Networking, and Opportunity on June 19th! appeared first on Hellenic News of America.