A Conversation on Innovation with AWS Canada Country Manager Rejean Bourgault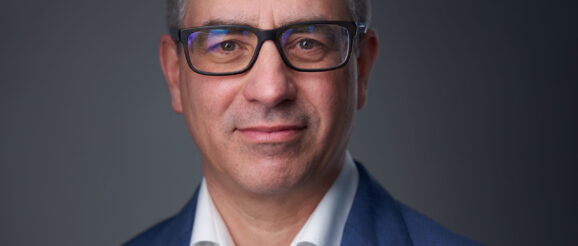 Rejean Bourgault is the country manager and director for the public sector at Amazon Web Services (AWS) Canada. Recognizing AWS as a hub for builders and innovators, he joined the company in 2017, coinciding with the launch of AWS's first Canadian cloud infrastructure region in Montreal, a substantial investment representing a turning point in cloud computing for organizations across the country. In addition to his previous work at Nortel Networks, where he played a role in laying the foundation for Canada's infrastructure including the Internet and the 2G-3G wireless network, Bourgault's career outlines the vast evolution of the world's fast-moving relationship with technology.
"I was excited to join AWS just after we launched our first Canadian cloud infrastructure region," he says. "Establishing this cluster of data centers represented a considerable investment at a time when organizations were just starting to leverage cloud computing to transform their operations. We've come a long way since then. Today, I'm enthusiastic about helping our governments and healthcare, education and non-profit organizations use technology to transform the experiences and institutions that impact our everyday lives." 
As Canadian Business's leader-in-residence this month, Bourgault sat down with us to discuss the transformative potential of technology, emphasizing the immense possibilities brought by generative artificial intelligence (AI) and foreseeing it as a revolutionary force comparable to the internet. In addressing the challenges of navigating emerging technologies, he shares his journey, views on trends, and strategies for business leaders in today's evolving tech landscape. 
What is the most exciting trend or technology advancement you're seeing today?
Everywhere you turn these days, people are talking about generative AI. This is probably the biggest change since the internet. Internet democratized knowledge, generative AI will democratize technology. ChatGPT has been one of the first, broad generative AI applications that recently sparked a wave of interest and inspiration, leading many to rapidly experiment with how to take advantage of it. However, this is just the tip of the iceberg. 
In healthcare, for example, generative AI will lead to faster drug discovery, more accurate cancer detection and treatment. AlayaCare, here in Canada, is leveraging AWS AI to allow caregivers and homecare providers to focus more on being able to care for patients. Climate change is another big data problem – AI will parse vast amounts of data to help with everything from how to optimize renewable energy production to flood prevention. Used responsibly, generative AI can enhance our abilities to solve some of the world's most challenging problems while boosting our productivity in a sustainable way. Its potential is limited only by how far human creativity can take us.
How can business leaders prepare for new and emerging technologies?
There are five tips we like to share with those who are looking to leverage AI, and generative AI.
Get your data house in order: The very beginning of this journey is making sure you have the right data foundations for AI/ML. In order to train quality models, you must start with quality, unified data from your business.
Envision use cases around your own data: Generative AI could be used to develop predictive models for businesses or to automate content creation, or to act as an assistant for clinicians to create recommendations for diagnosis, treatment and follow-up care.
Dive into developer productivity benefits: Generative AI can provide significant benefits for developer productivity. Think of repetitive coding tasks like testing and debugging.
Take outputs with a grain of salt: Generative AI is only as good as the data it's trained on, and there's always the risk of bias or inaccuracies. We are still in the early days and there's no replacement for human wisdom, judgment and curation.
Think hard about security, legal and compliance: As with all technology, security and privacy are paramount, and generative AI introduces new considerations, including around IP. Work closely with your security, compliance and legal teams to identify and mitigate these risks.
Can you recount a situation where you needed to adapt your leadership style to navigate unforeseen industry challenges? 
During my tenure at AWS for the past six years, my management approach has been deeply influenced by our Leadership Principles. Particularly during the pandemic's uncertainty, two guiding principles were crucial in my decision-making: customer obsession and bias for action.
Ensuring availability and support for our customers and partners in such unprecedented times was non-negotiable. We witnessed a surge in demands for cloud adoption. Our customers relied on us to swiftly establish remote work setups for their employees, enabling them to sustain their operations. For others, it was about rapidly assisting constituents in their time of need. Collaborating with Accenture, our teams established a virtual contact center on AWS within just four days, engaging 1,500 agents to aid in distributing the Canadian Emergency Response Benefit. I feel privileged that both our company and teams possess the agility to pivot swiftly and continually reprioritize our workload while attending to employee needs.
Balancing the fast pace of technology innovation with regulatory stability is a unique challenge. How does AWS navigate this, especially in the public sector? 
At AWS, we have always prioritized that our customers retain ownership and control over their data, firmly believing these are essential for the cloud to reach its full potential. Right from the beginning, we were the sole major cloud provider allowing customers control over their data's location and movement. Currently, AWS offers an impressive array of 300 security, compliance, and governance services and features to aid customers in establishing their optimal security posture. As the regulatory and legislative landscape evolves, we are committed to ensuring that our customers can continue benefiting from AWS globally.
How does AWS achieve a culture of continuous learning and growth while ensuring alignment with organizational objectives? 
Ultimately, we cherish a unique "culture of innovation," fostering long-term innovation at speed and scale, always keeping the customer at the heart of our endeavors. Our innovation culture is anchored by core leadership principles, which guide our decisions and are embraced by all employees. These principles include values like inventing and simplifying, being customer-obsessed, diving deep, taking ownership, and encouraging employees to learn and be curious. To help harness their curiosity and engage in learning, I've introduced a dedicated four-hour weekly block called "Time to Think" for my teams. This time can be utilized to study for certifications, complete training, or craft narratives supporting new services or business needs. 
What advice would you offer to future leaders in business management, particularly in the face of ongoing technological transformations? 
In my strong belief, investing in people is paramount. Cultivate a diverse team and promote inclusion for the long-term success of your organization. Encourage innovation and experimentation, recognizing that failure is a powerful tool for growth. Facilitate continuous learning and skill development among your employees, whether through mentorship, on-demand training, or exposure to value-added tasks within the organization.
As Gartner forecasts a significant digital transformation by 2026, with cloud as the fundamental platform, organizations should prioritize upskilling their workforce to keep pace with technological advancements. In Canada, bridging the gap in AI adoption and generative AI experimentation necessitates upskilling to ensure competitiveness. AWS remains committed to innovating training offerings, enabling customers and partners to build the necessary skills for cloud innovation. There has never been a better time to invest in self-improvement and equip employees with the sought-after technology skills of today and tomorrow.
The post A Conversation on Innovation with AWS Canada Country Manager Rejean Bourgault appeared first on Canadian Business – How to Do Business Better.