Accessible pushchair for wheelchair users wins innovation award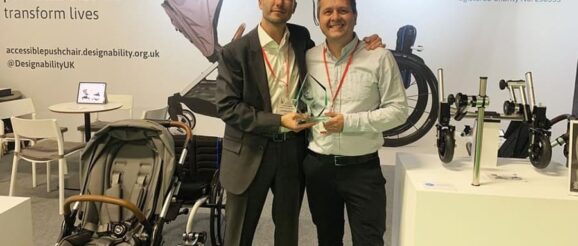 Designability's accessible pushchair for wheelchair users was announced the winner of The Baby Products Association's 2023 Concept and Innovation Award at the International Nursery Fair in Harrogate this week.
The Bath-based design charity received the award for its "groundbreaking" design after launching the accessible pushchair at the fair on 15-17 October 2023. Designability's assistive technology offers freedom and independence for disabled parents and carers.
Julie Milne, from The Baby Products Association, commented: "Every year, the judges are impressed with the creativity of the entries received and it's always difficult deciding which stands out more than the others, as all products submitted will make a difference in the nursery industry.
"However, it was felt that Designability's entry could be life-changing for parents who are wheelchair users as it is the first product of its kind that will allow them to use a regular pushchair just like any other parent."
The award was presented to Dario Canini, Designability's Engineering Innovation Manager, by Marc Hardenberg, Chair of the Baby Products Association. Designability also received a certificate and prize of £1,000 free legal advice from the awards sponsor, Sarah Ludlam, of legal company Brabners.
Designed with mass manufacture in mind, Designability's innovative design replaces the traditional rear wheels/footbrake assembly, turning any conventional pushchair into an accessible pushchair.
Matt Ford, Designability Director of Design and Innovation, commented: "We're delighted to win this prestigious award. Having chosen the International Nursery Fair as the event to launch our accessible pushchair, it's a huge honour to win, especially against such stiff competition.
"We've been developing the pushchair over the last four years and believe it will transform the lives of thousands of disabled parents and carers, enabling them to live with greater independence. It really is a game changer that helps address one of the main inequalities disabled parents and carers face; the ability to take their babies and very young children out independently."
Currently in prototype format, the team from Designability are now looking for a commercial partner to bring the pushchair to market for the first time.
Matt explained the inspiration behind the pushchair design: "As a national disability charity, we have been aware of the need for this product for many years. It is our most requested product, and we estimate that there are around 20,000 disabled parents in the UK alone who could benefit. Our hope long term is for this product to change the lives of disabled parents not just in the UK but across the world."
The post Accessible pushchair for wheelchair users wins innovation award appeared first on AT Today – Assistive Technology.