Agreement with Israel Innovation Authority is highlight of Murphy's first day in that nation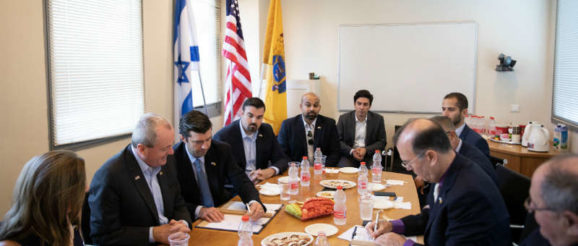 Gov. Phil Murphy spent Sunday, his first full day in Israel, and the sixth day of his nine-day economic trip, focused on cybersecurity, life sciences and the overall innovation economy in Jerusalem and Tel Aviv.
In Jerusalem, Murphy signed an agreement with the Israel Innovation Authority, making New Jersey the 10th U.S. state to do so. The agreement puts New Jersey on a list of recipients for investment by the authority for companies that are ready to grow in the U.S. market.
This makes the IIA a sort of brand ambassador for the state, when it finds a company that is an ideal fit, New Jersey officials said.
It also can help foster collaborative relationships between existing New Jersey companies and Israeli startup companies, allowing a different type of union than a traditional merger or acquisition, officials said.
Murphy told ROI-NJ on Sunday that he believes the sectors New Jersey can likely thrive in include life sciences, cybersecurity and artificial intelligence, clean energy and financial services.
"This is the startup nation," he said. "They have a real appetite and they've done these before with other states, and they've done it with a particular focus. In Nevada, it's water. In New York, it's the energy grid, I believe they said. With us, it's a bit more open."
Currently undetermined is the role the New Jersey Economic Development Authority will play — but there is a good chance the EDA will commit some dollars or try to match the dollars committed by the IIA.
The benefit to the IIA, for choosing New Jersey to grow its startup, is similar to the strategy startups in Germany are employing: an entrance into the U.S. market once they have grown to a sizable market share in their home countries.
It's surprisingly effective as a draw for larger companies — especially in the life sciences sector.
Gov. Phil Murphy was all smiles during a meeting at Teva Pharmaceuticals in Tel Aviv, Israel.
Later in the day Sunday, Murphy held a roundtable discussion with life sciences companies at the headquarters of Teva Pharmaceuticals near Tel Aviv.
Teva recently announced it is consolidating its offices in the Northeast to make Parsippany its U.S. hub.
During the roundtable, Murphy said he has been surprised by the level of interest that larger companies have — in the life sciences sector, especially — for working with or acquiring smaller companies.
"I used to stupidly think it was a zero-sum game," he said. "I now realize that it's far from that.
"We have lost research and development jobs; that's what we need to turn the corner on. The startup culture has an unusual impact on the appetite of the big company to want to do the research there. … I underestimated that.
"It matters a lot. When I talk about the Evergreen Fund to companies, or you take that Bayer model we saw in Berlin, where the sponsor (of the incubator) is a corporation … that's a much bigger deal than I thought."
Murphy ended the day with a signing with Hacker U in Tel Aviv, which will increase collaborations around cybersecurity and education research between the Israel and New Jersey.
Gov. Phil Murphy meets with representatives of Hacker U in Tel Aviv.
Hacker U connects top professionals in the cybersecurity space with companies and entities in need of such expertise. The newly formed relationship will benefit Rutgers University in having access to the courses the entity has.
Jared Maples, New Jersey Office of Homeland Security and Preparedness director, joined the New Jersey delegation for this leg of the governor's trip, and said cybersecurity is a key focus for the state.
"New Jersey is the state leader in cybersecurity," Maples said. "There's a lot more we can do to leverage the private sector's expertise, whether that be recruiting people to be in the industry, in the field, because we are all connected … so, the more people focused on this work and are good at this work is important to us from a security perspective, because it makes us more secure."
While New Jersey is a leader, there are more advanced technologies in Israel that the state could use, he said.
This, he said, in turn helps the private sector, which will want to take advantage of the latest technology being used by the government.
Traditionally, the military has always been ahead with its technology, but the world is changing, and all sectors of the economy have to be equally protected, Maples said.
"The focus on cybersecurity is something we take very seriously here," he said.
Read all of ROI-NJ's coverage of Gov. Murphy's trip:
Read more from ROI-NJ:
The post Agreement with Israel Innovation Authority is highlight of Murphy's first day in that nation appeared first on ROI-NJ.