AiDEN Automotive: An Innovation in the Connected Car Industry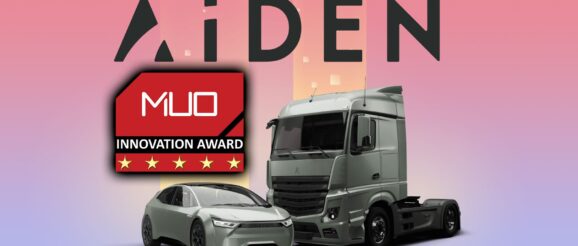 We caught up with AiDEN Automotive at MWC Showstoppers 2023 in Barcelona, and its innovative technology blew us away in terms of the number of pain points it solves for Android Automotive connected vehicle owners.
So much so that it compelled us to give it an MUO Innovation Award. Want to know how the AiDEN Services Hub will change the connected car landscape for good? Sure…
What Is the AiDEN Services Hub?
The AiDEN Services Hub is, in the simplest of terms, a piece of software that infinitely improves the services provided by Android Automotive OS-connected vehicles. It is a connected services platform that allows for two-way comms between vehicles, services, and the infrastructure around us.
This communication is entirely customizable depending on the needs of the end user, and allows for the driver to communicate not only with the vehicle, but also an infinite number of tailored services that the driver can opt into. All of these are GDPR and CCPA compliant, so all of your data is safe from prying eyes.
The quick-install software works entirely within the Android Auto OS ecosystem, and is installed by OEMs at the point of manufacture. This means that a vehicle's new owner can make use of its innovative services straight away, as soon as they drive their vehicle off the forecourt.
AiDEN Services Hub will revolutionize the connected car industry for the better, bringing a never-before-seen level of connectivity between the driver, the vehicle, and the world around us.
So, what exactly can the AiDEN Services Hub do? Lets look at a few examples.
AiDEN Services Hub: Use Cases
When we think about how something is innovative, we must consider several criteria. Is the product or its features new and does it solve pain points for the end user? AiDEN Services Hub does both, and here are some uses cases to illustrate how this software works.
When you first start using the AiDEN Services Hub in your new car, you can opt into multiple services such as parking, insurance, and vehicle servicing, for example. You can then use these services directly from the control panel in your vehicle, direct from the Services Hub.
Imagine you have bought a vehicle with AiDEN Services Hub installed. You head out for a drive to a city or town you aren't too familiar with, and you need to park your car. Currently, you're likely to ask Google Maps to locate a parking spot for you, then you'll spend 30 frustrating minutes messing around with numerous apps trying to pay for parking.
But what if your vehicle could do all this for you in one simple operation? Well, with AiDEN Services Hub installed on your vehicle's computer, it can. Simply search for a parking spot via the Services Hub, which will be paired with multiple parking operators, and it will give you a selection of parking spaces in the vicinity.
Now all you need to do is head to the parking space, park your car, and go about your business; your car will deal with the parking transaction for you, meaning you aren't wasting time trying to find a space and pay for it.
Or what if your car insurance is about to run out? Your vehicle console can inform you of this, and you can opt to renew your insurance there and then, straight from the computer in your car.
All of the services facilitated by AiDEN Services Hub are optional for the end user. If you don't want an insurance reminder for your vehicle, for example, you are under no obligation to use it. These are just a couple of examples of how AiDEN Automotive Innovations is about to completely disrupt the connected car industry as we know it; it has the potential to completely change how connected vehicles work, and for the better.
The point is, AiDEN's software allows your vehicle to anticipate your every need, so you don't have to worry about a thing while you're driving around going about your business.
AiDEN Services Hub: Changing the Face of Future Travel
The above examples are only two out of many MANY pain points that AiDEN plans to enable car manufacturers to address. Leave your smartphone in your pocket and let AiDEN Services Hub, and therefore your car, do literally all the hard work for you.