Airman Brings Support to Mothers through Innovation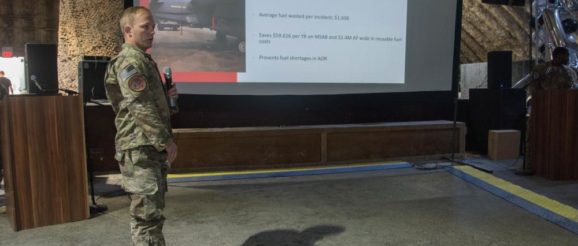 The 179th Airlift Wing Maintenance group became the home to a Mamava lactation pod, located in Hanger 102, on October 2, along with a second one planned to be located at the 200th RED HORSE Squadron, Det. 1, providing mothers a clean, private space to breast pump, enabling them to continue to support their family life while at work.
This idea came from Master Sgt. Cortney R. Fleming, Munition Systems specialist and Resource Advisor at the 179th Airlift Wing Maintenance group here, after seeing the struggles mothers went through to breast pump at work, and experiencing it first hand when she was a new mother.
"We have so many women that are pregnant or are breast pumping right now, and I'm tired of going into bathrooms seeing extension cords from across the counter all the way to the shower," said Fleming. "One, how uncomfortable and two, that's not sanitary."
Fleming submitted the idea in hopes to take a step forward for not only women, but as a form of innovation in the workplace, too.
"Innovation is so important because our world is changing all the time," said Fleming. "It is crucial for us to be changing with it, we have to be at the forefront."
Innovation is the act of processing new ideas, devices or methods, which is exactly what the Mamava is doing for the 179th AW.
Fleming's idea on bringing The Mamava to the 179th AW was highly welcomed by her leadership.
"I talked to my leadership, Col. Kmetz and Maj. Mussman, and they were all about it and on board," said Fleming. "I started routing the necessary paperwork, then went to the Financial Management Board and spoke on it. As soon as they heard the idea, they were all on board, because you're investing in your female Airmen. You're showing them what they're doing for their family is supported."
Innovation in the military is a vital asset in our ever changing world. As Chief Master Sgt. of the Air Force Kaleth O. Wright said at the 2018 Air Force Association's Air Warfare Symposium, the Air Force must be thinking of new ways to innovate over the next decade or two, to make sure it's ready to win a new war. While this may be looked at as directly relating to warfighting, a major key in being prepared for warfare is Airman Readiness. Ideas like the Mamava are just one way we can ensure our Airmen are supported, to help them stay mission ready to accomplish what lies ahead.
NEWS INFO
| | |
| --- | --- |
| Date Taken: | 10.03.2018 |
| Date Posted: | 10.03.2018 20:32 |
| Story ID: | 295332 |
| Location: | MANSFIELD, OH, US  |
| | |
| --- | --- |
| Web Views: | 2 |
| Downloads: | 0 |
| Podcast Hits: | 0 |
PUBLIC DOMAIN