Allison-Smith Celebrates 80 Years of Innovation / Georgia firm experiences continued growth through a culture of entrepreneurship, innovation and problem solving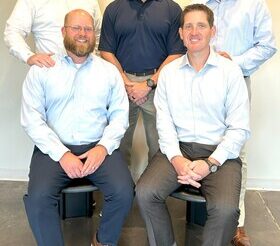 President, Mark Gallacher notes, "Our success is possible because of the hard work of our employees and the support of our loyal and faithful clients. We've built a culture that supports our growth and ability to solve our client's biggest challenges. The future of Allison-Smith is bright."
Founded in Georgia in 1943, Allison-Smith Company is proud to celebrate a remarkable milestone – 80 years in business. As it sets its sights on a centennial legacy, Allison-Smith continues to thrive, beating the odds that state less than 12% of companies last more than 26 years. So, what is driving the company's decades of success?
Allison-Smith's sustained growth and resilience comes from an intentional approach to remain at the forefront of the industry. The firm's longevity is credited to a company culture that is rooted in entrepreneurship, innovation, and problem solving. Instilling the values of care, leadership, and success amongst its employees has created a sense of trust and laid a foundation for exploration. This leadership style fosters innovative thought and drives the unique approach by which Allison-Smith contributes to the success of its clients – applying electrical engineering expertise to the process of construction.
With a legacy steeped in visionary leadership, Allison-Smith Company stands as a testament to the indomitable spirit that has shaped its journey. Founded by Robert Allison, the company's roots have always been firmly planted in a tradition of excellence. Following in his footsteps, his son, Bob Allison, assumed leadership, ushering in an era of innovation and growth. A lineage of dedicated presidents continued to lay the foundation for the company's success, serving as mentors for Allison-Smith's current leadership team. This lineage of astute leaders forged a path for the company, positioning Allison-Smith to not only weather challenges, but to flourish amidst them.
Today, the company celebrates several significant milestones. In 2006, Allison-Smith Company experienced exponential growth upon launching into the hyperscale data center business. This strategic move led to the company's expansion into Charleston, SC and Charlotte, NC where they maintain a presence today. Allison-Smith's transformation in December 2007 into a fully employee-owned organization demonstrated a deeper commitment to its workforce. To improve safety, quality, speed and efficiency of construction projects, Allison-Smith launched a modular operation that scales with the needs of its clients. Prioritizing safety, the firm has been celebrated numerous times for its stellar record, recognized recently by Associated Builders and Contractors of Georgia with a Safety Platinum Award.
A $50-million-dollar company at its inception, Allison-Smith Company has grown into a $225 million company. Expanding service offerings to a national client base, the company has partnered with corporations like Microsoft, Cox Media, Visa, Intercontinental Exchange, Norfolk
Southern, Coda, NCR, Cisco, and InterContinental Hotel Group. Allison-Smith has also lent its services to institutions like the Georgia Institute of Technology, the University of Georgia, and Georgia State.
Operating both domestically and on international fronts, including England, Finland, Chile and Southeast Asia, the Allison-Smith Company has maintained its mission: "We build problem solvers."
By aligning its hiring practices with this mission and core values, Allison-Smith has carved a niche for unparalleled quality. Teams are empowered to look at projects differently, developing creative solutions that meet the demands of today's sophisticated customers. Using this approach, the firm has overcome shortages in labor resources, accelerated schedules, and supply chain issues to achieve commendable results.
Reflecting on the journey thus far, President, Mark Gallacher notes, "Our success is possible because of the hard work of our employees and the support of our loyal and faithful clients. Innovation is in our blood. We focus each day to be better than the day before. We've built a culture that supports our growth and ability to solve our client's biggest challenges. I am proud of our accomplishments and want to continue the tradition of excellence with the next generation of leaders. The future of Allison-Smith is bright, with strategic plans to grow responsibly and add game-changing team members over the next few years that live our core values."
An active member of associations like the National Association of Electrical Contractors (NECA), Associated Builders and Contractors of Georgia, and Building Owners and Managers Association (BOMA), Allison-Smith's accolades are many, including awards like the Associated Builders and Contractors of Georgia Platinum Safety Award and the National Electrical Contractor Association's Innovator of the Year Award imparted to company Executive Vice President, Todd Grossweiler in 2022.
Beyond their core services, Allison-Smith demonstrates a commitment to the community. By championing causes like Children's Healthcare of Atlanta and supporting local schools, the company showcases its dedication to nurturing the industry's future torchbearers.
About Allison-Smith Company: Founded in 1943, Allison-Smith Company is a renowned electrical contracting firm that operates in the United States and works across the globe to offer a range of services from modular building components, micrograms, electrical distribution, mission-critical power, lighting systems and controls, lighting color tuning, security systems, access control systems, fire alarm systems, voice and data systems, building automation systems, smart buildings, loT integration, AV, and fiber optics. Allison-Smith's team of electrical
engineers and field professionals lead complex projects within vertical markets such as commercial, sports and entertainment, healthcare, higher-education, and industrial among others. They are trusted as experts by prominent brands like Microsoft, Visa, Norfolk Southern, Coda, NCR, Cisco, and InterContinental Hotel Group. Celebrating a remarkable, 80-year journey, Allison-Smith upholds a reputation as a vanguard of innovation, a hub of problem-solving, and a beacon of expertise. To learn more, visit allisonsmith.com.
Media Contact
SOURCE Allison-Smith Company