Alphabet innovation lab X reveals Project Amber mental health experiment | World Economic Forum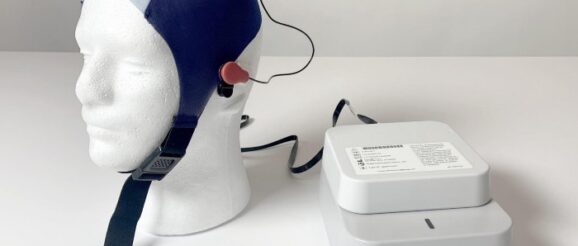 "For example, many depressed people find that things that once brought them pleasure no longer do so; they don't experience the reward that follows a positive experience."
As these surveys are subjective, Project Amber focused on electrical activity in the brain as an objective measure for mental health – similar to the role blood glucose levels play as a biomarker for people with diabetes.
"In our final prototype, the headset slips on like a swim cap and can be put on by anyone with minimal training, taking around three minutes to set up," Felton says.
The researchers – who included neuroscientists, hardware and software engineers, machine learning specialists and medical technology product experts – also developed machine learning software to process the data collected by the headset.
"There was a notably strong interest in using technology as a tool for ongoing monitoring – capturing changes in mental health state over time – to learn what happens between visits [to clinicians]," Felton says.
In the meantime, Project Amber is making its technology and research findings freely available on GitHub, the open source code hosting platform, in the hope that the mental health community can build on its work.
More women are affected by depression than men. At its most severe, depression can lead to suicide. Close to 800,000 people die due to suicide every year. It is the second leading cause of death in 15-29-year-olds.
The digital event will explore innovative solutions to the challenges faced by businesses during a global pandemic and includes sessions on Keeping Populations Healthy and Frontier Technologies.
"The pandemic has revealed the need to strengthen health systems and ensure that populations have better information and control over their health," the Forum says. "How can technologies help to improve and maintain healthier lives?"