Alumna chosen as VP of Research and Innovation Partnerships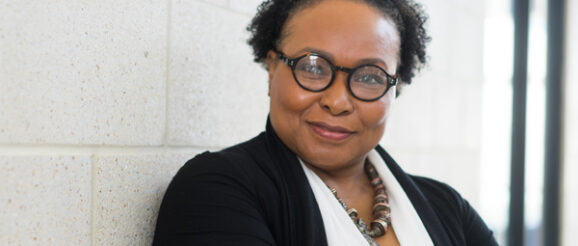 Following a national search, native Chicagoan Yvonne Harris, Ph.D., is expected to be named vice president of the Division of Research and Innovation Partnerships (RIPS) at Northern Illinois University, pending Thursday, May 11 approval by the NIU Board of Trustees.
Yvonne Harris will begin her new role as the VP of Research and Innovation Partnerships on Aug. 1, 2023, pending Board of Trustees approval on May 11.
As vice president of RIPS, Harris will lead the university's growing research and innovation enterprise. Her responsibilities will include developing and implementing the vision, plan and policies of RIPS, as well as overseeing all aspects of the university's research infrastructure, operations, research facilities and compliance.
Recognized among elite Carnegie-classified R2 universities for "high research activity," NIU's non-COVID-19-related sponsored funding for research, instruction and other activities has grown by more than 50% since 2018, to nearly $50 million.
For Harris, taking the reins of RIPS will represent a homecoming. She earned her bachelor's and master's degrees from NIU, as well as her Doctor of Philosophy in Science, with an emphasis in molecular and cellular radiation biology.
Harris presently serves as associate vice president of Research, Innovation and Economic Development at California State University in Sacramento.
"We're absolutely thrilled to be having Dr. Harris join our team in this key leadership position," NIU President Dr. Lisa C. Freeman said.
"Dr. Harris is very familiar with NIU and our region, and she has extensive experience in higher education research administration at other universities. She is a proven leader with demonstrated success, not only supporting and facilitating the research, scholarship and artistry of faculty, staff and students, but also promoting university entrepreneurship and economic engagement.
"Moreover, Dr. Harris' career exemplifies the transformative power of NIU and its distinctive mission focused on access, equity, discovery and regional engagement."
In her current position at California State University, Harris oversees the Offices of Research Proposal Development, Economic Development, and Innovation and Technology, as well as the Student Research Center and 12 centers and institutes. She sits on numerous external boards and committees aimed at workforce, inclusivity and economic development issues.
Among her previous positions, Harris served as vice provost of Research and Scholarship at James Madison University in Virginia; associate vice president of the Office of Grants and Research Administration at Chicago State University; dean of the mathematics and science division at William Rainey Harper College in Palatine; and department chair for biology and biotechnology at Truman College of the City Colleges of Chicago. Earlier in her career, she conducted post-doctoral work as a research associate at the University of Chicago and the University of Illinois at Chicago.
"Dr. Harris' leadership has positively impacted research productivity at the universities where she has worked," President Freeman added. "She also has been recognized throughout her career for exemplary contributions to innovation in STEM teaching and outreach."
Harris said she excited to be returning to NIU.
"Starting so many years ago at NIU as an African American woman, single parent, looking for a future, I am an example of the transformational power this institution represents," Harris said. "Surrounded by so many faculty, administrators and staff who believed in me, I was made to believe that there was nothing I could not accomplish.
"Returning to Illinois is not just coming home but an opportunity to return to NIU and give back to the university that gave me so much," she added.
Harris will begin in her new post on Tuesday, Aug. 1. Her predecessor, Gerald C. Blazey, is retiring at the end of June after a long and illustrious career. For the month of July, Dara Little, NIU's associate vice president for research and executive director of sponsored programs, will serve as interim RIPS vice president.
Additionally, Biology Professor Barrie Bode, who was recently named a 2023 NIU Presidential Engagement and Partnership Professor, is moving into the position of acting associate vice president of RIPS. An internal search for a permanent AVP will be launched in the coming fiscal year.