Art Glass: Innovation at the Turn of the 20th Century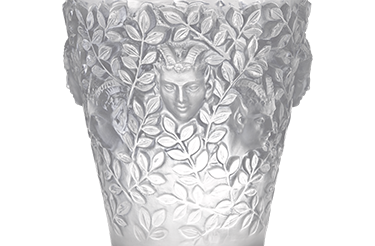 What is Art Glass?
Rather than one certain style, art glass refers to a particular period in history when artisans were unafraid to experiment with pattern, texture and color, and embraced new techniques and design motifs. The term art glass typically pertains to the wonderfully innovative glass objects produced by glassmakers in Europe and America in the late 19th to early 20th centuries. Their glassware was handmade, typically hand-blown and included any number of items like vases, perfume bottles, bowls, lamps and even figurines. Although there were some stylistic similarities across makers, output from this period is highly diverse and highly decorative. Designers embraced iridescence, vibrant colors, nature-inspired patterns and new forms with elongated stems and ruffled edges. Overall, there are countless types of art glass.
Art glass production began around 1880 and flourished through around 1930. Certain glassmaking firms like
World's Fairs: Introducing Art Glass
Responsible in large part for this shift in glass artisans' output was the great international exhibitions, or World's Fairs, and the new sensibilities in the decorative arts that these exhibitions reflected. Beginning in the mid-19th century, these exhibitions were the universal showcase for the world's greatest artisans and craftsmen to unveil trend-setting techniques and styles. There were 11 major European and American World's Fairs between 1851 and 1904, and each included large glass displays that represented the most important technological advances in glassmaking of the era.
These exhibitions provided glass artists the opportunity to create the most beautiful and innovative pieces to display to an international audience, which often included royalty and celebrities from around the world. And for well-established firms, the events served to solidify their status as trend-setters by proving they were on the cutting-edge of technique and design.
Art Nouveau Glass
Much of art glass falls into the Art Nouveau aesthetic that emerged at the end of the 19th century. Art Nouveau was a design movement intended both to elevate the status of the craft-based artisan while also rebelling against the sterility of industrialism and the academic system of fine art. The style embraced the elegance of the natural world and sought to convey movement. This revolution in artistic ideals permeated nearly every facet of the decorative arts, and its sinewy, flowing lines often lent themselves well to the molten glass required for the glassblowing process.
French Cameo Art Glass
France produced several exceptional makers of Art Nouveau glass objects, most notably Emile Gallé and the firm of Daum Nancy. Often, these makers would give their glass pieces an intensely foliate look and accentuate with vivid coloring, such as grassy greens and jewel-toned blues and reds. In fact, Gallé was an avid botanist his entire life, collecting plants and insects from which to study and draw inspiration. His glasswork was heavily influenced by his work with nature — underscoring the natural motifs that Art Nouveau championed.
Gallé, like many of his fellow Art Nouveau decorative artists, was also inspired by his travels throughout Europe studying works at museums and private institutions, where he gained insight from ancient glass antiquities to Japonisme masterpieces. He became enamored by the famed ancient Roman cameo glass artifact known as the Portland Vase during a trip to the British Museum in 1871, and the artist began experimenting with cameo glass upon his return home. With his cameo glass, he successfully melded ancient techniques with naturalistic motifs and brilliant color, creating some of France's most memorable art glass creations.
When Gallé founded the École de Nancy in 1901 to expand the scope of the Art Nouveau movement, the Daum brothers of the firm Daum Nancy joined the fold and greatly contributed to the advancement of the style. Upon Gallé's death just three years later, Daum effectively continued in the founder's footsteps and became the driving force behind the movement.
Tiffany Art Glass
Also an Art Nouveau decorative artist, but truly in a category all his own, Louis Comfort Tiffany was at the forefront of art glass innovation. Considered to be the driving force behind the Art Nouveau style in America, Tiffany worked with nearly every decorative medium imaginable, even serving as the first Design Director for his father's Tiffany & Co., but it is his personal triumphs in glassmaking that garnered the artist his highest recognition.
Tiffany was profoundly inspired by ancient Roman glass pieces and their shimmering iridescence. This effect was not a result of a glassmaker's technique or materials, but simply the passage of time. Over the centuries, the natural weathering of glass buried under the ground causes its thin layers to separate slightly and flake away, leading to a refraction of light between each layer. The result is a prism effect created by bouncing rays of light, producing a rainbow-like, iridescent appearance.
Tiffany's goal was to mimic this phenomenon and create a modern glass piece that had the appearance of being buried for centuries. He succeeded in achieving this look by fusing several colors of glass together while still in a molten state. He patented the process in 1894, and it earned him a grand prize at the Paris Exposition of 1900. Tiffany also embraced new shapes in his favrile glass, creating thin, fluid, almost cloth-like ruffles by carefully and swiftly manipulating the hot glass.
Bohemia, now part of the Czech Republic, has been an important center for glassmaking since the Renaissance, and in the 19th century, Bohemian glassmakers set the standard for quality and artistry in the Western world. They also achieved much success and recognition at exhibitions across Europe and were regularly awarded prizes at the grand international exhibitions. Also, the unparalleled beauty and richness of glass from this region attracted collectors from novices to royalty, including France's King Louis XV and Empress Maria Theresa of Austria.
Bohemian art glass was especially innovative. It often utilized vibrant iridescent glass that was rivaled only by Tiffany & Co. Firms like Loetz used a technique known as flashing in order to coat their glass creations in a thin skin of color, from bright reds to ambers to cobalt blues. Moser glass, often referred to as the "Glass of Kings," is some of the finest quality art glass ever created. The firm's signature creation, ruby glass, incorporated precious gold into their mixtures, creating a chemical reaction that transformed the glass into a vibrant red color.

Art Deco Glass
A few years into the 20th century, around the beginning of World War I, Art Nouveau began to fall out of fashion and a new style emerged: Art Deco. This style was also embraced by glass artists who were always looking to innovate and trend-set. In contrast with the fluid lines of Art Nouveau, Art Deco was inspired, in part, by society's new adoration of technology and Art Deco architectural design. It was the Paris Exposition des Arts Decoratifs of 1925 that propelled the Art Deco artistic movement into the popular sphere, and art glass turned its attention to this new, architectural style.
Lalique Art Glass
At the forefront of both glassmaking and Art Deco design was René Lalique. Although he began his career working in the Art Nouveau style, he also excelled in the more streamlined Art Deco aesthetic. He created all manner of glass objects, from vases, lamps, bowls and even car hood ornaments.
Always on the cutting edge of design and craftsmanship, Lalique often utilized a technique called à la cire perdue, or "in the lost wax technique," that was traditionally used by bronze sculptors. This involved creating a mold from wax by hand and then encasing it in clay. The clay was then hardened in a kiln, melting the wax away and leaving a mold that could then be filled with molten glass. The clay mold would then have to be destroyed to remove the glass piece, resulting in a completely one-of-a-kind work of art glass.
Overall, art glass objects represent a confluence of design inspirations and technical innovations that changed the way glass was made and seen. Art glass truly celebrated the medium and the countless ways it could be manipulated into something beautiful. To discover M.S. Rau's entire collection of art glass objects, visit our website.
Sources:
Grover, Ray, and Lee Grover. Carved and DECORATED European Art Glass. Tuttle, 1980.
Koch, Robert. Louis C. Tiffany, Rebel in Glass. Crown, 1982.
Shuman, John A. The Collector's Encyclopedia of American ART Glass: A Vivid Color Guide to Numerous Art Glass Types. Collector Books, 1996.