Ashurst tempts back derivatives partner for innovation role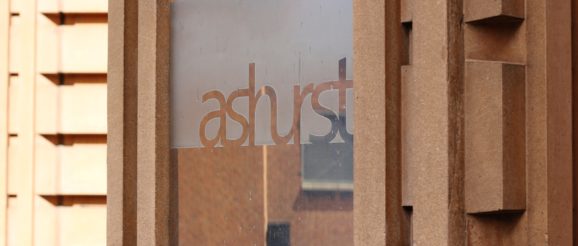 Fieldfisher's announcement last week that it has expanded its Condor automated documentation platform to South Africa serves both as confirmation of the success of this alternative legal services initiative and as a pointer to the emerging market for law firm-related consultancy businesses. Fieldfisher revealed that it has launched a managed legal services centre in South […]
Fieldfisher is to open a legal support centre in Belfast, years after firms such as Herbert Smith Freehills, Baker McKenzie and Allen & Overy made similar moves in the Northern Irish capital. Fieldfisher says it expects to house 125 personnel in Belfast within the next three years, with 14 people having already been recruited. The office […]
Ashurst tempts back derivatives partner for innovation role
After just two years at the helm of Fieldfisher's alternative legal services arm Condor, Christopher Georgiou has returned to Ashurst to help lead the firm's delivery platform.
As co-head of the firm's banking sector, he also helped establish the firm's alternative legal services capability in Glasgow in 2013.
Based in Ashurst's headquarters in London, Georgiou will work alongside Mike Polson, who is based in the firm's Glasgow outpost, as co-head of Ashurst Advance.
Ashurst Advance launched in 2016 as a global team designed to pull together the disparate strands of the firm's New Law service delivery mechanisms on a global basis. It focuses on three areas of innovation in legal service delivery; resources, process and technology.
His move comes just two years after Georgiou joined Fieldfisher to spearhead its launch of Condor. At Fieldfisher, Georgiou worked alongside head of the derivatives and structured finance group Guy Usher and partner Luke Whitmore.
Since it launched, Condor has agreed partnerships with eClerx in India, Integreon in the US, Cognia in South Africa and Donaldson Legal in Belfast. Its partnership in Northern Ireland led the firm to consider its options in the region, announcing plans over the summer to open a legal support centre in Belfast led by Alison Donaldson, the group's founder.
Fieldfisher partner Guy Usher, co-founder of Condor and head of derivatives and structured finance, said: "Condor has been an incredible success and I would like to acknowledge the huge effort made by Chris Georgiou for helping to make it a reality.  We wish him well in his next role.
"I am also pleased to announce the appointment of Lesley Munro as our senior Solutions Delivery Manager for Condor.  Lesley was previously at Axiom, where she was Director and Regional Manager within the company's delivery division.  Lesley's appointment is the first hire in the roll out of the Condor platform across business lines and services beyond the financial sector.
"Condor has been operating for 18 months and has enjoyed significant success with its initial products and services.  It has passed its proof of concept phase with flying colours and now we are ready to move to the next level of development.  This is an exciting time for our Condor ALS service.  The platform has been very well received within both the financial and commercial sectors, since it launched in January 2017, and an ever-increasing number of clients are taking advantage of its services and recognising the associated benefits.
"Condor provides a flexible, fast and process efficient way for organisations to supplement their in-house legal function for specific projects such as large scale remediations or for business as usual managed services such as contract lifecycle management."
"Condor has been developing several new solutions which supplement its existing portfolio of products and services. We are starting to roll these out to clients in response to strong and urgent demand."
ASHURST LLP
RANKINGS
REVENUE
PARTNERS
LAWYERS
OFFICES
VIEW MORE
Fieldfisher's announcement last week that it has expanded its Condor automated documentation platform to South Africa serves both as confirmation of the success of this alternative legal services initiative and as a pointer to the emerging market for law firm-related consultancy businesses. Fieldfisher revealed that it has launched a managed legal services centre in South […]
Fieldfisher is to open a legal support centre in Belfast, years after firms such as Herbert Smith Freehills, Baker McKenzie and Allen & Overy made similar moves in the Northern Irish capital. Fieldfisher says it expects to house 125 personnel in Belfast within the next three years, with 14 people having already been recruited. The office […]
Mayer Brown has lost a five-lawyer real estate and finance team to Dechert's Paris office, as the recruitment market continues to heat up in the French capital. Dechert partner Privat Vigand is leading the team's move to Dechert, along with four associates – Guenaëlle Taroni, Antoine Periat, Fanny Roiena and Pauline Keller. Vigand has been at […]
In-House & Private Practice Legal Jobs
Stay up-to-date with the latest opportunities on The Lawyer Careers. Each month, more than 8,000 legal roles are added to our site – we'll bring you the best opportunities out there.