Autel Energy opens Innovation Center for EV product integrations in southern California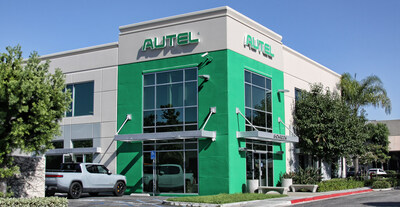 PORT WASHINGTON, N.Y., Sept. 7, 2023 /PRNewswire/ — Autel Energy, a global leader in electric vehicle (EV) technology, announced the opening of the Autel Energy Innovation Center, its new research and development campus where original equipment manufacturers (OEMs) and strategic commercial partners can test the integration of third-party products with Autel Energy hardware and software to ensure the highest standards of performance and quality before entering the market. The two-story (9,424 sq. ft.) facility in Anaheim, California is the product of years of planning and development at Autel Energy and aims to revolutionize the way new products are brought to market in terms of speed, efficiency and quality control.
Autel Energy aims to revolutionize the way new products are brought to market in terms of speed, efficiency, and quality
"The Autel Energy Innovation Center represents our commitment to our partners' success, as well as to the success of the EV industry in the US and abroad," said Frank Li, Chairman of Autel Intelligent Technology Corp., Ltd., the global leader in automotive intelligent business and the parent company of Autel Energy. "We are extremely proud of the effort our team has made to realize our grand vision, and we look forward to the Innovation Center serving as a prized part of our operations on the West Coast."
The Innovation Center will launch under the direction of Shane Long, Chief Technology Officer at Autel Energy. Long will shape the vision of the center to meet the burgeoning demands of the renewable energy industry in the US. The center will provide a space for activities including product and vehicle integrations testing, as well as shed light on the performance, viability and scalability of products under development. Plans for the site also include an executive briefing center for showcasing Autel products and technology platforms and a training center for introducing technical support engineers to the latest product features.
"I'm excited to invite our partners to visit us here in Anaheim," said Long. "In addition to the latest product features, they will be able to learn about Autel Energy hardware and software installations, servicing, security, and preventative maintenance. Our goal is to create a smooth transition from initial onboarding through the lifecycle of our products."
Trainees will be able to earn certifications in the use and servicing of Autel Energy products upon completion of their courses at the center, Long added.
The Autel Energy Innovation Center is located 12 miles from John Wayne Airport and in close proximity to Anaheim Stadium at 1355 S. State College Blvd., Anaheim, Calif.
About Autel Energy
Autel Energy's vision is to create a seamless customer experience that enables the deployment of technology and smart infrastructure, accelerating the adoption of electric vehicles and energy management solutions worldwide. Autel Energy makes the most advanced products accessible and convenient for residential and commercial users offering hardware, software, apps, and cloud-based solutions to cover almost every use case and application. This includes world-class charging hardware for AC (Level 2) home and commercial, DC Bi-directional V2X power management, and DC (Level 3) fast charging from 40kW to 720kW with innovative configurability and modularity.
Media Contact: Allison Whitney, [email protected]
SOURCE Autel Energy