BAE Systems launches FalconWorks innovation division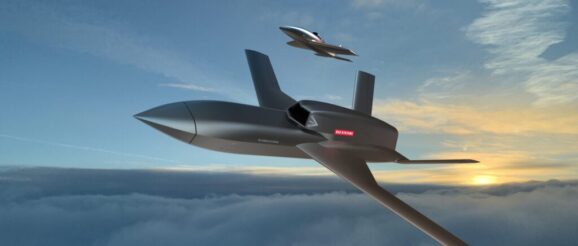 A notional design for a unmanned system from BAE. (Image courtesy of BAE Systems.)
WARTON, United Kingdom — BAE Systems is launching a new innovation division within its air sector business. But while the new group is clearly named after Lockheed Martin's Skunk Works and Boeing's Phantom Works organizations, BAE wants their new office to be more public-facing than those famously shadowy operations.
FalconWorks, which was officially launched on July 10, is focused on the rapid design of "generation after next" capabilities in the air domain, BAE Systems officials told media at the company's assembly plant in Warton, Lancashire last week.
According to the new unit's managing director, Dave Holmes, FalconWorks will be more suited to UK and European air domain business, unlike more classified, "near peer" organizations like Skunk Works and Phantom Works.
"If we think about how Skunk Works and Phantom Works were formed, both those two organizations were stood up in a complete veil of secrecy. They were stood up to be wholly independent and hidden away and were certainly not engaged with the media to discuss how they were seeking to do their business," Holmes said.
"They're very good at it, by the way and this is by no means saying their [business] model doesn't work. I just don't think that model works in a UK/European setting. We operate on a different scale. We have a very principled customer — the [UK] MoD — which clearly has a different level of budgeting.
"And this for me is about how do we turn this into a team sport rather than running multiple programs which are secret for a reason and then picking out one which gets to the solution in the most effective manner? This is about backing the right resources and being more effective at what we do."
According to Holmes, FalconWorks will bring together small/medium enterprises, academia and government agencies to collaborate, innovate and "set trends and solve problems at pace" across physical and non-physical environments. Again, he emphasized, that will be a more open model than what is traditionally seen from the Boeing and Lockheed equivalents.
"FalconWorks is looking at all things that fly across armed forces and para-public organizations," he added, highlighting agile engineering, autonomy, AI, electric products, quantum sensing and robotics.
Another major difference between the new office and the US equivalents: greater ability to work internationally. The unit will bring together BAE Systems' locations around the world, including Australia, Brazil, Saudi Arabia, Slovenia, the UK and US, he said.
Efforts will include focus on developments beyond the UK's sovereign, sixth-generation fighter program — Future Combat Air System (FCAS) — with Holmes saying "If FCAS is next, how do we move beyond FCAS and think wider as to what will come in the 2060s, '70s and '80s and turn of the century? How will that look in terms of novel vehicle configurations and shapes?
"To do this, we need to expand our portfolio beyond fast jets and fast jet trainers. But from what we've seen in the shocking events that have been unfolding for the last 16 months [in Ukraine], we're not seeing many fast jets in use yet. What we've seen is a whole variety of other products that have been at the disposal of people trying to defend their nations.
"We have a role at FalconWorks in terms of bringing forward contemporary solutions at a price point and at a capability set in a more rapid way to augment the solution sets that have been delivered through these crewed and uncrewed fast jet solutions," Holmes added.
Work will also include potentially Tempest-related developments such as autonomous collaborative platforms as well as electric-powered vertical take-off/landing solutions; and pseudo-satellites. These include BAE Systems' PHASA-35 solar-powered High Altitude Long Endurance Unmanned Aerial System; and T-650 VTOL UAS.
FalconWorks will also consider nano-technologies and low-observable materials, Holmes added.
"Defending our freedom is becoming ever more unpredictable – the only constant is change. The creation of FalconWorks is a reflection of the changing environment and our goal to ensure innovative technology development is at the core of everything we do.
"This new division builds on our established expertise in world-leading combat air programs such as Typhoon, F-35 and Tempest to unlock opportunities to expand our portfolio and deliver the breakthrough technologies which keep our customers ahead."