Baramulla girl features among innovation exhibitors at 'The National Technology Week 2023' | Kashmir Images Newspaper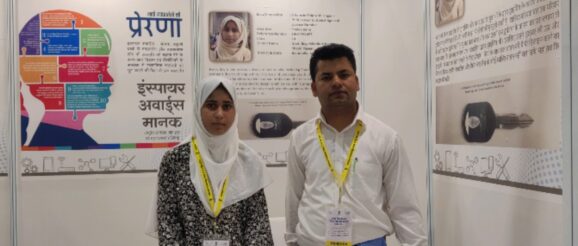 Baramulla girl features among innovation exhibitors at 'The National Technology Week 2023'
Baramulla: Shahida Bano, an 11th class student of the Government Higher Secondary School Fathegarh, will be among the thousands of young innovators who were feature at 'The National Technology Week 2023', being inaugurated by Prime Minister Narendra Modi at Pragati Maidan, New Delhi, Thursday.
The event aims to promote innovation, research, and development in various fields such as science, engineering, and other allied technological fields.
Shahida, who was awarded the Inspire National Award and the Inventor India Challenge, is one of the many innovators who are showcasing their projects at the event.
Shahida is accompanied by her teacher, Reyaz Ahmad Ganai, who has been instrumental in guiding her through her journey as an inventor. The duo is thrilled to be participating in National Technology Week 2023, which has attracted thousands of innovators from across the country.
Shahida and Ganai are overwhelmed by the response their project has received and are hopeful that it will make a significant impact.
They are also grateful for the opportunity to the Department of Science and Technology, GoI; National Innovation Foundation of India, JKSCERT and DIET Sopore which felicitated their participation in the National Technology Week 2023 and are looking forward to learning from other innovators and experts at the event.
Shahida has come up with a brilliant solution to prevent minors from driving on the Indian roads. Her project, a smart vehicle key, uses a fingerprint sensor to detect the age and license number of the driver.
Shahida says she was inspired to work on the project after witnessing the devastating impact of road accidents caused by minors in her neighbourhood. She says her smart key has the potential to save countless lives.
The smart key works by detecting the driver's age and license number through a fingerprint sensor. If the driver is underage or doesn't have a valid license, the key will not allow the vehicle to start. This simple, yet effective solution can go a long way in preventing accidents caused by minors who are not legally allowed to drive.