Bicester heritage gets go ahead for £50m innovation quarter | Oxford Mail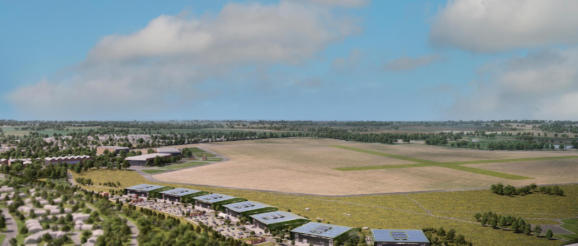 The HQ buildings at Bicester Heritage, in Buckingham Road, Bicester, will be built at Bicester Motion's new Innovation Quarter after being given the green light by Cherwell District Council.
Phase one will deliver the first two HQ buildings and construction is due to start in Spring 2024 with target practice completion in early 2025.
Bicester Motion is a 444-acre former RAF site acquired in 2013 and home to more than 50 businesses in all forms of mobility technology, past, present and future.
Companies include NEOM McLaren Electric Racing, Motorsport UK, the governing body of British Motorsport, PhysicsX, Polestar's UK HQ, and record-breaking synthetic fuel manufacturer Zero.
Bicester Motion's masterplan has been adopted and supported by Cherwell District Council with consent for one million square feet across its Heritage, Innovation, Experience and Wilderness Quarters and hotel.
The new Innovation Quarter will see a £50 million investment to deliver the seven HQ buildings, which will be suitable for R&D technology, light assembly and product showcase and will range from 7,500 square feet to 60,000 square feet.
The buildings will be prepared for solar PV technology creation and include dedicated ecology and biodiversity areas, green space amenities, and more than 100 bicycle parking spaces.
Bicester Motion has also committed to infrastructure improvements including cycle and connectivity to Bicester North station and the surrounding area.
Future occupiers will have access to Bicester Motion's annual programme of events, and vehicle tracks and active airfield for both testing and demonstration.
Dan Geoghegan, chief executive, Bicester Motion said: "We acquired the abandoned former WW2 RAF base in 2013 and since then have been creating the pre-eminent destination to experience the full breadth of automotive and aviation engineering, events, culture, design, research, and manufacture.
"Now home to more than 500 highly skilled jobs, from engineers carefully restoring the classics in our workshops to acclaimed national headquarters at the cutting edge of innovation, together with our amenities, track and aerodrome facilities, not to mention our regular fun-fuelled events with footfall of 200,000+ visitors per year, we're a unique and thriving community.
"Since 2013 our purpose has been to create a place unlike any other to promote the development of pioneering technology especially, as you would expect, mobility and transportation. This sector is booming, with both start-ups and mainstream manufacturers racing to develop new technologies and transportation options.
"Today's planning news is a significant milestone in our evolution to invest in and deliver our new Innovation Quarter.
"We are resolute in our focus to deliver a unique home and space for future innovating mobility pioneers, putting Bicester on the technology map, and boosting the economy in creating jobs both through construction and specifically within the future companies which join our thriving estate."
Sebastian Johnson, head of innovation and inward investment, OxLEP said: "Bicester Motion is a nationally and internationally significant centre for future mobility innovation and emerging technologies."
This story was written by Matthew Norman, he joined the team in 2022 as a Facebook community reporter.
Matthew covers Bicester and focuses on finding stories from diverse communities.
Get in touch with him by emailing: [email protected]
Follow him on Twitter: @OxMailMattN1