Bio-Platforms: The Future of Innovation and Collaboration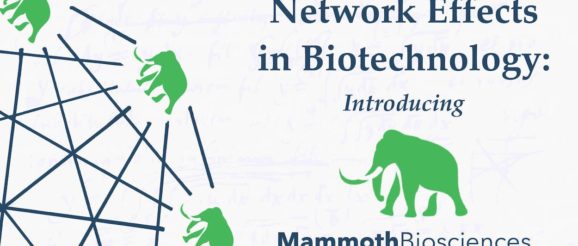 September 30, 2018
Bio-Platforms: The Future of Innovation and Collaboration
This article is brought to you by Mammoth Biosciences, the company behind the first CRISPR-based platform for disease detection. Mammoth Biosciences CEO Trevor Martin and Ursheet Parikh of Mayfield, a Series A investor in Mammoth, spoke with SynBioBeta about how platform-based companies like Mammoth are transforming synthetic biology. They will further discuss this topic at SynBioBeta 2018.
Mammoth Biosciences has attracted a lot of attention for revolutionizing CRISPR as a diagnostics tool. And just as they've rethought the possibilities of CRISPR, they've taken a fresh approach to the structure of diagnostics companies.
Instead of following a narrow, vertical structure, they've embraced a platform-based model. Mammoth Biosciences CEO Trevor Martin believes there are a lot of misconceptions about the traditional structures of diagnostic companies versus what's really possible. However, these models are changing rapidly, said Martin, because of the advances in synthetic biology.
Diagnostics companies aren't the only ones adopting new strategies. Both Martin and Mayfield's Ursheet Parikh see a clear shift towards more open platforms throughout the synthetic biology domain.
"I think it's truly a once in a generation opportunity," said Parikh. "Traditionally, life science technology companies have employed vertical structures, leaving little room for collaboration." Now, Parikh sees a chance to develop "open, building blocks-based platforms [that allow] a community to innovate much faster and bring new solutions to market much faster."
Ursheet Parikh leads the digital health and genomics investing practice at Mayfield.
He likened "the vibe" of the SynBioBeta community to the early days of the Internet. "That was quite a seminal moment. Because, before then, innovation was really happening in silos. There were not a lot of shared, open platforms, not a lot of common connectivity…that allowed people to collaborate… and build off each other's work." Though progress in computing has benefited from platform structures for 25 to 30 years, companies in the biology space are just starting to open up. Martin and Parikh credited SynBioBeta as an important facilitator in this process.
"I think of SynBioBeta as being one of those anchor conversations venues that brings a lot of like-minded people together," said Parikh.
SynBioBeta's conference is unique in the biology world, continued Martin. "It's not just an academic synthetic biology conference. It's a true industrial collaboration conference, but it's on the cutting edge of technology. SynBioBeta is helping push forward these types of innovative, more platform-based strategies."
Martin sees the momentum of open platforms as a grassroots movement. "Biologists are looking around and saying, 'It doesn't make sense to do things in silos. Everything would be so much more powerful in these other models'."
Cutting-edge ideas and new business structures are transforming synthetic biology. But the human element cannot be overlooked.
"I think that one thing people tend to underestimate in science companies or in technology-heavy companies is the importance of people and founders," said Parikh. For him, Mammoth's team, led by Martin, were as important as Mammoth's ideas when forming their partnership.
"When you have Ph.D. founders that want to start a company, there is a bit of a trade-off involved. You have to commit yourself to being the best CEO one can be for the company because you owe it to all the other team members. And Trevor was clearly perfect to become a really amazing CEO."
Trevor Martin co-founded Mammoth after completing his PhD in Biology at Stanford University
For Martin, being a CEO was never a specific goal. But the job was a good fit for him to realize his vision. "I've always been interested in having a large impact by taking technologies out of the lab. Just naturally, [being CEO] became the right way for me, along with Mammoth's world-class co-founding team, to… accomplish a really impactful, really deep and amazing thing."
Martin and Parikh also felt that their companies' goals and values meshed well together. Martin saw Parikh's shared passion for what Mammoth was doing as a "no-brainer" when it came to a partnership. "His vision really aligns well with how we think about where synthetic biology is headed."
Martin said he looks forward to exploring new partnerships at the SynBioBeta conference and building a strong foundation for the future. "We're excited to present what we're working on to the world and really showcase the ways we're thinking about partnering with others. The power of [Mammoth's] technology is that it's a platform technology. We have a lot of interest already in partnering across many different verticals from agriculture to pharma."
Parikh summed up their future aspirations: "Effectively using biology as a technology can solve all kinds of problems and not in healthcare and life sciences but in environmental engineering, food, and new materials. There's no shortage of next steps until that vision gets realized. It's like taking a journey."
Stay updated on the latest news in synthetic biology